Polk State Director of Nursing inducted as Academy of Associate Degree Nursing fellow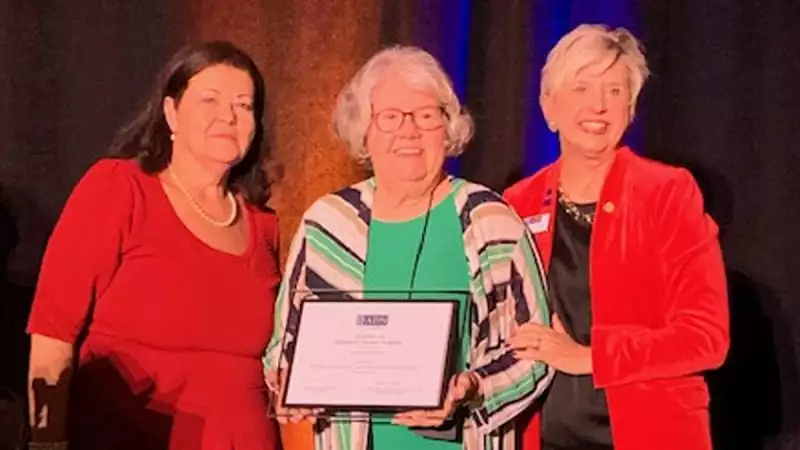 Polk State College's Director of Nursing Annette Hutcherson was recently inducted as a fellow into the Organization for Associate Degree Nursing (OADN) Academy for Associate Degree Nursing (AADN) for her outstanding contributions to nursing in both education and practice.
Hutcherson, who was recognized during the OADN 2019 Convention in Louisville, Kentucky, on Nov. 9, has actively supported nursing education in her 51-year career. She served 20 years in the U.S. Army National Guard, retiring as chief nurse for the Florida National Guard, and has served Polk State for more than 30 years, first as a Nursing faculty member before assuming the director's position in 2006.
"I jokingly refer to myself as the 'grandmother' of associate degree nursing," Hutcherson said. "I have never been a faculty member who just comes to work, teaches a class, and leaves. I have been involved in several committees within the Nursing Department and the College throughout my career to take an active role in communications and decisions that will impact the program."
Her leadership assisted the College in launching its Bachelor of Science in Nursing Program in 2011, creating a pathway for graduates from the Associate in Science in Nursing Program in which they can achieve higher education while working as registered nurses, filling the workforce needs of local healthcare facilities.
Both programs have maintained accreditation by the Accreditation Commission for Education in Nursing under Hutcherson's leadership. Additionally, the quality of Polk State Nursing is illustrated by the success of its students, including the 95 percent pass rate on the National Council Licensure Exam (NCLEX-RN) for Polk State Associate in Science graduates. This far exceeds the state and national averages.
"Polk State is fortunate to have Dr. Hutcherson, whose expertise, leadership, and dedication to our students and local healthcare industry continue to open doors of opportunity for aspiring nurses as well as those already in the field," Polk State President Angela Garcia Falconetti said.
Hutcherson, who holds a doctorate in Educational Administration and both master's and bachelor's degrees in Nursing from the University of Mississippi, has received numerous awards and participates in several professional activities locally and beyond. She has been a member of the Organization for Association Degree Nursing for more than 10 years.
"I have attended multiple conventions and have brought back valuable information to improve my classroom and clinical instruction, while also sharing with other faculty members so they could improve as well," Hutcherson said.
The AADN was established to recognize individuals who model exemplary dedication to associate degree nursing education and practice. Fellows have worked as change agents to advance health and education through associate degree nursing, according to the AADN.
Hutcherson continues to work diligently with Polk State faculty, staff, and healthcare partners to advance opportunities for students and the Polk County community.