Polk State Dedicates Bing Tyus Yard in Honor of Longtime Coach, Athletic Director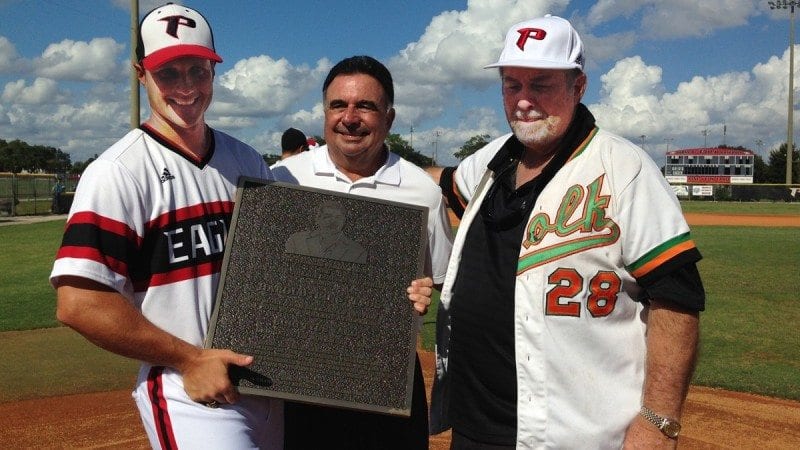 In 1983, as Polk State's newly hired baseball coach, it was Bing Tyus' job to tend the field.
He spent hours on end every week, mowing and fertilizing, sodding and watering. He remembers his wife, Debbie, an administrative assistant at the College, telling him, "I want my yard to look as good as the College's yard."
On Saturday, Tyus was recognized for his 32 years of service to Polk State Athletics, right in the place where it all started. The Winter Haven baseball field is now officially Bing Tyus Yard.
"This is just an incredible honor," said Tyus. "There is a lot of blood, sweat, years and tears here, and a lot of special people."
Polk State staged a surprise dedication ceremony prior to the Polk State Baseball Alumni Game. During the ceremony, a large tarp was removed to reveal a sign just under the scoreboard that bears the new name of the field. Polk State Baseball Coach Al Corbeil and Polk State Athletics benefactor Bob Georges also presented Tyus with a plaque commemorating the occasion.
Tyus was brought to tears.
"This is something I will never forget," Tyus said. "Usually, this happens to someone after they're dead. It's really nice to see it and be able to appreciate it."
Corbeil said he had long wanted to honor Tyus for his contributions to the baseball program.
"Bing poured nearly 20 years of his life into building this baseball program, and now the entire athletics program, into what it is today. I am extremely fortunate and blessed to have a boss and mentor like Bing, and I believe the other coaches feel the same way. I couldn't think of a better way to honor him and everything he has done for Polk State Athletics than to have his name on the field," he said.
Corbeil added:
"This baseball field was Bing's second home while he coached here. He's the winningest baseball coach in the history of the program. More importantly, I think Bing has really paved the way for so many student-athletes and coaches to be successful here. I believe his name being recognized on the scoreboard and on the bronze plaque with his accomplishments is a nice tribute to someone who has done so much for so many others."
During brief remarks on Saturday, Polk State President Eileen Holden recognized not only Tyus and Corbeil, but also Georges, a longtime supporter of Polk State Athletics and sponsor of the Polk State College Foundation's William N. Ryan Memorial Golf Classic.
Georges said he was proud to lend his support to renaming the baseball field.
"Bing is the best thing that has ever happened to Polk State's baseball program and athletics program," said Georges.
Tyus served as baseball coach from 1983 to 1998, when he was named the College's athletic director. In 1992, he led the baseball team to its first state title.