Polk State Dean of Workforce Education & Economic Development named Polk Emerging Leader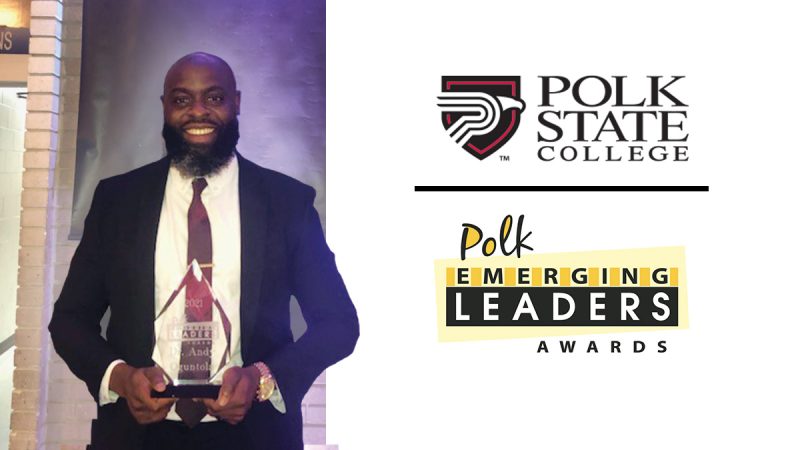 Polk State College's Dean of Workforce Education & Economic Development and Director of the JD Alexander Center in Lake Wales, Andy Oguntola, received a 2021 Polk Emerging Leaders Award. He is one of five recipients recognized by Polk County's three young professionals' groups, Emerge Lakeland, Endeavor Winter Haven, and Engage Bartow, for significant contributions and commitment to the community.
Sara Beth Reynolds with Theatre Winter Haven, Brian Yates with Citizens Bank & Trust, Michelle Henne with Releve Sports Medicine, and Lauren Jensen with Sessums Law Group also received awards.
"Dr. Oguntola embodies the characteristics of a Polk Emerging Leader as his contributions to Polk are felt across the County," Polk State President Angela Garcia Falconetti said. "I have had the distinct pleasure of witnessing firsthand Dr. Oguntola's diligent work ethic, dedication to the community, and unifying approach to providing higher education and economic development opportunities. He is an asset to Polk State College and Polk County at large. Congratulations to him on this well-deserved recognition."
Oguntola moved to Lake Wales nearly 20 years ago when he enrolled at Webber University, where the Kissimmee native earned bachelor's and master's degrees in Business Administration. He also holds a doctorate in Education from Nova Southeastern University.
Oguntola joined Polk State in 2016 as Director of the JD Alexander Center, the College's Lake Wales Campus, and recently assumed the role of Dean of Workforce Education & Economic Development. He serves in both capacities, ensuring that the JD Alexander Center continues to serve as the leading higher education provider in Lake Wales and overseeing the College's Associate in Science degree programs to prepare students for employment in critical areas including health sciences, engineering technology, and business.
Beyond his service to Polk State, Oguntola serves as Chair of the Lake Wales Charter Schools Board of Trustees and has been pivotal in ensuring student success. In May 2019, he received the Community Leadership Award from the Lake Wales Area Chamber of Commerce and Economic Development Council for fostering strong partnerships between schools and the community. He has also traveled to Tallahassee with the Greater Winter Haven Chamber of Commerce and Lakeland Chamber of Commerce to advocate for Polk County and the College at the state level.
"It is an incredible honor to receive this award, which is dedicated to Polk State College and our Polk County community," Oguntola said. "I am grateful to Dr. Falconetti for her leadership and support and thank our young professionals' groups for selecting me as a Polk Emerging Leader."