Polk State Collegiate High Schools to Host Information Sessions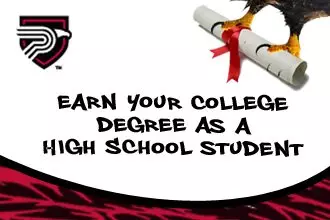 Polk State College's pair of public, charter collegiate high schools will offer several information sessions for prospective students.
Students at Polk State Chain of Lakes Collegiate High School in Winter Haven and Polk State Lakeland Collegiate High School fulfill high school requirements while also earning college credit. In many cases, students graduate with both their high school diplomas and their associate degree.
In addition to the Associate in Arts and Associate in Science degree programs, Polk State's collegiate high schools also offer courses that lead to industry certification in computer programming and infrastructure and health science. A criminal justice track is available at Polk State Chain of Lakes Collegiate, and Polk State Lakeland Collegiate offers a newly enhanced Digital Multimedia program.
Current high school sophomores and juniors are eligible to apply to the schools. Requirements include a minimum 3.0 grade-point average (unweighted and cumulative) and a passing score on the PERT (Postsecondary Education Readiness Test); some programs at the schools require only a 2.5 unweighted and cumulative GPA.
The PERT is administered Monday through Saturday at Polk State campus locations. More information can be found at polk.edu/currentstudents/tlcc/pages/cpt.aspx.
Because of construction at Polk State Winter Haven, potential Polk State Chain of Lakes students must make a testing appointment by calling 863-298-6800.
Prospective students are encouraged to attend an information session at any of the following locations and times:
Polk State Winter Haven, 999 Ave. H N.E.
Student Center (WST) 126
Feb. 5, 21
6:30 p.m.
Polk State Lakeland, 3425 Winter Lake Road
Lakeland Technology Building (LTB) 1100
Feb. 5, 12, 19
6:30 p.m.
Applications will be available at the information sessions or at the school offices. The application deadline for lottery admissions is March 2.
For more information, visit polk.edu or call Polk State Chain of Lakes Collegiate at 863-298-6800 or Polk State Lakeland Collegiate at 863-669-2322.