Polk State College to celebrate 127th commencement on December 8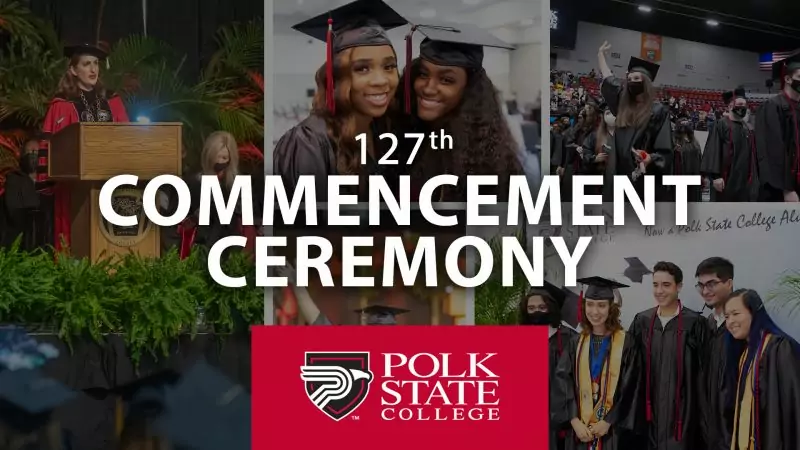 Polk State College will host its 127th commencement ceremony on Thursday, December 8, at the RP Funding Center in Lakeland, where members of the Fall 2022 Graduating Class will celebrate with their families, friends, and supporters.
"It is an honor to recognize our graduates as we celebrate their milestone accomplishments during a momentous commencement ceremony," Polk State President Angela Garcia Falconetti said. "Whether they continue to higher levels of education or enter the workforce, Polk State's graduates go on to become highly skilled professionals in health care, public safety, education, aviation, business, and more. We are so proud, and We are Polk!"
Graduates will take to the stage at 6:30 p.m. and, for the first time in College history, baccalaureate graduates will don red regalia. Associate graduates will wear traditional black regalia.
Graduates will receive email communication by November 18 from the RP Funding Center about redeeming their six allotted tickets. Graduates should note that tickets are not needed for themselves or attendees 2 years old or younger.
It is also important to note that Polk State has exited its Return to Campus Plan and is operating under pre-pandemic operations. Graduates and guests are asked to stay home if sick or experiencing COVID-like symptoms.
Attendees should also be prepared for enhanced safety and security measures, including metal detectors and bag checks, and should review the RP Funding Center's list of prohibited items: www.rpfundingcenter.com/group-services/prohibited-items.
Individuals who cannot attend in person can watch live streams of the ceremonies on www.polk.edu/academics/graduation.
Polk State's Fall 2022 Graduating Class is comprised of 1,151 students. Of those:
86% are Polk County residents, with graduating students also residing in Arkansas, Colorado, Connecticut, Georgia, Illinois, Kansas, Kentucky, Louisiana, New Mexico, South Carolina, and Tennessee.
278 will receive baccalaureate degrees:

158 from the Bachelor of Applied Science in Supervision and Management Program
18 from the Bachelor of Science in Aerospace Sciences Program
47 from the Bachelor of Science in Nursing Program
38 from the Bachelor of Science in Criminal Justice Program
17 from the Bachelor of Science in Elementary Education Program

553 will receive the Associate in Arts degree, which is fully transferrable to any institution within the State University System, as well as to one of Polk State's six baccalaureate degree programs.
204 will receive an Associate in Science degree, which prepares students to transition directly into the workforce in fields including health sciences and engineering technology.
116 will receive certificates, which give them a competitive edge in the workforce.
24 will graduate Summa Cum Laude with grade-point averages (GPAs) of 3.9 or greater.
51 will graduate Magna Cum Laude with GPAs between 3.75 and 3.89.
166 will graduate Cum Laude with GPAs between 3.5 and 3.74.
Nine will graduate with 4.0 GPAs.
Five will graduate with Honors Program Distinction.
The youngest graduate is 16 and the oldest is 63.
Polk State's 127th Commencement Ceremony will feature remarks by President Angela Garcia Falconetti and Vice President for Finance Cindy Baker, who is being honored as the College's December 2022 Distinguished Alumna. Baker is a 1990 graduate of Polk State who went on to study accounting at Florida Southern College. She is a Certified Public Accountant who worked as a public accountant for more than 20 years.
More information about graduation is available at www.polk.edu/academics/graduation. Graduates are also encouraged to monitor their my.polk.edu emails.