Polk State College reminds students of mental health and support resources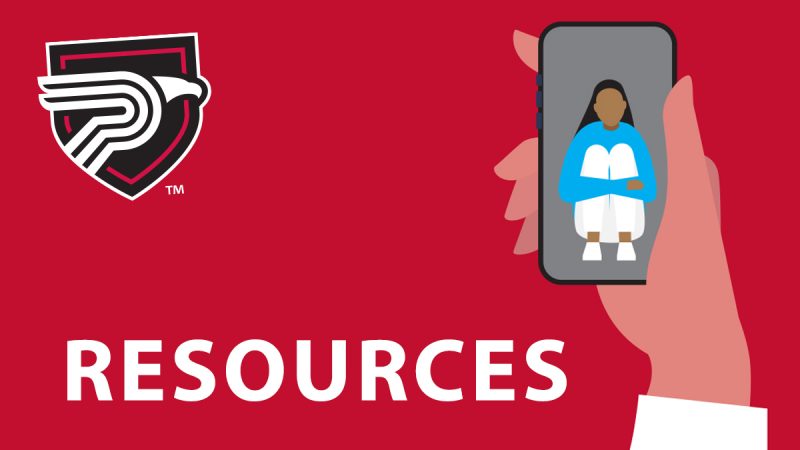 Fear and anxiety about the coronavirus pandemic can be overwhelming, but coping with stress makes us, the people we care about, and our community stronger. Now or in the future, face-to-face or online, Polk State stands ready to help students, faculty, and staff who face mental health issues or barriers to learning.
Polk State's Director of Disability and Counseling Services Kimberly Pearsall helps coordinate mental-health resources as well as tools for students with disabilities.
"It's important for students, faculty, and staff to stay connected," she said "Isolation can give rise to depression and anxiety. Call or text someone. Ask how they're doing and let them know you're thinking of them."
Polk State offers the BayCare Student Assistance Program. Students can call 1.800.878.5470 to receive immediate assistance over the phone from a licensed mental health counselor. All services are free and confidential.
"It's important to process your feelings," said Pearsall. "Deep breathing is also a good way to deal with stress. So is taking a walk or getting outside when possible."
Students also have access to BayCare's Personal Advantage, an online resource for help with everything from preparing for exams, to creating a personal budget, to managing stress.
Pearsall's role at Polk State includes helping students with disabilities successfully access College programs and services. Access for students with disabilities can be more challenging as courses have moved from face-to-face to an online environment.
"We provide technical assistance and we are doing as much as we possibly can," she said.
"If, for example, a student is requesting a reader or scribe for exams due to their disability, the College has purchased a limited number of licenses for assistive software. Programs like JAWS, which is a speech-to-text software, are available and free to students."
Polk State has the following software available free to students with disabilities:
JAWS Screen Reader Software by Freedom Scientific. JAWS is designed to read aloud what is on the computer screen and to give users navigational tools to allow access to all screen and web content.
Dragon Naturally Speaking Software by Nuance. A speech recognition software that lets students express their ideas in writing more quickly and easily.
Sonocent by Dr. Roger Tucker. Sonocent is a software program that students can access by using their smartphones or computer devices. The program makes audio recordings of lectures real by visualizing audio as chunks, phrase-by-phrase. Sonocent does what any note-taker would do and much more.
Other resources the College offers are as follows.
Destination: Graduation is a United Way program that aims to help Polk State students overcome obstacles and complete their degrees. The program connects students to more than 2,000 community resources.  Students must meet certain criteria, such as but not limited to:
Student must be enrolled in the current or previous semester
Student must be Pell-eligible
Student must have maintained at least a 2.0 GPA
Student must be a Florida resident
For more information, or to speak with the Destination Graduation case manager, call 863.648.1500 ext. 263 or email PolkDG@uwcf.org.
United Way's 2-1-1 is the most comprehensive source of human and social services information in the country.  Compassionate, highly trained specialists are available 24/7 to connect you with the best services available in Polk, Hardee, and Highlands counties. United Way's 2-1-1 provides information about:
Supplemental food and nutrition programs
Clothing, shelter, and housing options
Financial assistance
Emergency information and natural disaster relief
Health care services
Child, adolescent, and adult mental health services
Addiction prevention and rehabilitation programs
Support groups for individuals with mental illnesses & special needs
A safe, confidential path out of physical or emotional domestic abuse
Adult, child, family, and elder services
Services for individuals with disabilities
More information is available by calling 888.370.7188 or emailing uw211help@gmail.com.
My Brother's Keeper is a multidisciplinary service-learning project designed to help Polk State students by providing snacks and beverages, personal hygiene items, and information about and referrals to community resources. The shelves of My Brother's Keeper are stocked with the generous donations of staff, faculty, students as community members.  My Brother's Keeper can also accept monetary donations. All donations are used to stock the shelves with items for students.
More information is available by calling 863.297.1010 extension 3423 or emailing SALO@polk.edu.
The Polk State Pantry provides free provide food to students in need – from snacks and microwavable lunches between classes to canned goods and nonperishable items they can take home to stock their own pantries. The pantry also offers free personal hygiene items.
Hours and times may vary. Students should email Kim DeRonda for more information.
Additionally, the College recommends the following mental health resources:
Students may also contact Pearsall at kpearsall@polk.edu or 863.669.2309, or Coordinator of Disability Services Dionne Formey at dformey@polk.edu or 863.292.3759 for more information and assistance with counseling and disability services.