Polk State College Partners with Florida Southern College To Strengthen Education Workforce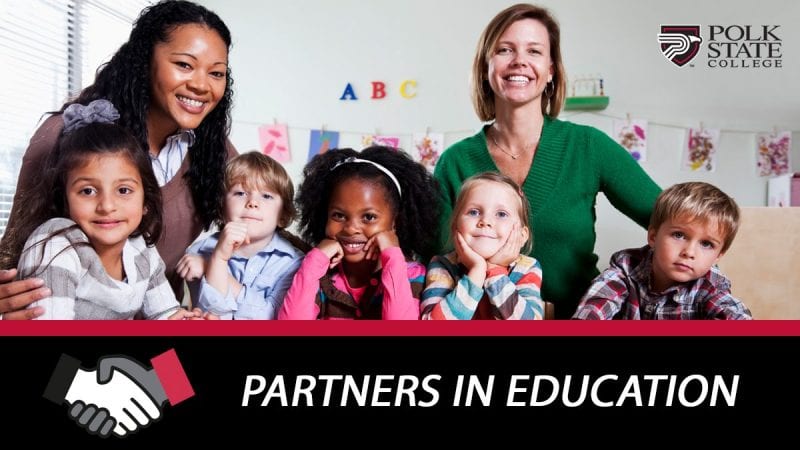 Polk State College and Florida Southern College have established an articulation agreement that allows eligible Polk State graduates to seamlessly enroll in a Florida Southern School of Education master's degree program.
The agreement, signed last month and effective immediately, enables Polk State College graduates with Bachelor of Science in Elementary Education (K-6) and Early Childhood Education (Pre-K to 3) degrees to enroll in the Master of Education in Collaborative Teaching and Learning (M.Ed.) and Master of Education in Educational Leadership (M.Ed.L.) programs. This agreement will produce highly qualified teachers and administrators, enhancing the quality of teaching and learning in Central Florida.
In order to qualify, students must have a 3.0 GPA and hold or be eligible for a Florida professional teaching certificate. Successful applicants are exempt from several FSC admission requirements, including an application fee. In addition, applicants receive a free tuition voucher upon enrolling in the final required course in the master's program.
"The signing of this agreement increases access and opportunity for our students to clearly defined pathways to success in their education careers," said Dr. Donald Painter, Polk State College interim vice president of academic affairs. "I commend Florida Southern College for proactively working with Polk State toward this agreement for the benefit of students and their families."
The Florida Southern Master of Education (M.Ed.) in Collaborative Teaching and Learning degree program is designed to further the knowledge and skills of classroom teachers. The Master of Education (M.Ed.L.) in Educational Leadership degree program is designed for teachers who hope to explore roles in educational leadership or administration.
Dr. Tracey Tedder, dean of the School of Education at Florida Southern, said the agreement will strengthen the teacher workforce in Polk County and beyond.
"Our masters' degrees are designed to help qualified teachers become even better at the demanding task of educating young people. We believe the Polk State graduates who enter our program will be examples of excellence in their profession," she said.
About Polk State College…
Polk State College is a multi-campus institution serving over 20,000 students with Bachelor of Applied Science, Bachelor of Science, Associate in Arts, and Associate in Science degrees, as well as a wide range of certificate and workforce training options. The College also operates three charter high schools. Polk State's advantages include small class sizes, hands-on learning, dedicated faculty, day and night classes, online options, affordable tuition, excellent financial aid opportunities, and a diverse community and vibrant student life featuring fine arts programs, clubs, and intercollegiate athletics.
About Florida Southern College…
Founded in 1883, Florida Southern College is a private, comprehensive college and the oldest college in Florida. Florida Southern maintains its commitment to academic excellence through more than 50 undergraduate programs and distinctive graduate programs in business, accounting, education, and nursing. Florida Southern has a 13:1 student-to-faculty ratio; is an award-winning national leader in engaged learning; and boasts 30 NCAA Division II national championships. It is ranked among the Top 20 Best Universities in the South by U.S. News and World Report; named a 2016 Top ROI College by Forbes; and included in The Princeton Review's 381 Best Colleges and The Fiske Guide to Colleges 2017. The College is committed to the development of the whole student through vibrant student life programs that prepare graduates to make a positive, consequential impact on society. FSC is conveniently located within an hour's drive of both Orlando and Tampa and home to the world's largest collection of Frank Lloyd Wright architecture, designated a National Historic Landmark in 2012. Named the "Most Beautiful Campus in the Nation" for two consecutive years by The Princeton Review and one of the nation's "Ten College Campuses with the Best Architecture" by Architectural Digest, Florida Southern is an internationally-recognized place of beauty and academic excellence.