Polk State College Occupational Therapy Assistant Program: Students Soar With In-Depth Knowledge in the Field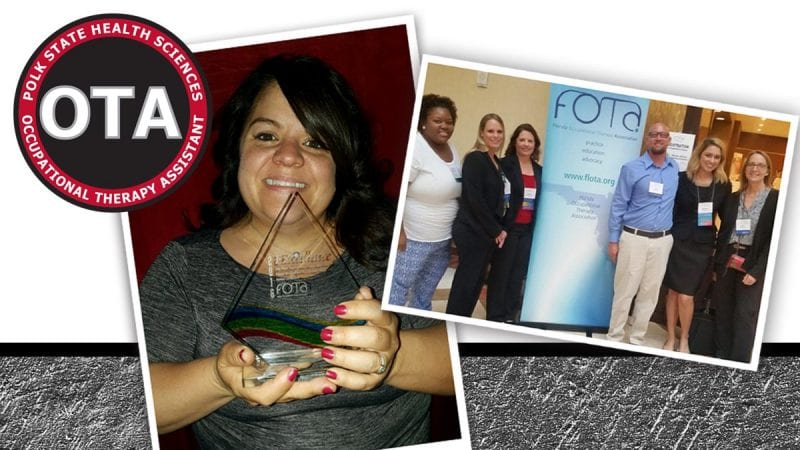 Students from the Occupational Therapy Assistant program recently attended the Florida Occupational Therapy State Conference in Tallahassee.
Two students, Kristin Carlisle and Madeline King, were invited to share posters at the Conference. Congratulations are in order for Kristin Carlisle who received first place for her presentation titled "Discharge Options and Intervention Planning for the Homeless Population in Acute Care Settings in Pinellas County." Carlisle chose this subject after her last clinical rotation in an acute care department at a Pinellas County hospital. Capitalizing on an assignment to research pertinent community health topics, Carlisle became passionate about finding safe and suitable discharge options for the homeless.
"I was truly elated to receive this award for my work," said Carlisle. "I was confident in my research and data collection, and I felt the judges embraced my excitement for the project. Winning the conference award was a great honor and privilege."
Madeline King was also honored to submit her work titled "Empowering Our Seniors Through Acts of Kindness: How To Improve Social Engagement In the Community." She selected this topic during her psychosocial fieldwork rotation at a local senior activity center, where she noticed that many seniors felt disengaged from the community.
"I knew I wanted to create a way for seniors to gain confidence and a sense of purpose," she said. "I recognized an opportunity to create that purpose through acts of kindness within the activity center and in the greater community."
Occupational therapy assistants (OTAs) work under the direction of occupational therapists to help patients develop, recover, and improve the skills needed for daily living and working.
The Polk State Occupational Therapy Assistant (OTA) Program began in January 1999 at the Winter Haven Campus, and the first class of students graduated in December 2000. The limited-admission, 70-credit hour, Associate in Science degree program provides students with opportunities to develop interpersonal and clinical skills in the field. Each OTA applicant must first be admitted to the College and meet pre-admission requirements. The program's Selection Committee chooses twenty-four applicants each year for enrollment in the spring.
Occupational Therapy is a vital healthcare service in which practitioners use occupation (purposeful activity) as a means of preventing, reducing, or overcoming physical, social, and emotional disabilities in people of all ages. Some of the responsibilities of occupational therapy assistants include carrying out treatment interventions designed by an occupational therapist, adapting the environment for individuals with psychosocial and physical dysfunctions to maximize independence, and teaching the use of adaptive equipment and compensatory techniques to facilitate the performance of daily activities.
"Polk State College's Occupational Therapy Assistant Program graduates can work in settings ranging from hospitals, skilled nursing centers, assisted living facilities, outpatient clinics, home care settings, and within school systems," said Interim Program Director, Anjali Parti. "We prepare our students for these environments by providing them with the clinical tools they will need to succeed."
"I have even more respect and admiration for the program now than I did while I was attending Polk State," said Carlisle. "I am currently employed at a skilled nursing facility, working alongside graduates from other colleges. I am proud of the education that I received and the knowledge that I gained. I wholeheartedly feel that Polk State Occupational Therapy Assistant Program graduates are set apart professionally in the field." She continued, "The program has afforded me the opportunity to provide for my family financially, while offering a sense of security through a field that will only continue to flourish."
Carlisle graduated in December 2016; King will graduate in May 2017. While employed, Carlisle will begin classes towards a baccalaureate degree, as she hopes to teach future Occupational Therapy practitioners.
"I want to pay it forward," she said. "I received incredible instruction, and I believe my calling is to teach others those same skills in service to my community."
King plans to apply her skills in a pediatric setting, engaging children in play and creative therapy.
"I love the idea of being creative, having children engage in therapy without their realizing it," she said. "I can't wait to put my skills to use."
The OTA Program is offered on the Winter Haven Campus from 8:30 a.m. to 6:30 p.m., typically two to three days per week (Monday, Tuesday, and Wednesday; or Monday, Tuesday, and Thursday, depending on the term). The program requires a full-time commitment throughout the year, including the summer. It contains 14-credit hours of clinical fieldwork that are completed at various sites in Polk County and adjacent counties.
Information about Polk State's OTA Program can be found at: https://www.polk.edu/occupational-therapy-assistant/program-directors-message/