Polk State College named finalist for prestigious Bellwether Award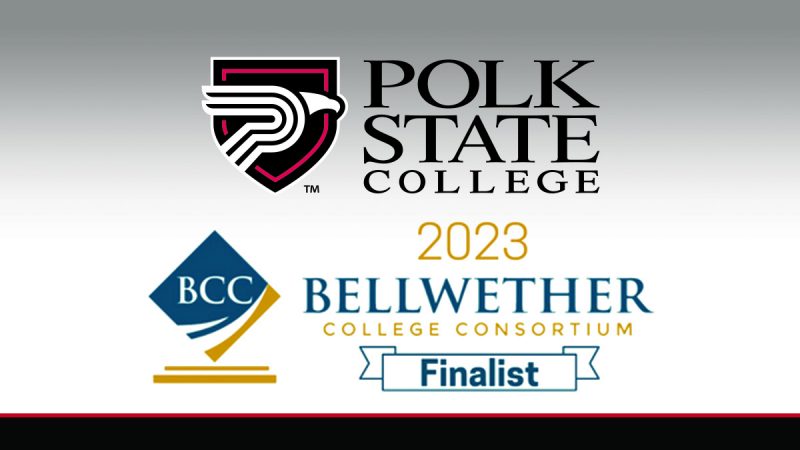 The Bellwether College Consortium has named Polk State College as one of 10 national finalists for the prestigious Bellwether Award in the area of Planning, Governance, and Finance. The Consortium will announce the winners in February in San Antonio at the 2023 Community Colleges Futures Assembly, which will feature 30 community colleges deemed Bellwether Award Finalists from a large group of applicants across the country.
Finalists will undergo a rigorous selection process with two rounds of judging by peers and academicians. The Assembly will culminate with presentations by contenders for the Bellwether Award and the Bellwether Award Ceremony. The Consortium explains that the national competition brings a level of excellence that demonstrates the innovative spirit and results-driven mindset that exists among the finest community colleges.
Polk State's submission titled "Creating a Culture of Quality and Innovation for Online Learning" focuses on the innovative work of the Learning Technology Instructional Design Team to establish a baseline of quality for online course design.
"Polk State's recognition as a Bellwether Award finalist is a testimony to the quality of our faculty and staff, as well as their commitment to student success," Polk State President Angela Garcia Falconetti said. "Our Learning Technology Team and faculty grew an opportunity from the challenges of the COVID-19 pandemic that will have an everlasting impact on our institution and the quality of our courses."
Polk State utilized Coronavirus Aid, Relief, and Economic Security (CARES) funds to develop the Quality Online Course initiative that leveraged the State of Florida initiative to recognize quality in online courses as part of the Board of Governors' 2025 strategic plan for the State University System. The program presented a foundation for which Polk could build its own quality initiative. The first steps included hiring two Instructional Designers, developing a Quality Online Course Rubric with the College's Distance Learning Committee, and launching the Quality Online Course Design Seminar to support faculty in enhancing their course design through the discovery of learning theories, design models, and best practices for online engagement and technology-rich pedagogy.
Cody Moyer, Polk State District Director of Learning Technology and Leadership Development, has led the way with the first six-week cohort of the Seminar piloted in November 2021. Since then, 44 faculty members have completed the Seminar and 27 are currently participating.
The average rubric score, from baseline review to final review, shows an average growth of 34% in course quality. Fifty-five courses have received the "Quality" designation, benefiting 2,170 students enrolled in 108 online course sections thus far. The College also boasts 37 courses designated as High Quality, certified through Quality Matters in a separate process.
"I am very proud of the progress we have seen thus far, a direct reflection of the willingness of the faculty to embrace and enhance the quality standards in an effort to improve student success in their online courses," Moyer said. "This community of practice provides an opportunity for faculty to learn from one another and partner with the instructional designers who provide informed support for creating a positive interactive learning experience online, boosting student success and faculty innovation. Without the support of the faculty and the administration, this initiative could not have been possible."