Polk State College Kenneth C. Thompson Institute for Public Safety: Dustin Ramsey Memorial Scholarship Event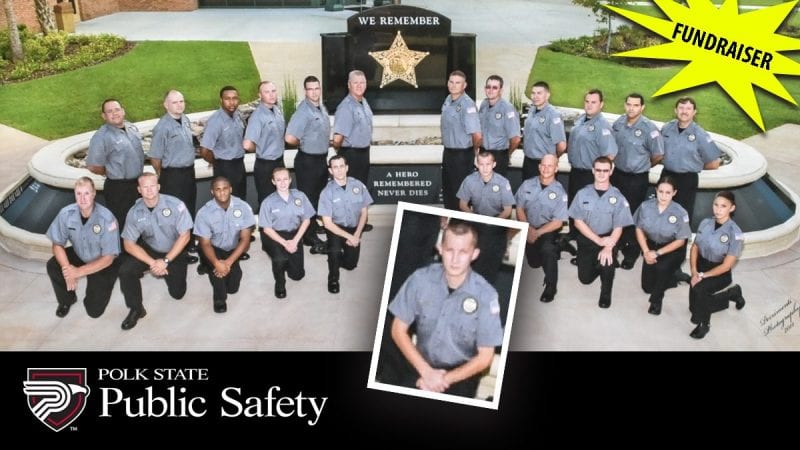 Dustin Ramsey has been memorialized as a talented leader who, even in dire circumstances, remained a resilient and determined fighter. Ramsey was a law enforcement recruit at the Polk State College Kenneth C. Thompson Institute for Public Safety when he lost his battle with melanoma in May of 2012. His determination drove him to never give up on his fight against cancer or his dream of becoming a law enforcement officer. While undergoing radiation and chemotherapy treatments, Ramsey continued his training, passed all his exams, and eventually graduated with his class, ensuring his life-long dream was achieved.
For Ramsey, there was never a question of giving up his goals–he had a dream and he meant to achieve it.
Inspired by his amazing example, in June 2012, Sergeant Angela Sockwell, then Ramsey's academy coordinator, approached his class with the idea of starting a scholarship fund to honor his life and commitment to the community. It was an easy decision for this group of inspired, dedicated, and engaged recruits. Within weeks, the class had planned a Barbecue Fundraiser and established the Dustin Ramsey Memorial Scholarship Fund, which currently offers scholarships from $500-$1000.
Since 2012, the scholarship has been awarded to seven recruits with a total of $4500 disbursed. Applicants must include a minimum 1000-word essay describing career goals, personal achievements, community service, and financial need; additionally, the applicant must provide a personal statement describing his or her reasons for pursuing a career in law enforcement. The scholarships can be utilized for expenses related to the academy and other academic pursuits.
To date, the recruits supporting Ramsey's memory have held a food truck rally, BBQ luncheon, bake sale, cake auction, raffles, and car wash events to raise funds. This year, the group is hosting an Yard Sale Fundraiser to be held on Saturday, March 4 from 6:00 a.m. until 2:00 p.m. at St. Joseph Catholic Church, 38710 5th Ave, Zephyrhills, FL 33542. Donations from the community are welcome and can be made at the Polk State College Center for Public Safety, 1251 Jim Keen Blvd
A law enforcement career is one dedicated to public service. It is no surprise that the current recruits at the Polk State College Kenneth C. Thompson Institute for Public Safety work together to honor Dustin Ramsey, so that his legacy may continue to flourish and inspire for years to come.
For more information on the yard sale fundraiser or to donate items, please contact Sergeant Christine Ford at 863-699-2909. All donations must be received by Friday, March 3.