Polk State College Introduces Special Topics in Sociology Course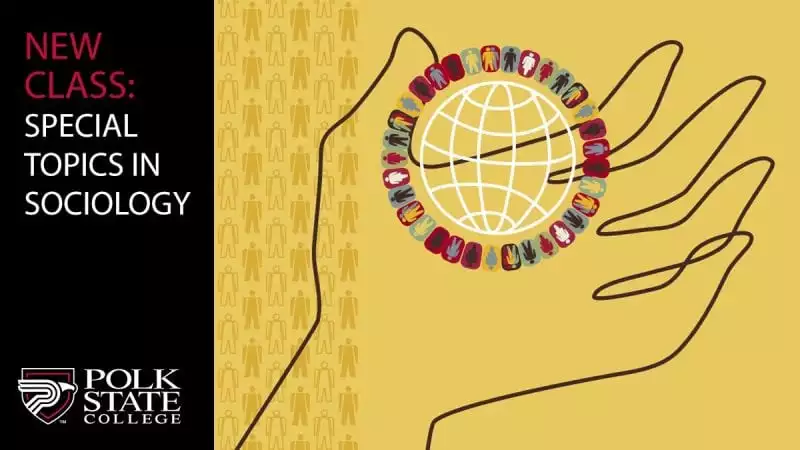 The beauty of the collegiate experience is the opportunity to delve deeper into new and exciting concepts. This year, Polk State College is introducing a special topics course offered by the Sociology Department entitled, Gender, Race, Social Class, and Sexuality (SYG 2930) with Dr. Lilli Downes. The class is being offered on the Winter Haven Campus on Tuesdays and Thursdays from noon until 1:15 p.m. Special topics courses focus on different concepts within a particular discipline during each semester, and they are often designed to address the specific interests and requests of students.
When Downes joined the Polk State faculty in 2003, only one sociology course was offered at the College: Introduction to Sociology. Downes, an experienced professor who has taught both sociology and psychology courses, has a passion for developing courses that expand students' learning experiences. Over the years, she has worked alongside other instructors, such as Professor Greg Harris, to expand course offerings. Harris, who shares the same love for developing new and innovative study options, has developed several courses within the field of psychology. With departmental support, Downes soon developed courses such as: Social Problems (SYG 2010), Gender and Society (SYG 2221), Introduction to Social Psychology (SYG 2300), and Introduction to Women's Studies (WST 2010). Realizing success in these course offerings, Downes began to consider designing Gender, Race, Social Class, and Sexuality as a special topics offering.
"With the growing national and international interest on issues of social inequality, I realized it might be a good time to design this course offering," she said. "There is a keen interest, especially among young students, related to why and how the social categories of gender, race, social class, and sexuality have developed. When Dean April Robinson approached me about developing this course, I jumped at the chance."
Downes spent considerable time reviewing texts and anthologies to develop an integrated and culturally relevant program that is appropriate for all students.
"Students will study ways in which these categories are socially and politically constructed by our society," said Downes. "Additionally, they will examine dominant-minority relations using a cross-national perspective, studying how globalization and worldwide ties have created new minority groups through population movement. Further, they will examine how dominant-minority relations have increasingly developed on an international stage as the world has "shrunk" in size and become more interdependent."
The course objectives enable the student to:
Use the sociological view of race, class, gender, and sexuality to analyze historical, institutional, and interpersonal thoughts, behaviors, and events.
Develop analytical skills and an ability to apply sociological concepts and theories, as well as critical thinking, to a wide range of social and political issues involving these categories of difference and inequality.
Identify and examine the causes and consequences of inequality, both in the United States and globally, and how these differences and inequities are maintained or transformed.
Analyze how social categories of difference impact the sense of self, one's identity, and one's life opportunities. The student studies privilege and oppression as social patterns that have a historical basis both in the United States and as a global construct.
Current students who would like to register for the course may do so via PASSPORT.
Prospective students may get more information at polk.edu/admissions-aid.
Polk State College is a multi-campus institution serving over 20,000 students with Bachelor of Applied Science, Bachelor of Science, Associate in Arts, and Associate in Science degrees, as well as a wide range of certificate and workforce training options. The College also operates three charter high schools. Polk State's advantages include small class sizes, hands-on learning, dedicated faculty, day and night classes, online options, affordable tuition, excellent financial aid opportunities, and a diverse community and vibrant student life featuring fine arts programs, clubs, and intercollegiate athletics.