Polk State College classes start Monday and enrollment is up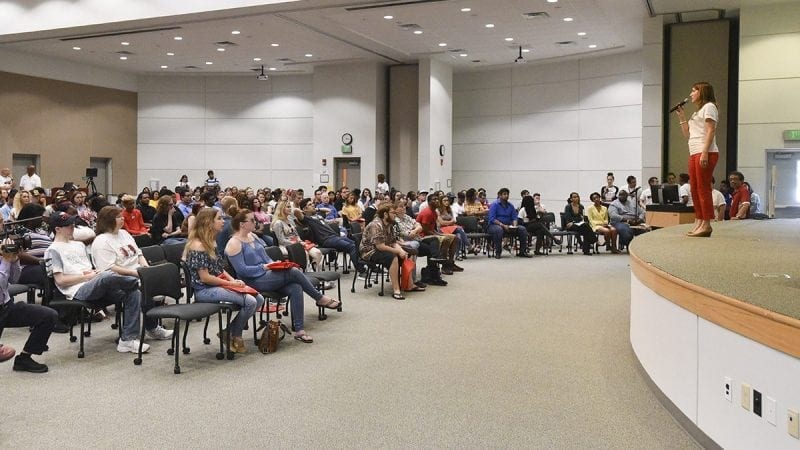 Polk State College will welcome students back to its campuses and centers Monday, August 20, and enrollment is up.
As of Monday, August 13, enrollment was 1 percent higher for fall 2018 compared to this time last year, with Polk State experiencing an increase in the number of first-time-in-college (FTIC) students who are returning for another academic year.
"The increase in FTIC students coming back for another semester at Polk State is a positive reflection of the College's continued efforts to retain students and see them through to graduation," Polk State President Angela Garcia Falconetti said. "This accomplishment is thanks to the innovative, strategic measures our faculty and staff continue to take in order to ensure students are receiving the support and guidance they need to be engaged, motivated, and successful along their higher education journeys."
Fifty-eight percent of FTIC students are returning this fall – up from 53 percent of FTIC students who returned in fall 2017.
The College serves nearly 16,000 degree-seeking students over the course of an academic year, and enrollment for 2018-2019 is only expected to increase as students have the ability to add and drop classes through Sunday, August 26. They also have the opportunity to enroll in a 12-week session that starts September 17 and an eight-week session that starts October 15.
This year, the College's improvements in retention and completion rates were reflected in its performance-based funding scores thanks to the hard work of faculty in the classrooms and initiatives to engage students such as the First Year Experience (FYE) program for incoming freshmen. FYE students participate in First Flight Convocation events leading up to the start of the semester to introduce them to their peers, faculty and staff, and College resources. They also enroll in the First Year Seminar course focused on college success.
"Innovative programs such as FYE allow us to serve our students by giving them a strong foundation and putting them on a supportive pathway to their degrees," Falconetti said. "At Polk State, services will only continue to be enhanced thanks to the College's success during the 2018 Legislative Session and improvement in performance-based standards, which gives us the resources we need to ensure that our students are receiving the support they deserve to be successful."
Polk State received $500,000 in recurring operational support that will allow the College to cut its advisor-to-student ratio. The College is currently in the process of hiring six additional advisors, which will give students the opportunity to have more time and more meaningful conversations about their education and career goals with advisors.
"We will always strive to enhance the Polk State experience for our students, and we are excited to welcome everyone back to our campuses and centers for the 2018-2019 academic year," Falconetti exclaimed. "I am positive this year will be full of growth for our institution and success for our students. Soar, Eagles!"