Polk State College Bachelor of Science in Education: After First Year, The Programs Are Off To A Great Start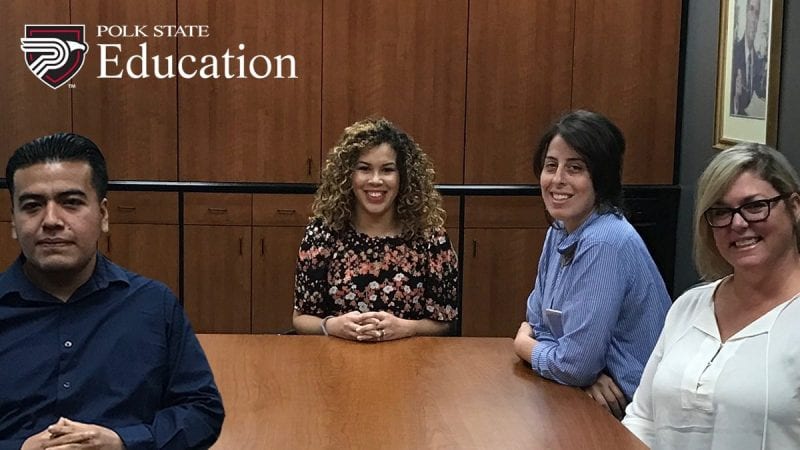 This fall, Polk State launched the inaugural Bachelor of Science in Elementary Education and Early Childhood Education degrees. The initiation of these programs were a direct result of the College working with Polk County Public Schools and Lake Wales Charter Schools, Inc. (the two largest employers of teachers) on education pathways. This communication revealed a critical need for teachers, and Polk State quickly worked to establish these innovative and necessary degree offerings.
Polk State's Bachelor of Science in Education programs are 60-hour, state-approved teacher preparation programs that build on the Associates degree. Both programs will satisfy the eligibility requirements for the Florida Professional Educator Certification
The new baccalaureate degree programs at Polk State opened classes this fall with fifteen teacher candidates enrolled, allowing for more intense, in-depth, hands-on instruction. For these first candidates, the program has been incredibly special.
For Toni Montoya, 43, the program provided her the opportunity to realize a dream, while maintaining her full-time job as a Polk County Schools bus driver and as a mom and wife for her family.
"This program has been so beneficial for me," she says. "Because of the class flexibility and being able to take classes both at the Lakeland and Winter Haven campuses during the day and evening, I have been able to support my family by working full-time while still making time to finish my degree. It hasn't been easy, but it has been worth it."
For Christina Yacoub, who always dreamed of becoming a teacher, the Polk State program provides accessibility and an affordability she could not find in other programs.
"After taking a break from school, I returned to Polk State to earn my Associate in Arts degree," she shared. "I went straight into the teaching program and was excited when it came to fruition. Compared to larger schools, the learning at Polk has been passionate, hands-on, and inviting. The professors give you an opportunity to share your thoughts and ideas. I love that kind of support."
Indeed, the teacher candidates have been impressed with the level of engagement from leaders and professors in the program, as well as the commitment from industry leaders such as the Polk County School Board and Lake Wales Charter system to engage and communicate with the students.
Brittiny Pearn is a former student who got her AA, spent time as a stay-at-home mom, and returned to college when the program opened. She shares, "Our professors have provided opportunities for us to meet and network with teachers and administrators from all over Polk County. We were invited to attend the Polk County Teacher of the Year banquet and that experience motivated and encouraged us to strive forward. I don't think I would have that type of exposure without Polk State College."
As an inaugural program, the class size is small, but mighty. The students have been guinea pigs of sorts, paving the way for future students joining the program. With that responsibility, however, the students feel deeply involved and invested in the success and future of the program at Polk State— taking time to offer thoughts, suggestions, and proposed enhancements to curriculum and assignments.
"As the only male student in the program," says Leonel Navarette, "I have a unique perspective. Our leaders have constantly asked for my opinion and thoughts on a variety of program enhancements and ideas. I am grateful for the opportunity to share my perspective and offer my advice for future students. That's why I wanted to become a teacher in the first place."
In its first year, the program has had challenges, but each student has seen those as opportunities for growth and learning.
"We've had some growing pains," Montoya says. "But they have been fun and it has been helpful for us to learn how to navigate those. Our leadership is engaged in every part of this program and we feel involved and included. It's a beautiful thing."
As the teacher candidates enter the second and final year of the program, they will partake in field studies which provide real-world settings for students to make connections between what is learned in classroom and how that knowledge is applied in professional practice at a variety of school settings and grade levels as they progress through the program.
The culminating teaching experience, the final internship, provides ample time for teacher candidates to demonstrate mastery of the skills and competencies delineated by the State of Florida as necessary for effective teaching and learning. The typical final internship experience is a 12-week placement in a local school where teacher candidates assume the role of a full-time classroom teacher. Field study and internship placements for teacher candidates will be limited to schools within Polk County.
Ask these students their favorite part of the entire program; they will say it's their fellow classmates.
"These future teachers have become my network," says Navarette. "I now have a life-long support system who will continue to encourage and motivate me. I am prepared to succeed."
"The small group and the intense connection to our teachers has been instrumental to my success in this program," says Montoya. "They inspire me every day. This group is my family now and always."
"We have a great bond," says Pearn. "I can't wait to see what happens next and how we elevate each other over the coming year. The program has been very special to me and my family."
"The professors have been amazing, and I am so grateful for their friendship," says Yacoub. "I have built a network of colleagues that I can take with me anywhere I go. That is not something you can achieve just anywhere. Our connection is incredibly strong."
To learn more about the Bachelor in Education programs, please visit https://www.polk.edu/education/.