Polk State College Announces Spring Arts Schedule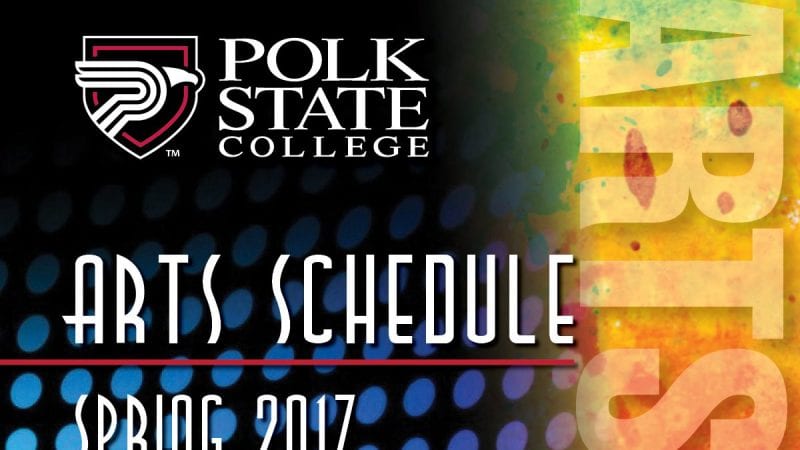 Polk State College is excited to present the 2017 Spring Arts Schedule, a collaborative effort of the College's Fine Arts Department, Office of Equity and Diversity, Student Activities and Leadership Organization (SALO), and the Lake Wales Art Center.
The spring collection offers an extensive array of entertainment with visual, music, theater, and digital-arts offerings. The world-class artists featured during the program are some of the most highly respected individuals from within their fields of artistic expression. Performances will span throughout the spring season (February to May 2017).
The College takes great pride in offering these opportunities for students and the Polk County community. The Arts provide a unique and personalized window through which to experience the world. Polk State College regularly provides classes and workshops, and also invites visiting faculty members to campus, to showcase varying aspects of art and culture.
Ticket information is provided at polk.edu/boxoffice or by calling 863.298.6883. Performance fees vary from no-cost to minimal cost, and can be viewed at various venues throughout Polk County, including the Polk State Winter Haven Campus, the Polk State Lake Wales Art Center, the Polk State Lakeland Campus, and the Polk State JD Alexander Center.
The Arts programs at Polk State College include music, theatre, and visual arts. In addition to academic studies, each area of The Arts offers students numerous performance and exhibition opportunities throughout Polk County. To learn more about upcoming shows and exhibitions, individuals may visit the spring arts schedule at polk.edu/the-arts.