Polk State Changes 135 Lives With Elementary Scholarship Week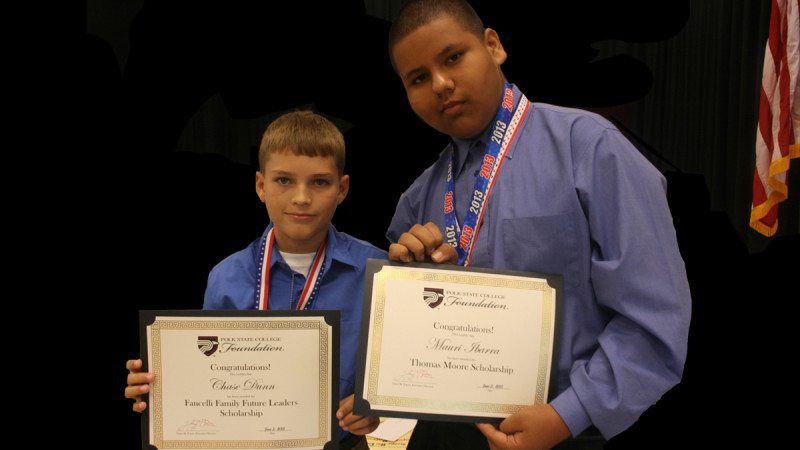 Wednesday was the last day of school for thousands of Polk County students, but for 135 of them, the end of the year was also the beginning of a new chapter in their lives — one in which they never have to wonder if they'll be able to attend college.
Each year since 2001, Polk State College has awarded dozens of full-ride scholarships to area fifth-graders during its Elementary Scholarship Week.
Among those receiving scholarships this year was Mauri Ibarra, who stood next to his beaming father shortly after receiving his award during Sleepy Hill Elementary School's fifth-grade awards ceremony.
"I'm the happiest dad in the whole wide world right now," said Pedro Ibarra. "When I heard his name announced, I got chill bumps on my skin. He's such a nice, intelligent kid who doesn't get into trouble and listens to his teacher. I'm so proud of him."
Mauri Ibarra, a soft-spoken boy who wants to be a physicist and loves Social Studies, said it is hard for him to imagine going to college right now, when all his attention is on starting middle school in the fall.
But he loves school and learning — and knowing he's guaranteed to do that at the college-level is exciting.
"I'm amazed. I had a rough time in kindergarten through second grade, but then I started to come out of my shell in the third grade. I started working and adjusting," he said.
Polk State, he added, will allow him to get a "great education."
Sleepy Hill Elementary had two scholarship recipients this year, the other being Chase Dunn.
Dunn struggled earlier in elementary school, said Principal Julie Grice, but like Ibarra, got back on track around the third grade. This year, he even served on the student patrol at the school's car-rider lane, a coveted responsibility among fifth-graders.
Dunn's mother, Angela Kennedy, said with five children — ages 9 to 15 — she felt a huge sense of relief when she heard Dunn's name called as a scholarship winner.
"This is very exciting," she said. "In the third grade, he matured and started working really hard and being really positive."
As for what he'll do with the education he receives at Polk State, Dunn said he has his sights set on engineering.
Ibarra's scholarship, like the majority of those presented during Elementary Scholarship Week, is from the Fancelli Family Future Leaders Scholarship, a fund established in 2001.  The other awards are paid for through the Polk State College Foundation by a variety of donors, including former employees and presidents of the College.
Several miles to the south, at Scott Lake Elementary in Lakeland, Polk State Professor Carol Martinson presented a Fancelli award to Zalen Gibbons. Martinson had never previously presented an award during Elementary Scholarship Week and said the experience "gave her goosebumps."
"Afterward, I was talking to Zalen's mom and she said that her daughter received the same award. Now, she is 16 and studying at Polk State in its collegiate high school program. When she graduates from high school, she'll already have her associate's degree, so she'll use her elementary scholarship to get a bachelor's. Now Zalen will be able to do the same. The family was absolutely appreciative," she said.
Guidance counselors and principals at each school select scholarship recipients based on criteria specified by donors. Likewise, the fact that scholarships are awarded in the fifth grade is determined by the wishes of donors.
Scholarship recipients represent nearly every elementary school in the county.
The only requirement for recipients is that they must graduate from high school.
Polk State President Eileen Holden said Elementary Scholarship Week is a much-anticipated tradition at the College.
"Each year, during this incredible week, we guarantee dozens of students across our county that if they work hard and graduate from high school, they will go to college for free. They will have the opportunity to get the degree that will start their careers and truly change their lives. I can't imagine a more wonderful tradition than that, and we are so proud to present these scholarships each year," she said.
Polk State College, an open-access institution, was established in 1964, and serves more than 20,000 students annually. Its offerings include the Associate in Arts, which is parallel and fully transferrable to the State University System, and the Associate in Science, which is designed to lead directly to the workforce. The College also offers the Bachelor of Applied Science in Supervision and Management, Bachelor of Science in Nursing, Bachelor of Science in Criminal Justice, and a variety of continuing education and certificate programs.