Polk State Chain of Lakes Wins Big at Academic Tournament; Will Compete at State Level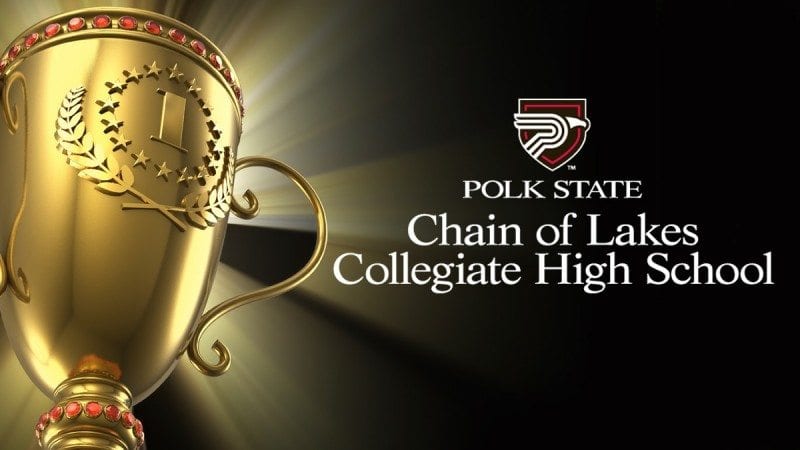 Polk State Chain of Lakes Collegiate was the big winner at the recent Polk County High School Academic Tournament.
Schools around the county participate in the tournament. Participants answer questions written by teachers at high schools from around the state; questions cover every subject, from math to fine arts, technology to world languages.
Polk State Chain of Lakes Collegiate was named 2015 County Champion at the event last month in Lakeland.
Members of the team included Bradley Denault, Polk City; Julia Jordan, Auburndale; Ruby Saenz, Auburndale; Audrey Widner, Winter Haven. The team scored 195 points, besting Bartow High School's 180 points and Harrison School of the Arts' 178 points.
Each of the four students on the team will receive a $500 scholarship from the Polk Education Foundation.
Additionally, Denault and Jordan were named to the Polk County All-Star Team. They will compete with other All-Star members at the statewide Commissioner's Academic Challenge in Orlando in April.
Because of the win, Peter Preston, a guidance counselor at Polk State Chain of Lakes and coach of the school's Academic Team, will coach the Polk County All-Star Team at the state level.
Polk State Chain of Lakes Collegiate Principal Bridget Fetter said this was only the third year the school has fielded a team.
"Our win is even more impressive when you consider the team has been together for only two years. Hats off to Dr. Preston, who is all about 'all things academic' and who works diligently to motivate our competitors," she said.
Polk State College operates three public, charter high schools. Polk State Lakeland Collegiate and Polk State Chain of Lakes Collegiate in Winter Haven serve academically outstanding juniors and seniors, allowing them to fulfill requirements for their high school diplomas while also earning college credit — all at no cost. In many cases, students graduate with both their diplomas and associate's degrees. Polk State Lakeland Gateway to College Collegiate High School serves students at risk of not graduating or dropping out of school, helping them to get back on academic track and earn college credits.