Polk State Chain of Lakes Student Competing with Top Finalists at International Science Fair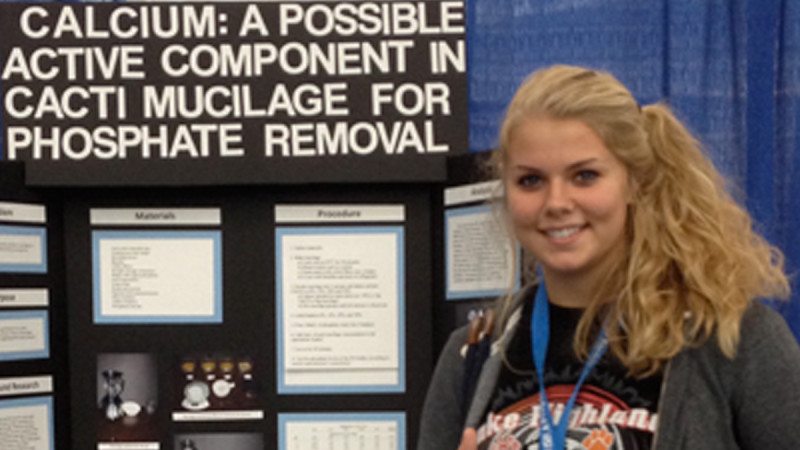 Polk State Chain of Lakes Collegiate High School student Kirstie Tandberg is competing in this week's Intel International Science and Engineering Fair in Pittsburgh.
Tandberg has spent four years researching how the calcium component contained in cacti can be used to reduce phosphate levels in water — a project that began with her dismay over the declining water quality of Winter Haven-area lakes.
In February, she received first place in the Environmental Science category at the Polk Regional Science and Engineering Fair, and three special awards. She was also a Best of Show runner-up in the senior division, which includes high school and middle school students. In April, her project earned fourth place in the senior division of the Environmental Sciences category at the State Science & Engineering Fair of Florida.
Polk State Chain of Lakes Collegiate Professor Suzy Halverson is accompanying Tandberg at the Intel event. She and Tandberg are blogging about their exciting experiences at the Intel event for www.polk.edu.
Friday, May 18
Suzy Halverson
Although, Kirstie  did not place in the Grande Awards, she has accomplished a remarkable experience and competition experience at the 2012 Intel ISEF.  She is looking forward to the 2013 Intel ISEF!
Thursday, May 17
Suzy Halverson
This exciting day started with wishing Kirstie a happy birthday, followed by a full day of public viewing at the Exhibitors Hall.  Kirstie, Ms. Tandberg, and I then took an adventurous journey to and from the Pittsburgh Zoo and PPG Aquarium.  It was neat to see a three-month-old baby gorilla being carried on his mama's back.  Another neat site was the "Elephant Barn" that actually had elephants walking back and forth inside a building for visitors to view and take photos.  The aquarium was just as neat, with the "Shark Feeding Tank" located outside and underneath the aquarium for visitors to view.  From the zoo and the aquarium, we had a two-hour journey back to the Convention Center, a trip that should have taken about 35 minutes!
Once we all made it back from our sightseeing adventures, we had a wonderful birthday dinner at a family-style Italian restaurant, which was followed by the "2012 Intel Special Awards Ceremony," where approximately 350 awards from various prestigious companies and organizations were presented. Overall, the State of Florida received numerous awards compared to other southern states!
Today, May 18, is the last day of a long week of competition!  The "2012 Grand Awards" will be presented for each category for 1st, 2nd, and 3rd places.  I will keep you posted!
Wednesday, May 16
Suzy Halverson 
From 6:45 a.m. until 10 p.m., Ms. Indira Sukhraj, of the Florida Industrial and Phosphate Research Institute, and I spent the entire day interviewing finalists and judging. Ms. Sukhraj judged in the category Environmental Management, and I judged in the category Microbiology. I am bringing back home so much new insight on how to make the Chain of Lakes STEM Research Program even better!
Kirstie, who is competing in Environmental Science, competed with the top finalists. From a judging perspective, I believe that she is very prepared as a top competitor in her category.
I am excited to attend the Grand Awards Ceremony Friday morning at 9 a.m.
Tuesday, May 15
Suzy Halverson
Today was another exciting day at Intel ISEF!
I participated in all the Grand Award Judges workshops for two full-days of judging microbiology projects. Kirstie and Andrew Noonan, who is a student at Bartow International Baccalaureate, attended "Press/Public Relations Time with Finalists," an opportunity for the finalists to be interviewed and for sponsors and dignitaries to visit the finalists' projects.
Although we all wanted to attend the "Excellence in Science and Technology Discussion Panel," only Mr. and Mrs. Noonan were able to attend this amazing opportunity to hear prestigious Nobel Prize winners such as J. Michael Bishop (Physiology or Medicine, 1989), Martin Chalfie (Chemistry, 2008), Dudley Herschbach (Chemistry, 1986), H. Robert Horvitz (Chemistry, 2002), John Mather (Physics, 2006), Douglas Osheroff (Physics, 1996), Carl Wieman (Physics, 1995), and Ada Yonath (Chemistry, 2009). Joe Palca, science correspondent and NPR moderator, joined the Nobel Prize winners for the event.
The finalists and parents celebrated at the end of the day by attending the Intel ISEF Mixer Event, which included a light refreshment and music!
Monday, May 14
Suzy Halverson
Today was awesome! The workshops that I attended were, "Data Analysis:  Statistical Storytelling from Graphs to Inference," "Science News on the iPad," and "MyOnlineFair: A 21st Century Science and Engineering Fair."
The students attended a question-and-answer and overview workshop about judging at Intel ISEF. We also enjoyed a delicious dinner and amazing Opening Ceremony! Brandon Hudson, news reporter for Pittsburgh's Channel 11 WPXI, was the master of ceremonies. Hudson was followed by Ben Gulak, an inventor best known for creating the "Uno," an eco-friendly, electric-powered vehicle, and "The Shredder," a portable all-terrain vehicle with the handlebars of a Segway and treads similar to those of a tank. It was just awesome!
Monday, May 14
Kirstie Tandberg
What a great start to the 2012 Intel International Science and Engineering Fair in Pittsburgh!  After setting up my science fair project on Sunday, I went to the "Student Pin Exchange," where I got to interact and trade pins with students from around the world.
On Monday, we started the second official day of ISEF by attending lots of great workshops and expos. I got a late start compared to Dr. Halverson and Andrew Noonan — who is representing Bartow International Baccalaureate — when I went to my first workshop at 12:45 p.m. The workshop was called "Talking Science" and was by Jack Franchetti, an expert in media and communication skills. He discussed how to communicate your project to judges, the media, and the public without losing them and still emphasizing the major points you want to get across.
I learned a lot of new techniques, like how to use a "hot-button question" and turn it into a positive discussion about why my project is great. This really helped me brush up on my communication and presentation skills — and I can't wait for my interviews!
Next, we went to the Intel ISEF Expo Hall, where we got to see lots of booths and demonstrations from different universities and science and technology organizations. They gave out a lot of really cool freebies —and even more pins for my collection!
Finally, it was time for dinner and the opening ceremony. The food was terrific but it was nothing compared to the entertainment and show we were about to see. When we walked into the ballroom where the opening ceremony was held, I was overwhelmed by the lights, music, and energy of it all. It was like being at a concert, but we were the rock stars!  We had great performers and inspiring speakers. Overall, it was a fantastic night. I am so excited for the week to come!