Polk State Chain of Lakes Collegiate Brings Home Honors from National HOSA Conference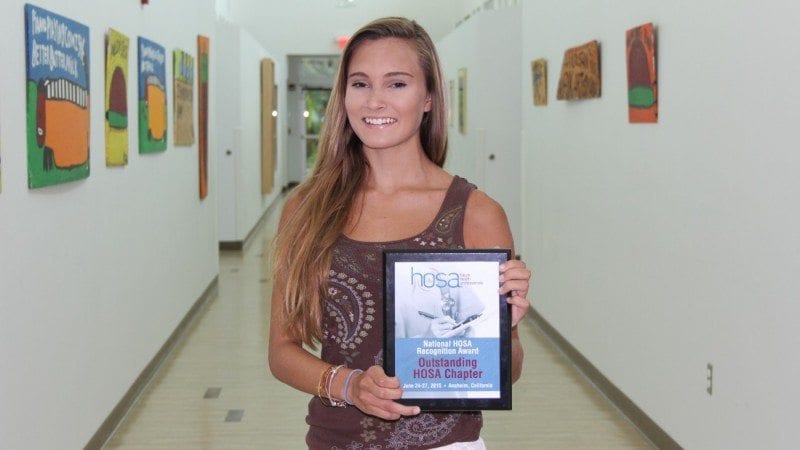 Polk State Chain of Lakes Collegiate High School brought home numerous honors from the HOSA National Leadership Conference late last month in Anaheim, Calif.
HOSA (Health Occupations Students of America) is a national organization for students pursuing careers in the healthcare industry. By providing students with opportunities to develop knowledge, skills and leadership, it aims to enhance the delivery of compassionate, quality healthcare.
At the conference, the Polk State Chain of Lakes HOSA chapter received the Outstanding HOSA Chapter Award.
Sydney Weber, a Haines City resident and vice president of the school's HOSA chapter, explained that Outstanding HOSA Chapter Awards are given based on scrapbooks chapters keep throughout the academic year that details their community service efforts, partnerships within the community, and other activities. Weber presented the Polk State Chain of Lakes 2014-15 scrapbook at the national conference.
In addition to the Outstanding HOSA Chapter Award, five Polk State Chain of Lakes Collegiate students were recognized at the national event for having received the Barbara James Service Award. The award recognizes students who have completed at least 50 hours of health-related community service.
Weber was among the five recipients, as well as:
Sarah Fleischman, Winter Haven
Kunal Shah, Winter Haven
Marcus Tarver, Winter Haven
Sherone White, Winter Haven
To top off Polk State Chain of Lakes' strong showing in Anaheim, a team of students that spent nearly a year educating the community about juvenile diabetes placed sixth in the Community Awareness event. Team members included Jessica Chavez-Gerardo, Gonzalo Gutierrez, both of Haines City, Dalton Reith, Auburndale, and White. The team raised $500 to benefit the Juvenile Diabetes Research Fund and presented about the disease at numerous events during the 2014-15 school year.
Also competing at HOSA nationals were Laurel Tanke and Alaina Insua, both of Winter Haven.
"Our students worked incredibly hard and showed tremendous dedication — and it paid off. They represented Polk State College proudly," said Suzanne Ramjattan Halverson, HOSA advisor and anatomy and physiology professor at the school.
Polk State College operates three public charter high schools, including Polk State Chain of Lakes Collegiate in Winter Haven, Polk State Lakeland Gateway to College Collegiate, and Polk State Lakeland Collegiate. All three high schools allow students to fulfill requirements for their diplomas while also earning college credits.