Polk State Chain of Lakes Collegiate High School: Honoring Law Enforcement With Sweet Treats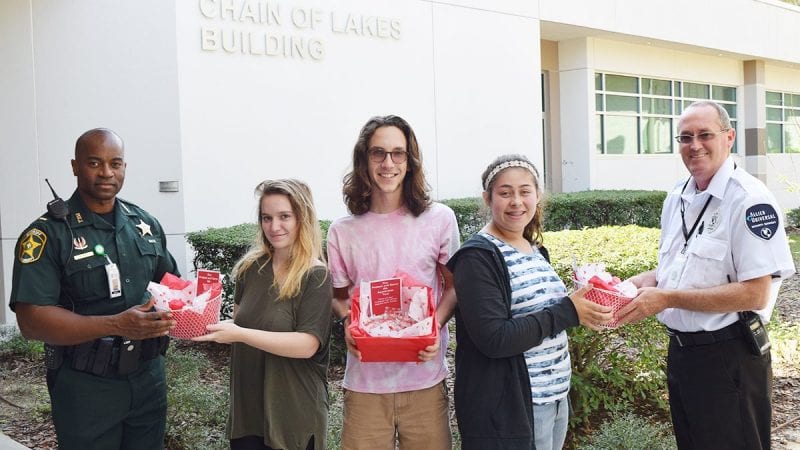 The Polk State Chain of Lakes Collegiate High School filled tables of baskets with lollipops on Thursday, February 9 for the second annual "Pops for Cops" event, organized by the Chain of Lakes chapter of the National Honor Society (NHS). Students prepared gift baskets containing heart-shaped lollipops with the message, "You protect and serve" for the Winter Haven Police Department, Polk County Sheriff's Office, and Polk State's Security staff.
The program began in 2016 when student, John Bartel, approached the NHS chapter advisor about honoring Polk's sheriff's deputies and Winter Haven's police officers. Bartel, who graduated in 2016, was moved by the dedicated support that local law enforcement members provide to both the school and the greater Polk County community.
"It is a great opportunity for our NHS chapter to reward law enforcement in a sweet way," said Haskell Anderson, a senior and the NHS Vice President. "Police officers protect us and put their lives at risk, so we want to show them how much we care and appreciate their work."
Upon receiving the gifts, Lt. Bobby Neil, Polk County Sherriff's Deputy and Polk State College Coordinator of Campus Safety and Security said, "It was a humbling experience to be recognized for the work we do keeping our campus community safe." He continued, "Although the lollipops were only a small token of the students' appreciation, they reminded me that students depend on us, and are happy with the services we provide. Our security officers could not have been more thankful for this act of kindness."
Each of the fifty members of this year's Chain of Lakes National Honor Society was asked to gather donations from classmates, family members, and the community. The response was overwhelming and the students prepared baskets with more than 25 lollipops in each.
"I'm proud that the NHS students brought in as many things as they did," said Alric Fischle, National Honor Society school advisor. "It's gratifying to be able to help members of the law enforcement community."
This is not the only community program that the Chain of Lakes National Honor Society has embarked on. Each April, the NHS raises money for the Amber Shaw Memorial Scholarship, a program that was initiated by the chapter in memory of a student killed in an auto accident in 2009. A cake auction to raise funds for this cause will take place on April 13 from 8:00 a.m. until noon in the gym on the Winter Haven campus.