Polk State Chain of Lakes Collegiate Alumnus Turned Political Candidate: "You Have the Chance to Impact a Life"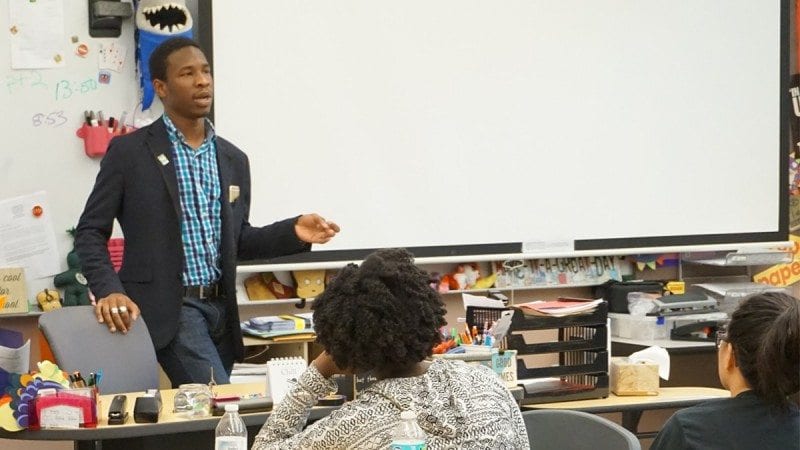 A 2014 Polk State Chain of Lakes Collegiate High School graduate returned to campus Wednesday morning to share with current students his experiences working with the Hillary Clinton campaign and his reasons for pursuing his own political office.
Victor Sims now attends USF St. Petersburg, where he is studying for his bachelor's degree in psychology. Earlier this year, as part of USF St. Petersburg's Road to the White House class, he served as an intern with the Clinton campaign.
His first taste of politics, he hopes, won't be his last. Last week, Sims, 20, kicked off his campaign for House District 39, challenging Rep. Neil Combee.
During his visit to Polk State Chain of Lakes Collegiate on Wednesday, Sims discussed both the Clinton campaign and his own, but with the hope of conveying a message that transcends politics.
"I believe that no matter where you are, you can make a difference. No matter where you are, you have the chance to impact a life," he said.
He added that current Polk State Chain of Lakes Collegiate High School students, and anyone for that matter, should never let anything stand between them and their goals.
"I want to create a life where people can break barriers regardless of their age, race, or gender, so they can reach their utmost potential."
Sims explained to Social Science Professor Patricia Sullivan's U.S. History class that late last year, he was thinking about what to do after he graduates from USF this spring. He considered teaching in a third-world country, or continuing his career with McDonalds — Sims is a manager at a Winter Haven location — but ultimately he felt called to politics.
"I really love serving people," he said. "I just want to see people make it in life."
Sims is running on an education platform because, he said, he believes education is at the root of all the state's problems.
"I really want to see education be more of a focus," he said.  "If I can fix education, I can fix the state."
Specifically, Sims said he wants to increase funding at both ends of the educational spectrum — from Head Start to the Bright Futures Scholarship Program. He also wants to see more high school academies in the state to help prepare students for the workforce.
Sims acknowledged that some will use his youth against him, but he's ready to respond to such attacks.
"I may not have the voting experience, but I have the life experience," he said.
Sims entered foster care in 1996, when he was just three months old, because of violence in his home. He spent his childhood bouncing from family to family, living with eight by the time he was 11. In 2007, his last foster parents, Violet and Ron Sims, legally adopted him.
Inspired by his own experiences, Sims said if he's elected, he will also work to make improvements to the state's foster care system.
Leading up to the Nov. 8 election, Sims will be meeting with organizations throughout Polk County and "knocking on doors," he said, all while balancing his full-time course load.
As he heads toward college graduation and, he hopes, public office, Sims credits Polk State Chain of Lakes Collegiate High School with preparing him for both.
"I wouldn't be where I am today without the high school and Polk State College," he said.
Polk State College operates three public charter high schools, including Polk State Chain of Lakes Collegiate in Winter Haven, Polk State Lakeland Gateway to College Collegiate, and Polk State Lakeland Collegiate. All three high schools allow students to fulfill requirements for their diplomas while also earning college credits.