Polk State & CareerSource Polk put student on path to rewarding career in occupational therapy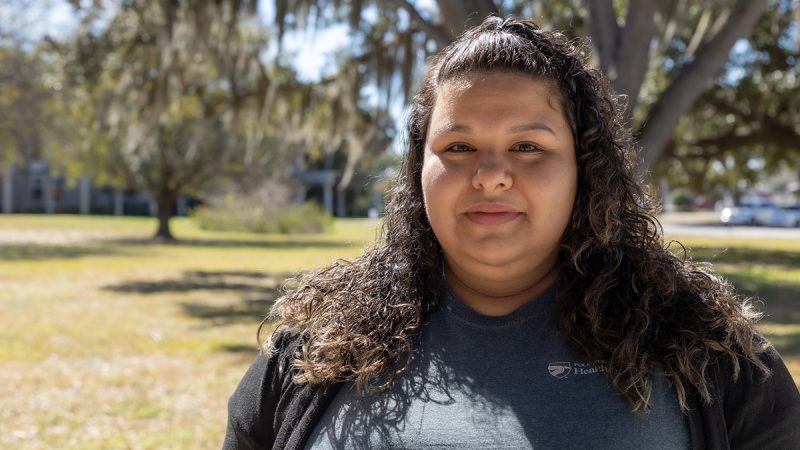 Higher education that once seemed out of reach for Marisol Ramirez Ramos has now transformed her life thanks to tuition assistance made possible by CareerSource Polk and the quality training she has received through Polk State College's Occupational Therapy Assistant (OTA) Program.
When Ramirez graduated from Ft. Meade High School in 2011, she wanted to continue her education and already had some college credits under her belt as a Polk State dual enrollment student.
"I've always loved school. I've always wanted to learn – to do more; be more. But I wasn't able to afford tuition as an undocumented immigrant at that time," Ramirez explained. "I took advantage of dual enrollment knowing that I would not be able to afford college and I am happy to be able to finally come back and finish what I started."
Through dual enrollment, high school students can take Polk State classes and gain college credit at no cost to them.
After high school, Ramirez had her son, became documented, and juggled multiple jobs.
"I was a single mom working two to three jobs at a time and thinking 'this is not the life I want for my son,' – working so much just to make ends meet and not having time to spend with him," she reflected. "Sometimes you have to take a step back to step forward."
"Polk State prepared me well. Once we were out in the field, it all became very real, and we could see that what we had learned in the classroom applied to what we are doing in our fieldwork."
She learned about CareerSource Polk and the resources available through the Workforce Innovation and Opportunity Act (WIOA) Career Development and Training Program. WIOA provides job seekers with the opportunity to receive education and training in areas on the Florida Department of Economic Opportunity's regional demand list that will allow them to advance in their careers. The demand for occupational therapy assistants is high, with an annual growth of 21.9 percent, well above the average rate of other fields.
Ramirez explored career options and found the role of an occupational therapy assistant as a way to help others while also affording her time with her son and financial stability for her family.
"Helping people regain parts of their lives and being a part of that change is what really motivated me to go into OT," she said.
Returning to Polk State to pursue her training was a no-brainer for Ramirez, who was able to use her credits earned through dual enrollment toward her degree.
"Plus, it's like a family here," she said. "We're a small, united cohort in OTA. The classes are small and hands-on, and we are able to study together and help each other. Our professors always make us feel that we are supported, and they push us to do our best and try new things."
"Polk State prepared me well," she added. "Once we were out in the field, it all became very real, and we could see that what we had learned in the classroom applied to what we are doing in our fieldwork."
She remembers being nervous for her first day in the field at AdventHealth Wauchula. She had wanted to go into pediatrics but was assigned to geriatrics.
"I'll admit, I was bummed at first," she shared, "but after my first day there I absolutely loved it. I felt like I could do this for the rest of my life and be happy."
"To see a patient who cannot stand up on Monday walking around on their own by Friday is the type of change I want to make in this world," Ramirez said. "That is what I went to school for."
Now in her second and final rotation of fieldwork as she completes her Polk State Associate in Science in Occupational Therapy Assistant this semester, Ramirez is working with Polk State Network Support Specialist Freddie Acevedo on an ergonomics study.
"We have worked on everything from how Mr. Acevedo sits at his desk, to the height of his chair, to the positioning of his hands and wrists when he types," Ramirez explained. "We are all different and so our workstations are not one size fits all. That's where OT comes in and we can make small changes that make our bodies healthier and happier."
Ramirez is looking forward to completing her degree and fieldwork in the coming weeks and preparing for the National Board for Certification in Occupational Therapy (NBCOT) exam. She aspires to work in geriatrics.
Her advice for students is to "step out of your comfort zone and keep an open mind."
She commended her OTA "family" including her peers and Professor Annette Bullard for giving her the push she needed.
"When I was in high school, I was quiet, and I wasn't a leader. When I came back to school, I wanted my college experience to be different, so I became OTA class president and got involved in the program, creating a whole new experience for me where I have been able to learn and grow tremendously," Ramirez said. "Step out of your comfort zone. For example, I wasn't looking forward to geriatrics but when I got there, I fell in love. Have an open mind – and an open heart."