Polk State biology professor enrolls in EMS Program to become better instructor for students, finishes top of his class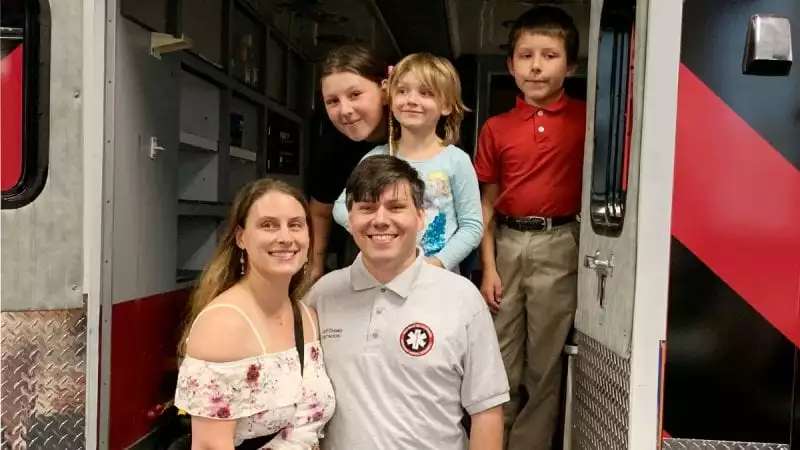 Polk State College biology and physiology professor Jeffrey Orasky has taught at the College for nearly seven years and many students from Polk State's Emergency Medical Services Program have come through his classroom.
To learn more about the program, Orasky enrolled in Emergency Medical Responder (EMR) and Emergency Medical Technician (EMT) courses, finishing at the top of both classes.
"I wanted to become a better instructor for my students," Orasky said. "I have always been fascinated by the human body, what can go wrong, and how we can help the body become more efficient. I have always wanted to go into the healthcare field and now I have that opportunity."
He received his bachelor's degree in electrical engineering with a minor in biology from Iowa State University and aspired to go to medical school.
"But my grades as an undergraduate weren't competitive enough so I went to graduate school instead," he explained. "I found myself teaching to pay the bills and it turns out that I truly enjoy being in the classroom."
He achieved his master's degree in neuroscience from Iowa State and moved to Lakeland, closer to family. Medical school may still be in Orasky's future, but in the meantime, he plans to put his new skills to good use in healthcare.
The ability for students to receive quality training quickly attracted Orasky to the program and he is confident that he will find employment in healthcare this summer as nearly 100 percent of Polk State EMS graduates are successfully employed.
Orasky credited the program for its flexibility, dedicated faculty and staff, and focus on real-world experiences that have prepared him to work in a hospital or EMS department.
"The program is rigorous and the most challenging part is juggling time between class, lab practice, field experiences, and for me, working as a professor," he said. "But if you are committed, the program is very doable and everyone at Polk State is very willing to work with you to make sure you succeed."
He participated in field experiences with Lakeland Regional Health Medical Center, Lakeland Fire Department, and Polk County Fire Rescue, completing the EMS Program May 1. He will begin to seek employment with Polk County hospitals and EMS departments this summer.
Orasky plans to continue serving Polk State as an adjunct professor, despite his new career path, bringing his longtime expertise and newfound knowledge to the classroom.
"I want to encourage all students on their paths, and motivate those with a genuine desire to help people by sharing with them that the path may not be easy, but Polk State EMS is a phenomenal program that will give them the skills and support they need," he said.