Polk State Alumna Receives Achievement Award from Association of Florida Colleges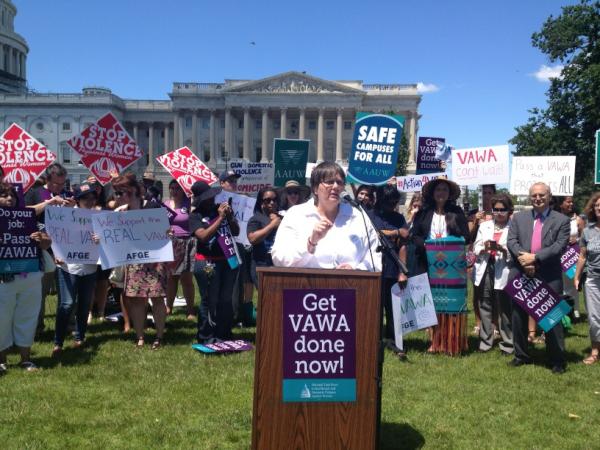 Polk State alumna Rita Smith, a national advocate against domestic violence, has received the Association of Florida College's LeRoy Collins Lifetime Achievement Award.
The award is one of the highest bestowed by the AFC. Smith is the first alumnus of Polk State to receive the award.
"We here at the College are so very proud to call Rita Smith one of our own," said Polk State President Eileen Holden.
"She has dedicated every day of her career to advocating against domestic violence. Her work has led countless women and children out of dangerous, frightening situations, to safety and security. She is an inspiration."
Smith, a Winter Haven native, graduated from Polk State College in 1974, and now leads the Denver-based National Coalition Against Domestic Violence.
"I am honored to do this work every day, because I know when I go home, I've saved lives," Smith said. "This award recognizes me as an individual, but the thing I'm pleased about is the work is being recognized. Domestic violence work is being seen as valuable and something that should be honored. That's what is important to me.
"It's also very exciting because Polk State is being seen as a place where people who want to change the world can begin that process."
Smith grew up in Winter Haven as the youngest of six children. Her father, Vernon Smith Sr., had an eighth-grade education and worked as a military cook. Later, he owned Sonny's Café, which catered to day laborers, and worked as a cook at Winter Haven Hospital. Her mother, Sarah, operated an in-home daycare for many years.
Soon after graduating from Winter Haven High School in 1972, Smith realized that a college degree was the key to a good-paying job. She enrolled at what was then Polk Community College, located just a few blocks from her home, becoming the first in her family to go to college.
Two years later, she earned her Associate in Arts degree in psychology.
Smith described her time at Polk as invaluable.
"Polk State started to expand my view of what was going on in the world and how I could impact it," Smith said. "It started in me a vision for myself and what I could achieve."
Polk's influence on her way of thinking has been helpful throughout her career, Smith said.
"At the national level, in working to stop violence against women, I have to understand how other people perceive problems and solutions," she said. "I began being able to do that while at Polk State."
After Polk, Smith went on to earn a bachelor's degree in psychology from Michigan State University.
Her career path took her to Colorado, where she worked at a residential treatment center for emotionally disturbed children. Though she enjoyed the work, her curiosity was piqued when she noticed a newspaper advertisement for a counseling position.
She had some experience as a counselor, and decided to apply. During the job interview, she learned the position was at a battered women's shelter — and just like that, she became aware of domestic violence, an issue she'd never heard of previously.
Her college courses never addressed domestic violence, so she learned everything on the job. Soon, however, she realized that many of the children she had previously worked with at the residential treatment center were acting out because they had experienced family violence. She also learned that problems arise when people do not feel safe in their homes, and how important it is to make homes safe for children.
The biggest shock, she said, was realizing that domestic violence could happen to anyone.
"It can and does happen to anyone, and to lots more people than most of us realize," she said in a 2011 interview with Polk State, prior to receiving its Distinguished Alumnus Award.
"It was a very newly defined social problem when I began working in the field in 1981. It had not been identified as a crime or social ill until the very late 1970s. Before that, as Gloria Steinem said once, for women it was just called life."
She briefly returned to Florida to work in the film industry, but still dedicated time to the domestic violence cause, volunteering for Peace River Center in Lakeland and serving on the Florida Coalition Against Domestic Violence board of directors.
In 1992, she returned to Colorado and was hired as conference coordinator for the NCADV.
A few months later, the executive director was fired. Smith and another staff member remained, and together they rebuilt the organization.
Today, NCADV is a national nonprofit that works at a grassroots level to end domestic violence. Its national board consists of advocates who work in the field every day, keeping the organization focused on its mission.
In her role as executive director, Smith builds corporate partnerships and secures donations. She is also often called on to speak about domestic violence, having appeared on national news broadcasts and The Oprah Winfrey Show.
Politicians also call upon Smith for her knowledge about domestic violence and passion to end it. She was present in the Oval Office in 2010 when President Barack Obama signed the Family Violence Prevention and Services Act. She has also met several times with Vice President Joe Biden and visited the White House during the Clinton and George W. Bush administrations.
Smith said the greatest accomplishment thus far in her career has been contributing to the Violence Against Women Act, originally passed in 1994 and reauthorized every five years since. The act combined new provisions to hold domestic violence offenders accountable with programs to provide services to victims.
Her work, however, is far from done, Smith said. Society needs to take a harder line on domestic violence on a community level, Smith said, and young people need better education on what defines a healthy relationship.
"I think what will make the biggest difference is having a significant number of men who say, 'This isn't how you treat someone you love, this isn't how a good man acts,'" she said.
Smith said she is also interested in working to help Winter Haven expand its resources for domestic violence victims.
Smith received the award at the AFC's annual convention in Orlando, Nov. 13-15.
 The AFC is the professional association for Florida's 28 public community and state colleges, their boards of directors, employees, retirees and associates.