Polk State Alumni Help Unravel Decades-Old Mummy Mystery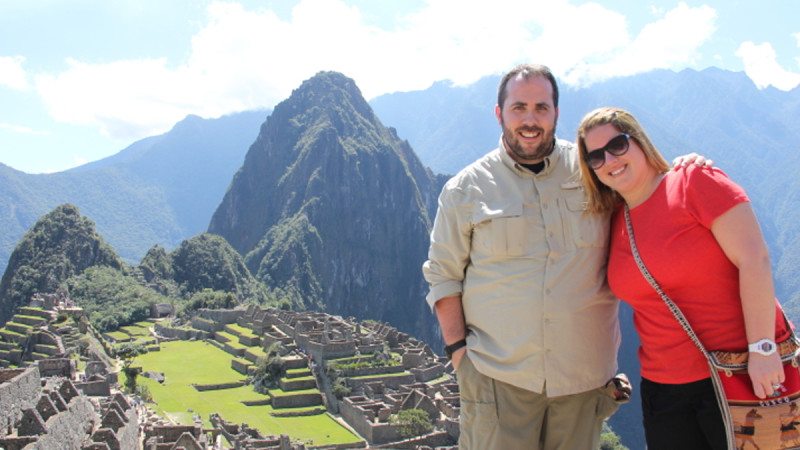 In the decades since it was unearthed, a hulking mummy stored at a museum in Lima, Peru, had perplexed scientists and researchers, taunting them with questions about what could be contained within its nearly 200-pound bundle.
Now, thanks to two Polk State-trained radiographers, the mummy's story is beginning to form — just as they begin an exciting, personal chapter.
About a year ago, Patrick Phillips, who holds two associate degrees and a bachelor's from the College, and who works as an adjunct in Polk State's Radiography program in addition to his full-time work as a radiographer at Winter Haven Hospital, learned about the use of X-rays to study mummified remains as old as 4,000 years in Peru.
The mission immediately appealed to the well-traveled Phillips, as well as his then-girlfriend Megan Dennis. Dennis earned her associate degree from Polk State in 2010, and is now studying for her bachelor's at the College. She works as a radiographer at Winter Haven Hospital and Bond Clinic.
In late May, they traveled to Ilo, Peru, accompanying a team of researchers led by Sonia Guillen, a Lima, Peru-based bioarchaeologist.
For 12 days, Phillips and Dennis X-rayed nearly 250 specimens, all perfectly preserved by the region's arid conditions, with hair and connective tissues still intact.
In particular, Phillips and Dennis were looking for signs of trauma to the remains — broken bones, stab wounds, anything that might speak to whether the deceased lived peaceably or were prone to violence.
Each scan proved fascinating, Phillips explained.
"We didn't find a lot of trauma. These were peaceful people — almost like hippies," he said.
Many of the fractures the pair did find were from falls — which is determined by the location of the injury and other details — further lending to the idea that the people got along with one another.
"When we did find fractures, many times they had healed. If you break your leg today, in 2012, it's a big deal and a lot of things can go wrong. The fact that the bones had healed tells us that thousands of years ago, these people had ways for dealing with those kinds of injuries," Phillips said.
The most incredible discovery, however, involved that huge museum mummy. Its sheer mass had led to years of speculation, with some researchers contending it must belong to a single, larger person, while others were sure that at least two bodies were under all the layers of fabric and llama fur.
Phillips, Dennis, and their research partners carefully collected a series of X-ray images that when pieced together revealed something unexpected: The mummy contains the body of a child, probably no more than 10 years old.
"Everybody was shocked to see what was in there, we weren't expecting it at all," said Dennis.
The discovery, while significant, spurs numerous other questions.
"It raises all kinds of avenues and possibilities about what these people believed about the afterlife," Phillips said.
Phillips theorizes that those who prepared the child's body were distraught by their untimely loss, and therefore wanted to send the child into the afterlife in the form he or she should have achieved on earth — big and strong.
"That was a moment where I realized that the work we were doing had a global impact," he said. "We were answering questions that will benefit the world — about these people and how they lived."
Though momentous on a global, historical level, the trip was also intently personal — with Phillips getting an answer to a burning question of his own.
Phillips proposed to Dennis during an excursion to Machu Picchu, an ancient Incan site on the eastern slope of the Andes Mountains.
She accepted.
"Words can't describe that experience. It's such a beautiful view. It doesn't seem like it was real," Dennis said.
Still reveling in his incredible journey, Phillips said none of it would have been possible without Polk State — and he was glad to share his Eagle pride during his time deep in the southern hemisphere.
Radiography, and the related medical-imaging programs of Cardiovascular Technology and  Diagnostic Medical Sonography, all fall under Polk State's Health Sciences umbrella. Other Health Sciences programs at the College include Emergency Medical Services, Nursing, Occupational Therapy Assistant, Physical Therapist Assistant and Respiratory Care. These programs attract students from throughout Central Florida, and Polk State Health Sciences students regularly outperform their peers in the state and nation on required licensing exams.