Polk State Alum Refused to Let Life's Obstacles Define Her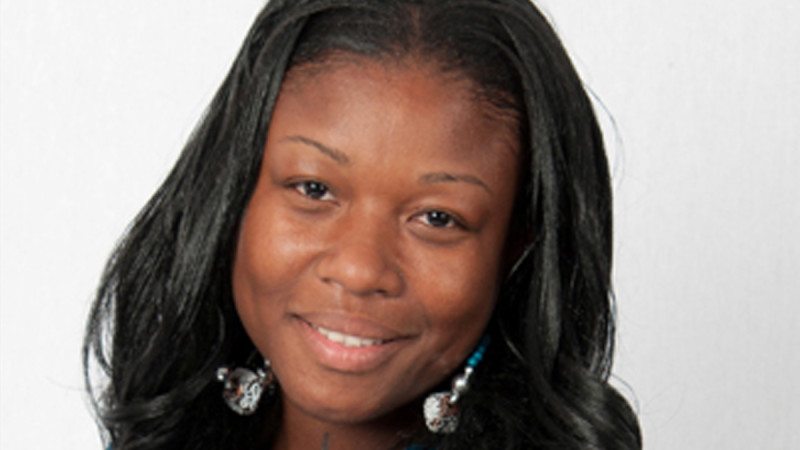 Polk State's nearly 50-year history is full of stories of alumni who have gone on to further their education, achieve great things in business, and make a difference in their community.
Jessica Blake is a prime example of all of those things — plus she's been in movies.
"I always knew I was going to do great things. I had a lot of life circumstances to overcome, but I always knew I had potential," said Blake, now 33.
Those "life circumstances," were certainly enough to have derailed Blake's aspirations. She became a mother while attending Auburndale High School, and she spent the four years after graduation working a combination of jobs. She worked the register at Taco Bell. She earned an accounting certificate from Ridge Career Center and kept the books at her church.
Then in 2001, she enrolled at Polk State, determined to defy all the odds stacked against her."I didn't really have a childhood. But I refused to be a statistic," said Blake. "I wanted to make a statement for my family."
At Polk State, she found the environment she needed to learn, and grow and dream.
"The support structure at Polk State was really strong. My instructors and administrators became my family and really pushed me to go to the next level," Blake said, adding she had a 4.0 grade-point average at the College.
"While at Polk State, I made the All-Florida Academic Team. When you get that good feeling, you want to move forward. Polk State was the foundation for my success."
Blake graduated from Polk State with her Associate in Arts degree in 2003, and went on to earn a bachelor's degree in accounting from the University of South Florida. In 2008, she earned a master's in business administration from Phoenix University.
Now, she is a doctoral student at USF, studying accounting. She works full time as the chief accountant for Winter Haven-based Greater Works Ministries. She also runs her own accounting and financial consulting business, Wynn & Associates.
In her role as accountant, Blake often hosts financial literacy outreach events at area churches, helping attendees to learn the basic skills they need to manage their money effectively.
Joe Halman Jr., pastor of Greater Works and a major and division commander with the Polk County Sheriff's Office, said that since joining Greater Works about a year ago, Blake has served as an inspiration for the congregation.
"She's certainly brought an innovativeness, creativity and energy. She is the epitome of hope for many of the young ladies and men. She proves that although you may start out with some life issues, you can end up being a success if you stay focused and continue on your educational path," he said.
Blake's financial literacy outreach helps Greater Works better serve its members, Halman added.
"A lot of times, right, wrong or different, people will get into financial woes. Most of the time, it's because they haven't been taught to handle money, how to appropriately manage money and credit. The purpose of the church is to take a holistic approach to helping people. If we're going to be effective, we have to teach them how to effectively manage their credit," Halman said.
Greater Works member Eric Bembry said his family has benefited greatly from Blake's financial instruction.
"She teaches financial stability, budgeting, and how to handle your household and achieve maximum potential out of your household," said Bembry, a fertilization manager for a landscaping company.
"We used to always just spend, spend, spend. When it came to needing a major repair or anything like that done, we didn't have the money. Jessica taught us to live on what's needed and put away the rest."
Heeding Blake's advice, Bembry and wife Cathraine now have enough money saved to pay for three months of expenses, a nice cushion against any surprise bills.
Also thanks to Blake, Eric Bembry added, Cathraine is now studying for her GED, with an eye toward one day going to college.
"Jessica's approach really clicked with my wife. She tells you all that she's been through, and I think that really motivates people," he said.
Given her experience with teen pregnancy, Blake also makes it a point to reach out to young people. Her message is always the same: Stay committed to education no matter what other circumstances arise.
Recently, she spoke at a banquet for Lake Region High School's basketball teams.
"It was really good for the kids to see a young lady who went through those things, but because she paid attention to detail educationally, she was still able to be productive," said Tyrhon Crawford, athletic director at the high school and senior pastor at Greater Works Ministries in Haines City. "It made it realistic to the students that good things can happen if they pay attention to school."
In the midst of earning higher degrees and pursuing her accounting career, Blake discovered that she enjoyed acting.
"I was working as a revenue accountant at The Weather Channel in Atlanta and I took a public speaking course because I often had to do board presentations. The instructor told me I had a great camera presence and asked me to join her acting class," Blake said.
Blake joined the class, and shortly afterward landed a cameo appearance in "Hurricane Season," a 2009 film about a high school basketball team whose members were all personally impacted by Hurricane Katrina. Despite the disaster, the team goes on to the state championship, led by their coach, played by Academy Award-winner Forest Whitaker.
Since then, she's had bit parts in "Shark Night 3D," the 2011 remake of "Straw Dogs," the 2011 remake of "Footloose," and episode five of the short-lived ABC update of "Charlie's Angles."
"Acting is an outlet for me. I'm dealing with financial statements on a day-to-day basis and that gets routine. Sometimes I need something different," she said.
For all her work as an accountant, and for all the success she's known as a hobbyist actress, perhaps what's closest to Blake's heart is raising awareness about epilepsy, a brain disorder that causes seizures.
While she was studying at USF, Blake had a series of epileptic seizures in her professor's office just before her final exams.
"I had a few questions before the exam," Blake said. "The next thing I remember, I was in the hospital. My professor told me I had three seizures back to back."
Prior to that episode, Blake had never had any indication of her condition. Learning that she has epilepsy, and that it is possible that a seizure could eventually kill her, changed her whole perspective.
"It made me appreciate life more. It gave me a different outlook and made me more of an activist," she said. "To me, obstacles are a motivation. When I was diagnosed, it made me want to work even harder."
Blake is now writing a business plan to establish a nonprofit organization that would help those with epilepsy to accept their condition and lead successful lives.
With so much already accomplished, Blake in many ways is just getting started. Her doctoral degree, a nonprofit, even a book about her life experiences are all waiting for her — and, driven by the hard times in her past, she won't stop until she achieves all those things and more.
"A lot of people counted me out and told me I wouldn't amount to anything," she said.
"To me, obstacles are a motivation."