Polk State Affirms Response to Governor: "Challenge Met"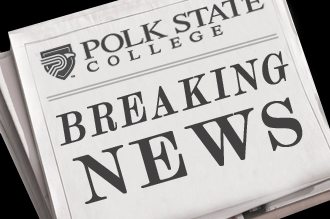 WINTER HAVEN — At this morning's media event at Miami Dade College, Gov. Rick Scott hailed Polk State College and the Florida College System for their responses to his challenge to offer $10,000 bachelor's degrees.
Since it began delivering bachelor's degrees several years ago, Polk State students have been able to acquire fully accredited, four-year degrees for less than $10,000 out-of-pocket, according to Polk State College President Eileen Holden, so, as she puts it, "We're proud that we have met the challenge."
When the challenge was issued in November, Polk State's President, Eileen Holden, quickly voiced support for the Governor's vision of affordability and access and pointed out Polk's tradition of affordability.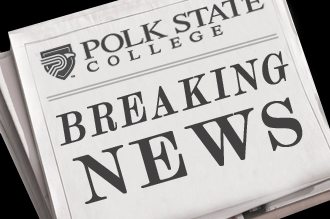 In the weeks since the initial challenge was issued, colleges around the state have worked to develop proposals that hit the target price point established by Scott.
According to Scott: "I congratulate Polk State College for accepting my 10k degree challenge.  Higher education is key to helping our students succeed in the 21st century economy and to grow jobs in Florida.  It is important that our students can get an affordable education, and our state colleges have stepped up to the challenge to find innovative ways to provide a quality education at a great value."
This morning, as the governor hailed the momentum his proposal has generated, Holden expanded upon her November remarks by declaring: "Polk State has met the governor's challenge."
According to Holden, the average out-of-pocket cost for Polk's students pursuing four-year bachelor's degrees is $7,680 — and does not involve student loans.
Holden credited her Board, the support of donors to the Polk State College Foundation, and the diligence of Polk's administrative team with keeping student costs so low: "For almost 50 years, Polk State has worked to provide high quality, locally relevant degrees to the region we serve. I can't imagine a better value anywhere than a Polk State bachelor's degree for less than $8,000."
Polk State's CFO, Peter Elliott, indicates that the difference between the "sticker price" of a Polk bachelor's degree and the amount that students pay out-of-pocket is made up through state and federal grants and the variety of need- and merit-based grants provided through the Polk State College Foundation and the College's own financial aid services.
"Federal Pell grants and Florida Bright Futures funding are critical components of affordability for our students," said Elliott. "And our Foundation has a phenomenal tradition of filling the gaps."
According to Elliott, the cost of a four-year degree at Polk is approximately $13,700, exclusive of any financial aid, but, he says, "The College has always been committed to maximizing awards for students — and we continue to be the most affordable bachelor's degree in our region, by far."
Holden touts Polk State's flourishing array of dual enrollment programs as one of the prime opportunities for families to cut the cost of a bachelor's degree. For instance, she notes, a student graduating from one of Polk State's charter high schools in Winter Haven or Lakeland can obtain an associate's degree at no cost to the family: "That can bring the out-of-pocket cost for one of our bachelor's degrees below $4,000."
Tracy Porter, executive director of the Foundation, is quick to credit local community support: "Our College enjoys an incredible relationship with our local stakeholders. Our alumni are generous and proud, and the companies that hire our graduates have been quick to support the very programs that train the local workforce. Throughout our community, donors have stepped up to recognize and underwrite the value of a Polk State degree. That's what lets us keep our degrees within reach for our students without burdening graduates with student loans."
Asked to comment on the governor's Monday event in Miami, Holden was all smiles. "We couldn't be happier to know that the governor is using his influence to spotlight affordability within our system. Now we will turn our attention to the challenge of securing appropriate state support during the upcoming legislative session. The Governor can be a key ally in that task."
Polk State College, an open-access institution, was established in 1964, and serves more than 20,000 students annually. Its offerings include the Associate in Arts, which is parallel and fully transferrable to the State University System, and the Associate in Science, which is designed to lead directly to the workforce. The College also offers a variety of continuing education and certificate programs. For more information, visit polk.edu.