Polk State Aerospace students to compete in cross-country Air Race Classic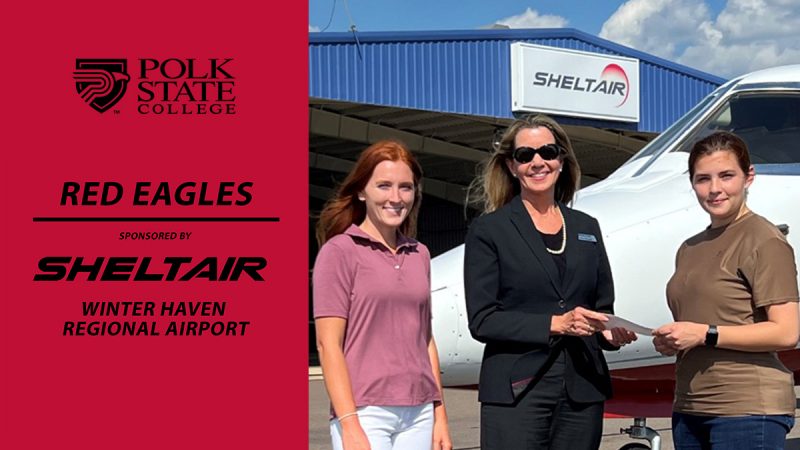 The Red Eagles will take flight at Lakeland International Airport on June 21 as Polk State Aerospace students compete in the 45th annual Air Race Classic. More than 100 women pilots will embark on the 2,500-mile journey to Indiana, which they must reach by June 24.
Racers range from college students to a veteran competitor in her 90s. Of this year's 47 teams, 18 represent colleges or universities. Emma Othmer and Autumn Richarz comprise The Red Eagles – one of only two teams from Polk County. Polk State student Kaitlin Conway is also competing on Team 33, The Lady Aces, with Richele Floyd and Jensen Dix.
"We wanted to commemorate Polk State as The Red Eagles," Richarz said. "My goal is to do the best we can as safely as possible while learning through it."
"This will definitely be a good learning experience for us to progress in our aviation careers," Othmer added. "One of the things I am excited about is being able to see other women and what they have done throughout their aviation careers with women from all ages and backgrounds participating."
This will be their longest flight as pilots yet. Richarz has flown to South Carolina, and Othmer's longest trip was a two-hour flight to Georgia. With a cross-country trip defined as a journey of at least 50 nautical miles, Richarz called the Air Race Classic, "a true cross-country flight with a lot of learning to be had." They have spent weeks planning for safety, fuel, and hotels. Each day, they will be flying from sunrise to right before sunset.
"There is a lot of preparation. I thought it would just be flight planning and navigation logs, but it has been much more complicated," Othmer said. "It's good to be able to get that real-life practice of what flying consists of outside of the learning environment."
"It's going to be intense, but super exciting," Richarz said.
Richarz is a graduate of the Central Florida Aerospace Academy and was a dual enrollment student at Polk State. After high school, she attended an aeronautical university, where she said she was spending a lot of money for little flight time in comparison to the affordability of Polk State, where smaller class sizes have allowed for more flying time.
Othmer echoed this sentiment.
"I only knew of Polk State and the [aeronautical university]. Polk was more realistic. I like that it's a smaller school where you can have a one-on-one connection with the instructors and get closer to other pilots," she explained. "It has definitely helped through the learning process."
They are both pursuing the Polk State Associate in Science in Professional Pilot Science.
Bryanna Travis, Flight Experience Coordinator for the Polk State Aerospace Program, connected the students to the Air Race Classic opportunity.
"She explained to us that there is such a small number of female pilots and an even smaller amount at Polk State, so this would be a great opportunity to represent both the College and female pilots," Othmer said.
"We hope to do well and to make it more broadcasted so that other female pilots learn about this opportunity and can participate too," Richarz added.
The Air Race Classic Inc. is an all-volunteer, nonprofit organization focused on encouraging and educating current and future female pilots, increasing public awareness of general aviation, demonstrating women's roles in aviation, and preserving and promoting the tradition of pioneering women in aviation.
This will be the first time Polk State has competed in the Air Race Classic.
The Red Eagles has garnered support and sponsorships from Executive Jet Center, Sheltair Aviation Services, Winter Haven Regional Airport, and a mystery sponsor.
The race can be followed on Facebook and Twitter @AuthenticARC.