Polk Soccer Players Learn Off-Field Lessons Through Community Service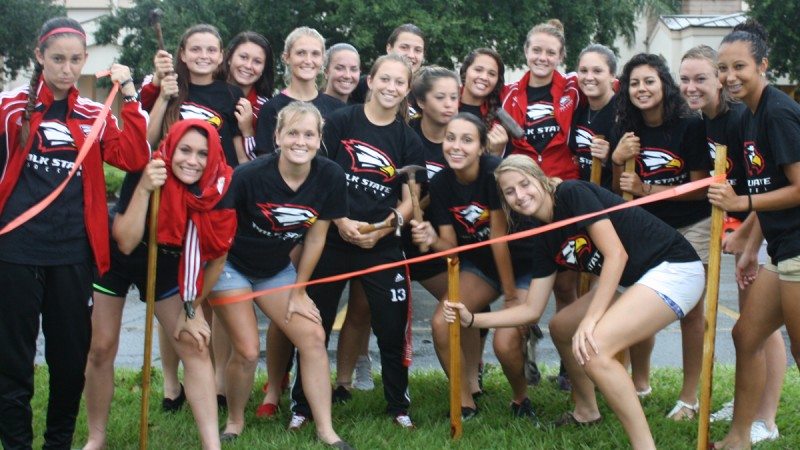 Polk State College soccer players recently found that the smallest gesture can still mean a big impact.
The Eagles used their muscles to help the Highland Park Church (Lakeland) staff prepare for its first-ever fundraiser to benefit the kidsPACK program of Polk County.
The Polk athletes learned that Kids Pack is a program that provides weekend meals for lower-income elementary and middle school students in Polk County.
The Highland Park Church staff provides the packs for at least 120 students, and will most likely provide more as the school year progresses.
The Highland Park Church program is part of a county-wide effort.
Eagle players assisted the Highland Park Church staff in setting up for their first Barbecue Throwdown in early September.
The staff hoped the event would raise enough money to allow them to finance their part in the project for the entire year.
Eagle players helped by making signs, sorting and counting T-shirts, moving tables and chairs and setting up the parking area in the rain, among other duties.
They gave two hours of their time to a worthy cause on a Friday night — prime time for college students to be doing other things.
While the Polk students didn't come into contact with the children  their efforts would help, the impact was still felt through the church and in the hearts of the players.
"This is invaluable," said church staff member Coy Lindsey. "We don't have volunteers handy to come help."
Highland Park barbecue event organizer and Kids Pack leader Jared Hatcher, a 1996 Polk State College graduate, knows the impact of the program.
"We receive thank-you letters all the time from the children," he said. "They tell us, 'It helps my mom and dad. They don't always have food for us.'"
The cause grabs Hatcher's heart.
"It's hard not to get upset," Hatcher said. "They are very appreciative."
Eagle sophomores Becky Reynolds and Kayla Hanel understood the impact of the time they gave.
"It's really good for us," Reynolds said. "We take a lot for granted. It's good to give back to the community."
The two did not know about the kidsPACK program prior to their involvement.
"It's kind of like culture shock," Hanel said. "Most of us were given whatever we wanted when we asked for it. It's good to realize not everyone has what we have. Even the little stuff — it helps a lot of kids."
"It's a reality check," Reynolds added. "It's a cliché, but it makes us appreciate a lot more. It's that much more heart-wrenching that the children can't do anything to help their situation."
Plus, the players also found giving back benefits the team.
"I think it brings us all closer," Reynolds said. "It really helps team morale to help our community, especially little kids."
Polk State College head coach Steve Linamen saw many benefits from the project.
"Always when you bring them together off the field, you get some unity," he said. "They tend to relate to each other well. The biggest aspect was seeing that giving a little bit of their time can mean so much to others."
The project is just one of many Linamen wants his players to participate in.
"We have two big ones planned that they will see a much bigger impact," Linamen said.
Linamen developed a list of Core Values for his team to give them a greater college experience and to help them become civic-minded young adults.
He plans to guide the team in one community activity per month.
To help the team grasp his goal, Linamen, along with his team captains, Reynolds and Eldridge, labeled the values of his program SOAR — for Servant Leadership, Optimism, Accountability and Respect.
Linamen has divided his team into three groups, each led by a sophomore co-captain, for future projects.
Years ago, Linamen was inspired by a project he did with the Auburndale High School girls' soccer team.
"Several years ago, I took my high school team and volunteered for Special Olympics at Disney," he said. "We will be doing that also. When you come into contact with anyone with a disability, you see how dramatically their mindset changes. It's a huge impact on them."
It's all about growing up and taking responsibility, according to Linamen.
"They are college athletes," he said of his players. "It's about you as a person and us representing our school and the brand and making a positive impact outside the sport."