Polk Nursing Alum Delivers "I Actually Do Care" to Patients at LRMC's Emergency Department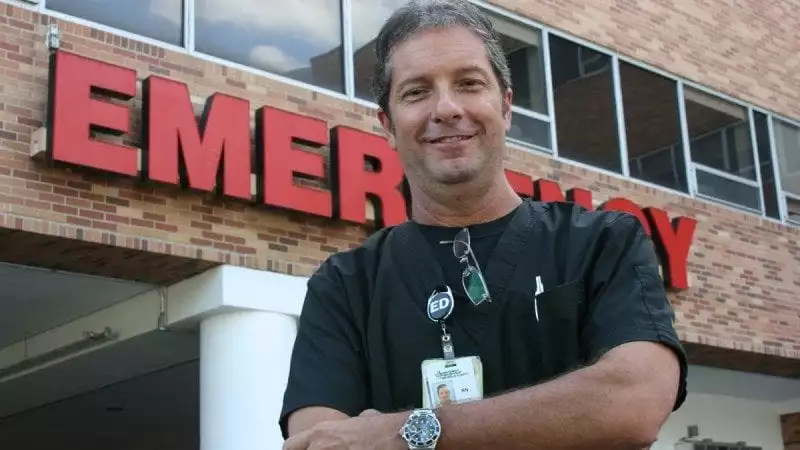 When Greg Baisden thinks about the difference he gets to make for patients every day, he thinks about an elderly woman, her daughter, and his cell phone.
Not too long ago, Baisden, a Registered Nurse and two-time Polk State graduate, was on shift at Lakeland Regional Medical Center's Emergency Department.
The woman came in, accompanied by her daughter, who was frantically trying to get in touch with relatives out of town.
Baisden handed her his phone and told her to make whatever calls she needed.
The next day, in the hospital cafeteria, the daughter was sitting with her brother, who'd traveled to Lakeland overnight.
"She thanked me for what I'd done," Baisden said. "I can't even describe how that feels. I don't just deliver patient care every day. I deliver, 'I actually do care,' and knowing that I made a difference for her, it meant so much to me."
There have been a lot of those moments, and more personal fulfillment than he ever could have imagined, since Baisden gave up his corporate career to pursue his long-held interest in nursing.
Baisden, a Polk County native who graduated from Bartow High School, became a licensed practical nurse — an entry-level position into the field — in his early 20s. He went to work in home healthcare and assisted living facilities, but neither setting proved a good fit.
"I've always liked working with people and helping," said Baisden, 46. "But neither of those settings were for me. I hadn't found my niche yet."
Baisden turned to the world of business, working as a supervisor for an international shipping company and mortgage broker.
He was in the latter career when the housing bubble burst.
"So I decided to come back to school," he said. "Polk State was close. It's the gem of the nursing schools in Florida. Polk State allowed me to come back. If it hadn't been here, I probably wouldn't have come back to school."
At Polk, Baisden completed his associate's degree in Nursing in 2010, and his Bachelor of Science in Nursing in 2013. He is now studying at the University of South Florida to earn his master's degree. He plans to graduate in December 2015.
After earning his associate's degree, Baisden accepted a job working in the Emergency Department at LRMC. It took him just a couple shifts to realize he'd finally found where he belonged.
In the Emergency Department, things change often — and fast. At any moment, an ambulance may arrive, carrying the victim of a car accident or a shooting. A patient complaining of seemingly minor discomfort may suddenly clutch his chest, overcome with the pain of a heart attack. A mother may burst through the doors, holding her child, who was playing one minute and struggling to breathe the next.
All the patients are different, but they all need the same two things — medical treatment and basic human comfort.
Baisden is honored to deliver both.
"It's exhilarating and rewarding," said Baisden. "Every day, I help people at times when they really need me.
"I remember something that (Nursing Professor Marianne Thomas) said to me. She said, 'if it ever gets to the point where the patients stop touching you, you're in the wrong business.' That's really stuck with me."
About a year ago, Baisden — who is definitely in the right business — was promoted to clinical supervisor. He oversees a team of eight nurses, serving as their extra set of eyes and helping hands.
As a nursing supervisor, Baisden said he can quickly tell the difference between nurses who've trained at Polk State and those who've trained elsewhere. Polk State's alumni are better prepared, more knowledgeable and more confident, even from their very first shifts.
"Now, I see why Polk State's program is so challenging. The program is so rigorous. There were times when I thought it was ridiculous. But in hindsight, and now when I observe new graduates, I understand that the rigor is intended to prepare us for the rigor of every day. It really prepares us for the job.
"When I meet students who are coming through Polk State's program, I tell them that what they're learning is going to be worth it. It's going to teach them to look at the whole picture and to ask the right questions."
Polk State's Nursing Program is one of several Health Sciences programs offered by the College. The Nursing Program offers Associate in Science and Bachelor of Science degrees. Other Polk State Health Sciences programs include Cardiovascular Technology, Diagnostic Medical Sonography, Emergency Medical Services, Occupational Therapy Assistant, Physical Therapist Assistant, Radiography and Respiratory Care. Students in these programs regularly outperform their peers in the state and nation on required licensure exams.
Polk State College's history is rich with stories of alumni who have gone on to make impacts, whether in the classrooms and laboratories of prestigious universities, the rough and tumble of commerce, or the halls of political power. Over the years, thousands of Polk State graduates have leveraged their education and experiences at Polk to transform their own lives and the lives of others. This transformation is the essence of what it means to "be Polk." Whether in big ways or small ways, Polk State alumni embrace the challenge of living lives that matter. News@polk regularly profiles these alumni. Their story is the story of Polk. They are The Pride of Polk.