Polk Hosts First Meta-Major Expo, Another Planned for Feb. 27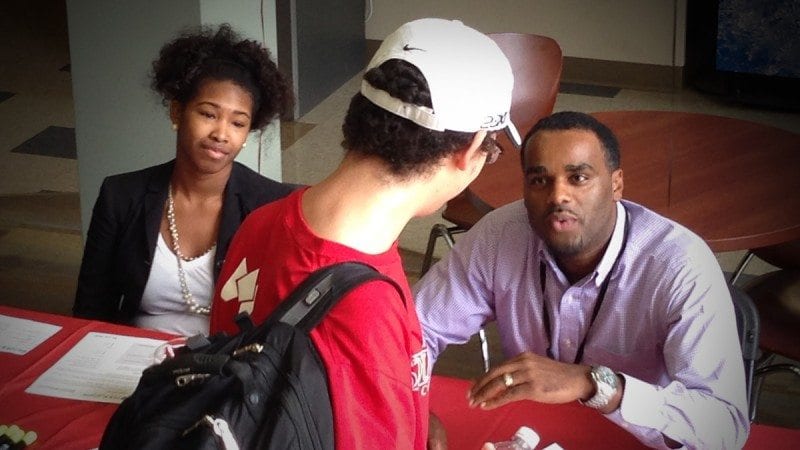 The Polk State Lakeland Student Center was abuzz Tuesday afternoon, as students mingled with area employers during the College's first-ever Meta-Major Expo.
Hosted by the College's Career Resource Center, the event targeted the meta-major of business.
Since the 2013 legislative season, students working toward their Associate in Arts degree at a Florida College System institution ­— including Polk State ­— may select meta-majors. Meta-majors are broad areas of study, such as business, education and science, that help students stay on track toward their ultimate educational or professional goals.
But even after they declare a meta-major, that doesn't necessarily mean students know exactly what they want to do after they graduate, said Career Development Services Coordinator Jessica Buchanan.
"That's the idea behind the expo," Buchanan said. "Students might decide they want to study business, but they might not be aware of all the different career paths that covers. Within 'business,' there's finance, sales, human resources, insurance, marketing. This gives students the opportunity to talk to people working in the various areas of business so they can form a better idea of what they want to do with their own careers."
Tuesday's event drew nearly a dozen employers, including Burks Financial Group, City of Lakeland, GEICO, Guardian Wealth Management, Mass Mutual, Regal Automotive, and Vivint. Also on hand were representatives from the College's Bachelor of Applied Science in Supervision and Management degree and Phi Beta Lambda, an association for students interested in business careers.
"We're here because we've had good experiences hiring students from other colleges, and we'd like to expand that to include Polk State," said Stewart Fagans, a regional manager for Vivint, one of the busiest booths at the expo.
Vivint is a Utah-based leader in home automation.
Fagans said he is looking to hire nearly 30 sales and marketing representatives. For part-time work, he said, students can expect to make between $26,000 and $31,000 annually.
"We're doing nothing but interviews for the next month. We need people who are willing to work hard, have a positive attitude, and are willing to learn."
Among the students wandering through the expo was Jordan More, a 21-year-old Lakeland resident studying toward his Associate in Arts degree. He plans on studying Political Science and already has a job at Publix, but he appreciated the chance to talk to employers on his own turf, on his own schedule.
"It's great to have the chance to learn more about the businesses that are right here in the area," he said. "It's definitely worthwhile for students who do need a job, or who just want to learn as much as they can about the opportunities that are out there."
The Career Resource Center will host another Meta-Major Expo on Feb. 27 from 11 a.m. to 1 p.m. outside WLR at Polk State Winter Haven. Employers expected to attend include All About Time Clock Shoppe, The Brinson Firm, Chalet Suzanne, Cintas, Colorado Boxed Beef, GEICO, Indian River Transport, OfficeTeam, Origami Owl, ProPak Software, SIG Insurance, SunTrust Bank, and Tucker Paving.
Future events will target other metamajor areas, including health sciences, manufacturing and construction.
Polk State's Career Resource Center offers students a wide range of services to help them plan and prepare for their professional futures, from career assessments to help them determine work paths, to an online job board to help them identify opportunities. The College also has an Internship Program to match students and local employers for mutually beneficial internships.