Polk Graduate Receives Full Scholarship to Sarah Lawrence College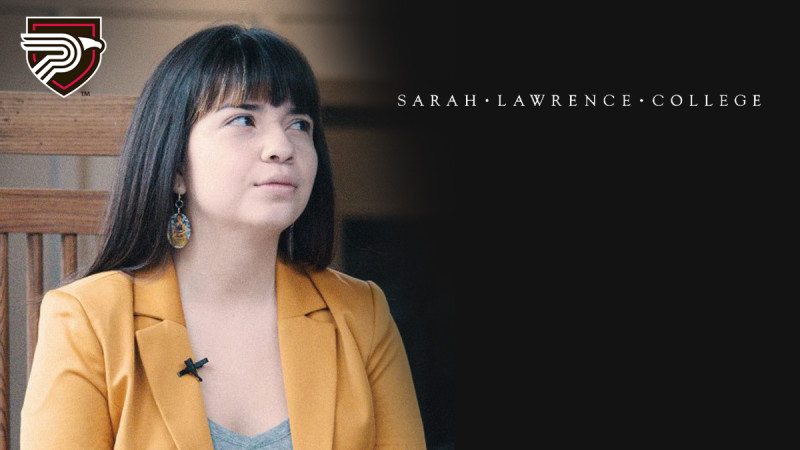 Tuesday was moving day for Mayra Hidalgo Salazar, and never had the sight of cardboard boxes been so sweet.
That's because the long drive Hidalgo Salazar began yesterday morning will take her to Yonkers, N.Y., where in just under two weeks she will begin classes at Sarah Lawrence College, one of the nation's top private liberal arts colleges.
It's a destination that for years Hidalgo Salazar, an undocumented immigrant from Costa Rica, could only dream of, and one she's finally reaching after having first studied at Polk State College, an institution that gave her a chance when she needed it most.
"If Polk State College hadn't opened its doors to me, I don't think I would have any hope of finishing my education," Hidalgo Salazar said.
Hidalgo Salazar has lived in Lakeland since she was just six months old, when her family came from Costa Rica in search of a better life and new opportunities. Her undocumented status was of little consequence as she grew up, attending Rochelle School of the Arts and the Lois Cowles Harrison Center for the Visual and Performing Arts, where she sang and dreamed of becoming a chorus director.
She graduated from high school in 2009 and was accepted to Florida State University's vocal performance program, but it was also about that time that all the difficulties that come with being undocumented became her harsh reality.
No law at either the federal or state level bars an undocumented immigrant from attending a college or university, said Polk State Director of Student Enrollment Services and Registrar Kathy Bucklew.
However, as Hidalgo Salazar found, that doesn't mean it's easy for undocumented immigrants to get a higher education.
"Think about it … I didn't have a driver's license, so I couldn't get around town. I didn't have an ID to get an apartment. And the cost — I didn't qualify for (the Florida Bright Futures Scholarship Program) or any financial aid, none of that," she said.
With FSU out of reach, Hidalgo Salazar turned to Polk State.
According to Bucklew, Polk State currently has about 1,100 international students enrolled, and 10 of those are undocumented.
For those students — like Hidalgo Salazar — the College opens the door to a degree.
"You put in your application like any other student and you can attend," Bucklew said. "We really do want to help these students."
Like at other institutions, undocumented students at Polk must pay out-of-state tuition, but even still, the College is still the most affordable option in Polk.
Indeed, for Hidalgo Salazar, the College was what she could afford, but once she arrived on campus, she also found the academic and student life she craved. She studied in the College's Honors Program, participated in the Student Government Association at Polk State Lakeland, and was a member of the College's chapter of SWER, Students Working for Equal Rights, an organization that advocates for immigrant rights. She was also able to receive a Hispanic Heritage Month scholarship from the Polk State Foundation.
"Polk State really served as not only an invigorating academic outlet, but it also gave me a sense of progress. If it hadn't been for the opportunity that Polk State gave me at that time in my life, I feel like I would have gone crazy," she said.
In 2011, Hidalgo Salazar graduated with her Associate in Arts degree. A bachelor's degree was still cost-prohibitive, so she put her education on hold — she didn't know for how long — and threw herself into activism, including serving on the boards of United We Dream, a national immigrant organization, and the Florida Immigrant Coalition.
Last year, a new federal policy, Deferred Action for Childhood Arrivals, went into effect. It allows undocumented immigrants under 31, who were brought to the country before they were 16 and meet other criteria, to be exempt from deportation and to apply for a two-year work permit.
Hidalgo Salazar received her work permit earlier this year, as well as a modified Social Security card, which allowed her to get a driver's license.
It was also in 2012 that a personal connection landed Hidalgo Salazar a spot in a panel at Sarah Lawrence College to discuss immigration issues. While there, she applied for admission. Not only was she accepted, but she also received a scholarship and a grant from the Davis-Putter Scholarship Fund, which benefits students working for peace and justice, according to the organization's website.
With the financial assistance she's received, Hidalgo Salazar won't have to worry about the more than $50,000 in tuition and fees per year that Sarah Lawrence costs. She can dedicate herself totally to earning the degree that will help her better serve other undocumented immigrants.
She plans on studying public policy and Spanish language and literature. She thinks law school may follow her bachelor's degree.
"I feel I have a responsibility to defend people like me," she said. "I am so grateful and humbled by the opportunities I've been given — including at Polk State. I think with those opportunities comes a responsibility to help others."