Polk Grad Finds Fulfillment in Second Career as Respiratory Therapist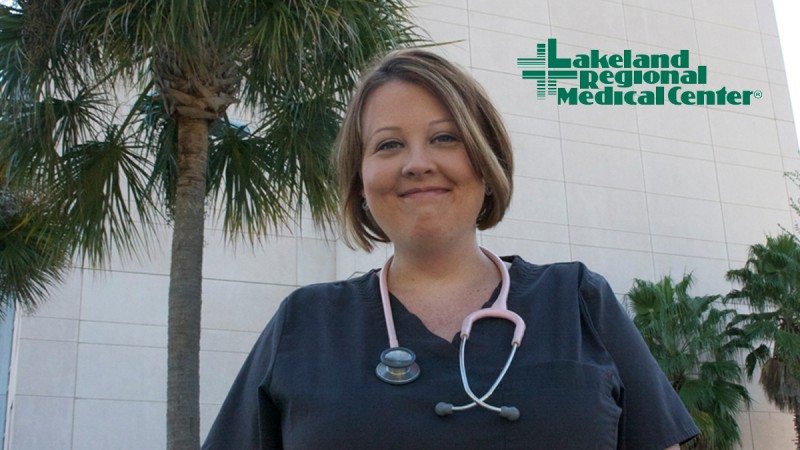 Some things are just worth waiting for, no matter how long it takes.
Such was the case with Kellie Mislovic's career as a respiratory therapist.
"I love my job, and I'm definitely happier because of it," said Mislovic, 33, who works at Lakeland Regional Medical Center. "I love being able to help patients when they're at their worst and make a difference when it really matters."
After graduating from George Jenkins High School in 1998, Mislovic enrolled in Polk's Respiratory Care program.
Respiratory therapists help patients who are having difficulty breathing to manage their conditions. On any given day, Mislovic manages ventilators for patients who can't breath on their own, administers medications, and provides emergency response to patients in cardiac or respiratory arrest.
Students who graduate from Polk's Respiratory Care program — the only such program in Polk County — are prepared to take the National Board for Respiratory Care exam. Since its first graduating class in 2008, the College's pass rate on the exam has far exceeded 90 percent; since spring of this year, the pass rate has been 100 percent. Passing the national exam is required for state licensure as a respiratory therapist.
Mislovic loved the idea of specializing in a specific area and function of the body, and having a local program with a history of excellence made the choice to study respiratory therapy all the easier.
Life, however, took its detours. Mislovic got married, had two kids — now 6 and 9 — and ended up working in the financial industry.
"I kind of just fell into it," said Mislovic, a resident of Mulberry. "It kind of just came naturally."
Mislovic started out working for her mom's company as a title closer, and went on to become a licensed mortgage broker.
Then came the housing bust, and there went Mislovic's job. Rather than lament her situation, however, Mislovic saw it as a chance to make the dream she'd put on hold finally come true.
"It was a good opportunity to come back to Polk and finish what I'd started," she said. "Respiratory therapy was always something I knew I wanted to get back to."
Going back to school in her late 20s posed a whole new set of challenges than she'd known her first time in college, Mislovic said. By then she was a mom of two; her youngest, Lindsey, was just a year old and not yet sleeping through the night.
"I was still a mom first and a student second," Mislovic said of her return to school. "I didn't want to take any time away from my kids, so I did my homework after they went to bed. I'd get started at 10 at night, and not get done until 2 or 3 in the morning, and then I'd be back up with the kids at 5:30 or 6. I was tired for two years."
Mislovic had also long been a breadwinner for her family. Without her income, her husband had to work two jobs to keep the family afloat.
Furthering her education was a strain, to be sure, but the knowledge that she was creating a better future for her family kept Mislovic going.
"That was my motivation, knowing that I could have a better career to better support my family," she said.
Two virtually sleepless years later, Mislovic had her first day on the job as a respiratory therapist at LRMC. And she knew immediately, all the hard work and exhaustion had indeed been worth it.
"I remember that day. We had several patients in cardiac arrest. Anything and everything that could have happened did happen that day," she said. "But I was prepared. When you go through the Polk program and you graduate, you're prepared for everything this job can throw at you."
Today, in addition to working as a respiratory therapist, Mislovic is also an adjunct instructor for Polk, hoping to give back to the program that allowed her to — finally — realize her dream.
"My clinical instructors made such a difference for me," she said. "They taught me how to apply the classroom knowledge in every day life, how to handle real-life emergencies, and how to take care of people as people. I hope I can do the same for the next students coming through the program."
Respiratory Care Program Director Kathee Ford said students appreciate the opportunity to study under Mislovic. Not only does Mislovic have the resume to teach them what they need to know, she also brings valuable intangibles to her instructor role.
"She came to us from being a supervisor in the banking industry, so she brings a whole different type of supervisory experience," she said. "There's a maturity and confidence to Kellie. Our students know that she's going to teach them to deliver outstanding patient care."
In addition to Respiratory Care, Polk State's Health Sciences Programs include Cardiovascular Technology, Diagnostic Medical Sonography, Emergency Medical Services, Nursing, Occupational Therapy Assistant, Physical Therapist Assistant and Radiography. Students in these programs regularly outperform their peers in the state and nation on required licensing exams.
Polk State College's history is rich with stories of alumni who have gone on to make impacts, whether in the classrooms and laboratories of prestigious universities, the rough and tumble of commerce, or the halls of political power. Over the years, thousands of Polk State graduates have leveraged their education and experiences at Polk to transform their own lives and the lives of others. This transformation is the essence of what it means to "be Polk." Whether in big ways or small ways, Polk State alumni embrace the challenge of living lives that matter. News@polk regularly profiles these alumni. Their story is the story of Polk. They are The Pride of Polk.