Police Explorers Visit Polk State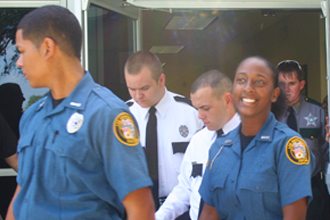 More than 60 high-school students were on Polk State's Winter Haven campus Friday morning, learning about what the College has to offer as they pursue careers in law enforcement.
The students are participants in Explorers programs at various law-enforcement agencies, including the Lakeland Police Department, Polk County Sheriff's Office, and Winter Haven Police Department.
Participants in Explorers programs across the state take part in hands-on learning about law enforcement and related careers, and test their knowledge and skills in annual competitions.
Those visiting Polk State on Friday were wrapping up their training in the Polk County Sheriff's Office Ride Along Academy, a weeklong program during which they receive training in areas such as crisis intervention, weapons familiarization, and communications; they also become CPR certified.
This was the first year that Polk State hosted Explorers. While on campus they learned about the College's Criminal Justice degree programs and the Kenneth C. Thompson Institute of Public Safety. They also tested their physical skills on the College's Agilities Course.
Garrett Cook, a senior at Winter Haven High School participating in Polk County Sheriff's Office Explorer Post 900, said he is serious about a career in law enforcement, and after Friday's event, he's serious about studying at Polk State.
"It's really hands-on and the teachers are law-enforcement professionals," said Cook, who plans to one day serve with the Polk County Sheriff's Office.
Polk State College offers an associate degree in Criminal Justice, and recently received approval to begin offering a bachelor's degree in the field beginning this fall. In addition to its Criminal Justice degrees, Polk State College operates the Kenneth C. Thompson Institute for Public Safety, which trains aspiring law enforcement officers and those already working in the field who seek career advancement. KCTIPS is one of only two dozen training academies in the country accredited by the Commission on Accreditation for Law Enforcement Agencies.