Parking Lot Improvements to Take Place Over Spring Break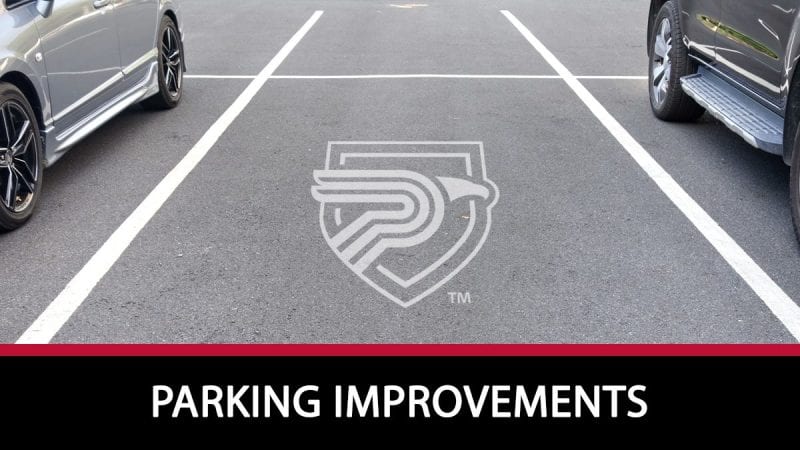 When students, faculty, and staff return from spring break, parking on the north and south sides of the Winter Haven Campus may seem a little different.
While Polk State College is closed, improvements will be made to the parking lot adjacent to the Administration Building (WAD), including the addition of regular and handicapped parking spaces.
There will also be a change to the parking lot adjacent to the Health Center (WHC). Rows R and Q will become staff and faculty parking.
Here is a more detailed look at the improvements to be made to the WAD parking lot:
Modifications to parking islands will create four additional parking spaces – two for students and two for staff and faculty.
Fourteen spaces for student parking on the north side of the lot will be converted to staff parking.
Additional handicapped parking spaces will be created and sidewalk modifications will be made to accommodate them.
Asphalt speed bumps will be removed and replaced with other traffic-calming devices.
The entire lot will be repaved and striped.
Student parking will remain on the south side of the lot.
Visitor parking will remain the same.
The WAD parking lot will be closed beginning Saturday, March 24. The changes will be completed by the time the College reopens Monday, April 2.
"Everyone will return to campus after spring break with greater accessibility to safe, reliable parking," Provost Steve Hull said. "It's a win-win for everyone."
Polk State prides itself on providing access to parking and transportation.
The College earned its sixth consecutive Best Workplaces for Commuters award this year for its exceptional commuter benefits offered at both its Lakeland and Winter Haven campuses. That includes benefits offered to students, such as designated parking spots for carpoolers and access to free public transit through the College's partnership with CitrusConnection.
"The College continuously evaluates the needs of our students, faculty, and staff," Hull said. "I am pleased that we are making improvements to our parking lots and that these improvements are being made over spring break so that the College community is not impacted while the project is taking place."