An Open Letter from Bartow High School Student Grady Daniels: Cuts to Polk State are Surprising, Devastating, and Reckless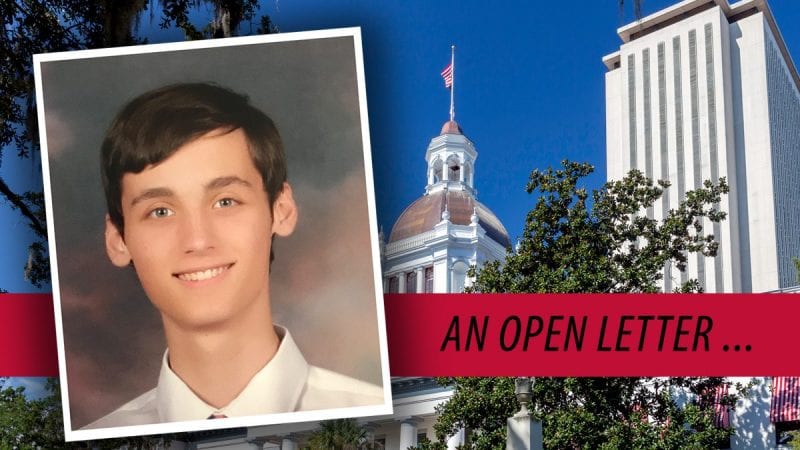 As Polk State continues the fight to restore the funding that was vetoed by the Governor, our community has stepped up in significant ways to support our efforts and advocate on our behalf. One such community member is Grady Daniels, a high school student at Bartow High School IB. Daniels has been influenced in his academic achievement by of a variety of programs at Polk State. We salute and thank Grady Daniels for his open and passionate letter to the Governor and our Polk County Delegation.
____________________________________________
Dear Governor, Senators, and Representatives,
The recent cuts to Polk State College are surprising, devastating, and reckless. PSC has an irreplaceable influence in our community which is about to be reduced by 3 million dollars; this will result in a closing of facilities, reduction of staff, and a minimized ability to preserve the generous educational opportunities they provide to all Polk County Students. I understand that these cuts are targeted at the Lake Wales facility, but they will inevitably impact the entire organization.
While "$3,000,000" carries a sizable magnitude on its own, it is impossible for that number to convey the significance of Polk State's presence in Polk County. I am a rising high school senior, and I have gained a lot from PSC offerings. As a child, I attended the Kids At College program, which contributed to my respect for education and encouraged me to pursue a college degree. Later, through their Dual Enrollment and robotics education programs, I gained experience which has made me a significantly more competitive student when compared to my peers from other counties, who will also be vying for seats and scholarships to our colleges.
Educators at Polk State have taught me how to build robots, prototype designs, and function in a collaborative environment. They provide some of the most impactful opportunities to our students in Polk County, which they will be forced to reduce once they lose their budget. I am not alone; at my high school it is very common to dual enroll to complement existing class load. Polk State is an outstanding community partner. They have opened their doors to local organizations and public schools to provide many resources and opportunities to our youth.
I strongly encourage my high school peers who have benefited from Polk State's offerings to put their social media skills to work on this issue. Write the Governor and your representatives to ask they correct this mistake.
And for our public officials, you are an elected representative of me and my peers in Polk County. I ask that you do everything in your power to prevent the cuts towards Polk State, and that you work to help increase opportunities that are available to all of the students here.
Sincerely,
Grady Daniels
Bartow High School IB