Oakley Rhinehart Cassidy Honored for Donation to Polk State College Foundation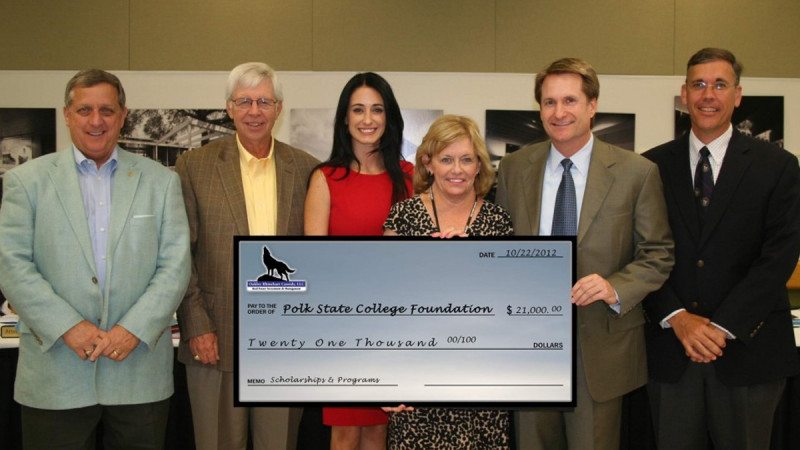 At its October check presentation, the Polk State College Foundation recognized Winter Haven-based Oakley Rhinehart Cassidy, LLC for gifts totaling $21,000 to benefit scholarships and programs at the College.
"We've been so excited to be involved with the College. We feel very passionate about furthering the education of Polk County. Polk State does so many amazing things for our community and is such a wonderful organization," said Lauren Schwenk, co-owner of Oakley Rhinehart Cassidy.
Oakley Rhinehart Cassidy is a real estate investment, rental ownership and management, homeowner's association management, and land development company.
The check presentation took place during the Polk State District Board of Trustees meeting in Winter Haven. The presentation honored the cumulative gifts Oakley Rhinehart Cassidy has given to the Polk State Foundation over the last several years.
Schwenk also serves as a board member for the Polk State College Foundation.
"We are extremely grateful for Lauren's leadership role that she plays on the Foundation Board, especially her vital contributions to the great success of Wine for Wisdom since its inception three years ago," said Polk State College Foundation Vice Chair Carl E. Locke, Jr.
Wine for Wisdom is an annual Polk State College Foundation fundraiser.
"We are further appreciative of Lauren's fellow owners and managers — Michelle Bannon, Al S. Cassidy, Adam Rhinehart, Andrew Rhinehart and Nick Rhinehart for their generous support of Foundation events that help students attain their dream of a college degree," Locke continued.
Schwenk said she and all members of the Oakley Rhinehart Cassidy team are constantly inspired by the stories of students who achieve great things after studying at Polk State.
"When you look at the cost per credit hour, Polk State gives everyone the chance to go to college and find a new direction," she said.
At $110 per credit hour, Polk State is the county's most affordable higher education option.
Schwenk added that she hopes others will be inspired to donate to the Polk State College Foundation.
"A gift of $50 or $100 can really change a student's life. Sometimes, it's only a few hundred dollars that makes the difference between going to school or not. Any gift can help make a student's dreams come true," she said.
The Polk State College Foundation, Inc. is a tax-exempt corporation whose purpose is to provide Polk State College with resources for the advancement of the College, its students, faculty, staff and other constituencies in fulfillment of the College's mission.