New Team Helps Eagles Soar in Public Speaking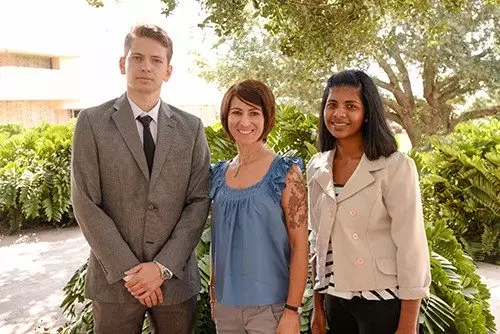 Asa Hedstrom reluctantly joined the new Polk State Speech and Debate Team. Now, however, he's glad he did.
"I was talked into joining by Professor Christina Gesmundo," he says. "After talking to her, I saw how the team could benefit me now and down the road."
Hedstrom was a student in Gesmundo's Mass Media and Society class. She saw his speaking potential and knew he would be a strong addition to the team.
Hedstrom, a sophomore from Plant City, is working toward a degree in communications, so he realized he should take advantage of the opportunities the team provides.
"It has helped me hone my skills in public speaking, conducting research, and putting a speech together," he says.
The team, which started in the 2014 spring semester, currently has two members, Hedstrom and Sasha Syboodeen. It aims to promote and help students learn about forensics, the art and study of speech and rhetoric. Public speaking, in other words.
Team members can compete in areas of public address including After Dinner Speaking, Informative Speaking, Prose, Poetry, and Debate to name just a few of the 11 competitive areas. To join the team, students must audition, then enroll in SPC 2594 and commit to being a member for an entire academic year.
The team offers other benefits as well.
"Besides public speaking, students learn leadership and professionalism, gain confidence, develop social skills, and take part in the incredibly rich history of forensics in America," said Gesmundo, professor of speech communication and director of forensics. She serves as the team's advisor.
During a semester, team members take part in two or three intercollegiate events, competing against students from two- and four-year colleges and universities. Competitions take place at state, regional, and national levels. Last semester, one Polk State team member placed in the state finals.
"After competing in only two tournaments, I'd say the confidence you get is tremendous," said Hedstrom.
"Being able to learn to how to use various databases to find information on topics is valuable, and sometimes finding information can change how you address your speech. It's definitely a learning experience, especially when addressing some of the current cultural topics."
Hedstrom says he might continue with forensics when he transfers next year to the University of South Florida, where he hopes to write for the school paper.
"I hope my forensic experience will help me do that. I know how to gather information and put it into a speech or a story in a short time."
He wants to pursue a career in sports journalism or broadcasting. He realizes that field is crowded, but he believes his forensic experience has helped bolster his drive and determination.
For that, he credits Gesmundo.
"She keeps us disciplined," he says. "She offers a lot of critiquing, but she does it to be positive. She understands we're new at this, and she wants to push us to the best of our abilities in a positive way. She does a very good job of motivating us."
Speaking of motivation, Hedstrom credits his experience with the team for boosting his school spirit.
"I was never a big rah-rah college type of person," he says. "I was just here to get my degree and move on with life. Now, in my final semester at Polk State, the team has given me the drive to represent the school. I came close to placing in our last tournament, but I couldn't pull off. That was exasperating because I wanted to represent Polk State and help it finish as high as possible."
Gesmundo has ambitious hopes for this year's team and notes that there will be just a couple of competitive team slots available each year. Anyone interested should contact her at cgesmundo@polk.edu or at 863 669 4950.
The Speech and Debate Team is one of more than 50 clubs and organizations offered through the College's SALO (Student Activities and Leadership Office).