Rescue Chief Shane Reynolds Eager to 'Give Back' to Polk State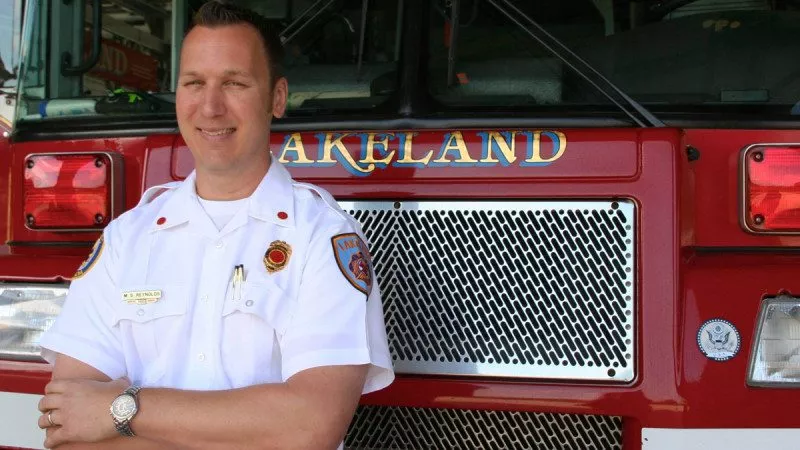 It wasn't that long ago that Shane Reynolds was studying to be an air conditioning technician, a field he didn't love but that would pay the bills.
Today, he's the recently promoted rescue chief of the Lakeland Fire Department.
The path from there to here, as he explains for this installment of Pride of Polk, began with one pivotal conversation and eventually led him to Polk State College —and he's so thankful that it did.
"Polk State was exactly what I was looking for. It restored my faith in education," he said.
Reynolds grew up in Mulberry, graduating from Mulberry High School in 1992.
"At the time when I graduated, I wanted to start a business," he said. "As a native Floridian, I thought, 'what is something that we can't live without in Florida?' The answer I came up with was air conditioning.'"
So he headed to Traviss Career Center in Lakeland, and started a two-year air conditioning training program.
Reynolds was just six months from graduating when he got to talking with a fellow student, a former New York Police Department detective.
"He said to me, 'this isn't what you want to do for the rest of your life.' He said I looked like a firefighter and that I should check that out," Reynolds said.
Reynolds kept thinking about the conversation. He'd never thought about being a firefighter — he wasn't even one of those young boys who dreams of driving a fire truck when he grows up.
But something about his classmate's comment stuck with Reynolds, and he soon contacted his cousin, who was working as a firefighter in Ybor City. He visited his cousin at the fire station and watched firsthand as the firefighters responded to a call.
He knew then that he had to change his career plans.
"I knew that I had to be a firefighter, that this was what I was meant to do," he said. "I wanted to be part of something bigger than myself."
Reynolds soon enrolled in the Fire Academy at Hillsborough Community College, where he continued on to earn his certification as an Emergency Medical Technician (EMT).
In 1995, he began working as a firefighter for the City of Lakeland, and soon he was back in school, this time at Polk State College. He earned his Associate in Science in Fire Science Technology in 2003 and his Associate of Science in EMS in 2005. He is now currently enrolled in the College's Bachelor of Applied Science in Supervision and Management degree program.
Polk's EMS program, he said, offered him an education unrivaled by any other program in the area — and much of that has to do with EMS Program Director Don Guillette.
"Don is tough on everyone. He's not there to be your buddy, but he does a great job at what he does," Reynolds said.
"He teaches you to be a professional. He gives you respect, but if you are out of line, he will let you know. Education doesn't have to always be relaxed and laissez faire. It can be tough and challenging. We need people to take direct orders and get the job done right — and that's what Don teaches you."
Reynolds said that the quality of the EMS program is enhanced by the fact that Guillette and his instructors all have real-world experience; Guillette and many of his instructors still work in the EMS field.
As Reynolds furthered his education, his career flourished, too. He was promoted to lieutenant in 2004, and earlier this year was named rescue chief.
In his new role, one of his major responsibilities is to maintain certifications for EMTs, paramedics, advanced life support personnel, making sure the department is abiding by local and state guidelines. He also plans and oversees all in-house medical training for the department — he also teaches many of the trainings and maintains related records.  He's also in charge of the department's quality assurance program, making sure medical calls are responded to quickly and appropriately, so patients receive the best possible care.
In addition to his new position at the LFD, Reynolds also recently agreed to serve on the advisory board for Polk State's EMS program.
The EMS advisory board, like those for other College degree programs, is comprised of representatives from local employers and the College. In the case of the EMS program, Guillette explained, represented employers include Polk County Fire Rescue, the Winter Haven Fire Department, and other agencies.
Through advisory boards, the College ensures that its programs are delivering training that is in demand by real-world employers.
Guillette described Reynolds as a welcome addition to the advisory board.
"He brings a whole different enthusiasm, new ideas and different viewpoints on how to accomplish a task," Guillette said.
"He is persistent, proactive and positive. He was a leader as a student, and that leadership hasn't stopped. It means a lot to have someone like him, who is willing, eager and able to make Polk State EMS even better, on board."
For Reynolds, the advisory board committee is a chance for him to positively influence the EMTs, paramedics, and maybe even chiefs, who will follow in his footsteps.
"It's a chance to give back to a program that did a lot for me. What we do is a public service and the lion's share of what we do is respond to medical calls. You have to get the firefighters you see in the movies out of your head. I've spent my career at busy stations, and put my hands on a lot of people — and it's not always been roses," Reynolds said. "EMS students need to really think about the realities of the job and whether they can stomach the realities of the job."
Polk State EMS students regularly outperform their peers around the state on state licensing exams. In addition to EMS, Polk State Public Safety offers associate's and bachelor's degrees in Criminal Justice, and an associate's degree in Fire Science. In addition to EMS, Polk State Health Sciences programs include Cardiovascular Technology, Diagnostic Medical Sonography, Nursing, Occupational Therapy Assistant, Physical Therapist Assistant, Radiography and Respiratory Care.