National Tutor Appreciation Week: Polk State JD Alexander Center Celebrates Tutors for Dedication to Students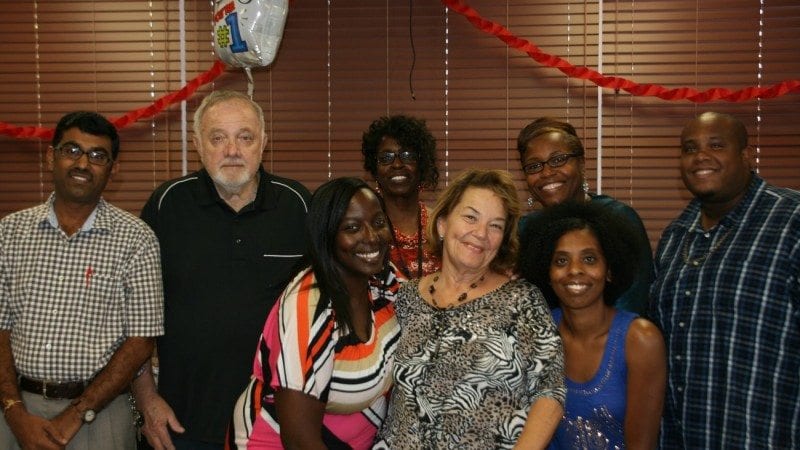 There are no greeting cards for the occasion, but this is National Tutor Appreciation Week, and the Polk State JD Alexander Center wasn't about to let it pass by unnoticed.
The National Tutoring Association (NTA), a membership organization for tutors, established National Tutor Appreciation Week a decade ago to celebrate the contributions tutors make to students' lives. This year's observance took place Oct. 6-10.
On Thursday at the Polk State JD Alexander Center in Lake Wales, Director Cheryl Garnett and her staff gathered their tutors for an afternoon party complete with cake and certificates of appreciation.
"The tutoring services are top-notch," Garnett said, "and have contributed to student success on a college-wide level."
Polk State employs more than 50 part-time tutors, including nine at the Polk State JD Alexander Center.
Among those honored Thursday afternoon was Juliana Smith, who has been tutoring since 2011. Smith, who has also worked as a licensed practical nurse and truck driver, obtained her associate's and bachelor's degrees later in life because as she was growing up, she was told that she wasn't smart enough to go to college.
In addition to helping students with their writing assignments, Smith said she also tries to help students believe in their own potential.
"If I had been told earlier in life that I could do it, I would have had the drive to go to college," she said. "I hope that when the students come to see me, I'm able to help them better understand not only their subject, but that they are capable of learning. They can do this."
Another long-serving tutor, Don Nanny, enjoys the ability to connect with new generations of students.
Nanny, who has a doctorate degree and worked in education for 42 years, specializes in mathematics.
"These students keep me young, and they bring new perspectives to math," he said. "When I was teaching, we still had the students memorize their multiplication tables, and the graphing calculator didn't come out until the end of my career. Now, students use technology for everything. I like showing them they can do math with paper and a pencil, too."
Nilesh Patel teaches calculus at another college, but tutors at Polk State because he likes working with students learning lower levels of math, too.
"It challenges me to find ways to make them understand," he said.
Whatever their reasons for tutoring, or why they enjoy it, what the tutors all have in common is dedication, said Kathy Jessie, academic services specialist at the Polk State JD Alexander Center.
"If they are working with a student, they are not time-conscious," said Jessie, who oversees the tutors. "They aren't watching the clock at all. They come in for training on their days off. They go above and beyond to help our students."
Jessie said all nine tutors in Lake Wales have achieved some level of certification from the NTA, even though it is not required.
One of the many students who has been helped by tutoring is Isaac Fuller, a Lake Wales resident who is pursuing his Associate in Arts degree with plans to ultimately become a teacher. He visits the JDA Student Success Center at least several times a week to be tutored in math.
"They break it down for me, step by step, and help me understand what the teacher was saying. If it weren't for the tutors, I wouldn't be doing well in math — but I am," Fuller said. "When I first started, I wasn't sure about college, but now, if I can be successful in math, of all subjects, maybe I really can do this."
Added Billy Young, a Lake Hamilton resident who retired from GTE after 21 years and then spent 15 years as a general contractor:
"They are very patient and understanding. They don't believe in that old saying, 'You can't teach an old dog new tricks.'"
The Polk State JD Alexander Center wasn't the only location celebrating their tutors. Polk State Lakeland recently had students write words of appreciation to their tutors on paper hearts that are now displayed in the TLCC.
Winter Haven Provost Martha Santiago said she hopes more students will use the College's tutoring services.
"There are many benefits of tutoring for students. In most cases, academic support is a key to student success, by preparing them to reach higher levels of academic achievement," she said.
"I have heard many stories from students claiming that tutoring made the difference between success and failure in a subject, and also, how tutoring helped them develop the confidence they needed to become active learners in the classroom. I encourage students to take advantage of the tutoring services that are available."
Polk State offers tutoring services for all students at multiple locations in a variety of subjects. Tutoring services are free.
 In addition to the Polk State JD Alexander Center, the College also operates the Polk State Lake Wales Arts Center.