Movie Critic to Polk State Students: Blindness Didn't Stop Me, Don't Let Anything Stop You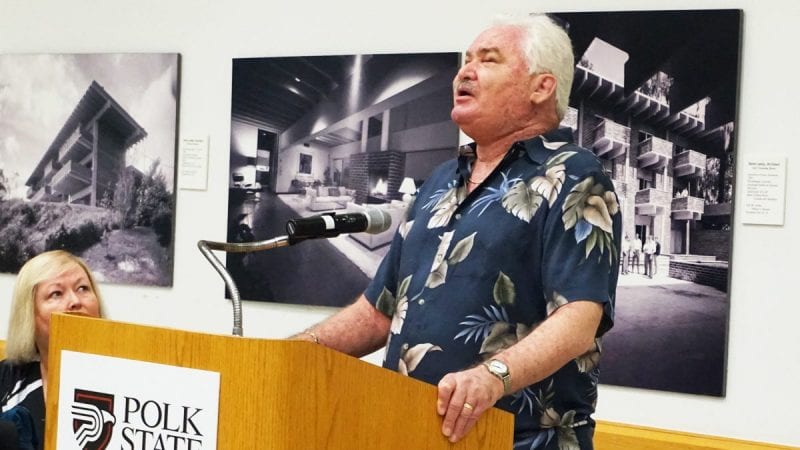 If a blind man can become an internationally syndicated movie critic, then what's stopping any of us from achieving our goals?
That was the message during Jay Forry's presentations on Tuesday at Polk State's Lakeland and Winter Haven campuses — and it certainly wasn't lost on student Ryan Joseph.
"I learned you can achieve anything, even if you have disabilities," said Joseph, a resident of Poinciana who is pursuing his Associate in Arts degree and attended Forry's Winter Haven event.
"You just can't give up."
In the late 1980s, when he was in his 20s, Forry lost his sight to diabetes. Rather than feeling defeated, however, as many of us  would have, Forry was determined not to let his condition hold him back from living life to its fullest.
He enrolled at Polk State's sister school, Pasco-Hernando State College, where he was active in the Student Government Association and other student organizations. Recalling his days as a student-leader Tuesday, Forry shared his SGA campaign slogan:
"He has a vision," he said to a chuckling audience gathered at Polk State Winter Haven's Student Center. "Everyone knew I was blind."
While at Pasco-Hernando, Forry worked for the student newspaper. One day, he jokingly suggested he should write movie reviews.
From that joke, a successful column, called "Blindside," was launched. After Forry graduated from Pasco-Hernando — magna cum laude, he noted Tuesday — he continued reviewing movies, compensating for his blindness with keen attention to dialogue and soundtracks. His wife, Dorothy, also often accompanies him to films, describing for him what is happening on the screen.
Forry has critiqued movies for TV and radio shows around the world. In 2011, he appeared on "Jimmy Kimmel Live."  As a member of the Broadcast Film Critics Association, he votes on the Critics' Choice Movie Awards.
During his talks at Polk State, Forry discussed the assistive technology that allows him to speak — rather than type — his reviews, and his rating system, which ranges from "A — So good blind people like it" to "F — Blindness is a blessing." Forry also shared highlights from his career, including the time he told director Spike Lee that the bad language in one of Lee's films made him "wish he was deaf instead of blind."
Most of all, Forry encouraged students to not let anything hold them back, disabilities or otherwise.
"Get involved," he said. "You can do everything that anyone else does."
Forry's events were part of Polk State's recognition of Disability Awareness Month, one of several initiatives at the College to spotlight various areas of diversity within the community it serves. Other initiatives include Black History Month, Women's History Month, and Hispanic Heritage Month.