Meet the Polk State Theatre cast: Jake Rojas channels quirkiness of "Silent Sky" love interest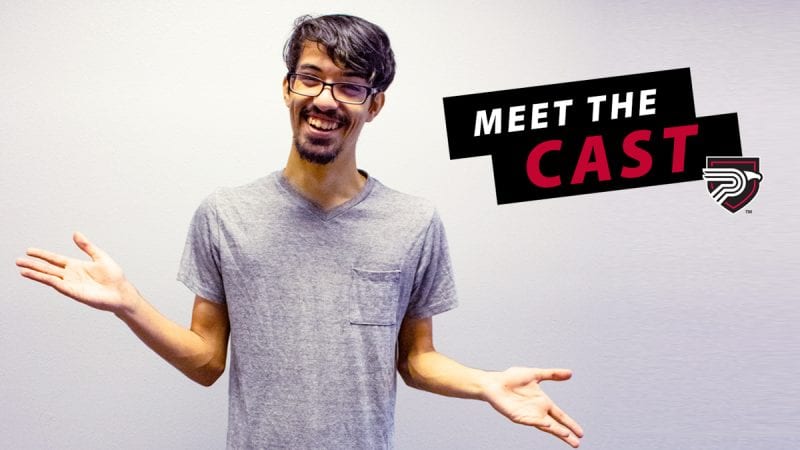 Jake Rojas is quick to admit that he gets lost in his thoughts when talking about something he's passionate about.
"Beautiful. Emotional. Touching," he rattles off when describing Polk State Theatre's upcoming production of "Silent Sky." "The set is bright. Shining. The lights and sound maximize the feeling of space."
His words are amplified with deep enthusiasm, much like those of the character he plays.
Rojas will portray Peter Shaw – the love interest and colleague of astronomer Henrietta Leavitt. The only male in the five-member cast, Shaw illustrates the ideals of modern early 20th-century men. He often presents anti-feminist thoughts but is challenged by Leavitt, who transforms his view of women to equals.
"Silent Sky" will explore women's place in early 1900s society during a one-weekend production Feb. 13 through Feb. 16.
The black box show will forgo the theatre's 500 seats and bring the audience on stage for an up-close and personal experience – Rojas' favorite format in which to perform.
Polk State Theatre's "Silent Sky"

WHEN: Feb. 13 – Feb. 16; 7:30 p.m. curtain time except for Sunday's 2:30 p.m. matinee

WHERE: Polk State Winter Haven Fine Arts Theatre, 999 Ave. H N.E.

TICKETS: $7 opening night, $10 all other performances, and free for all students with school IDs and Polk State employees with College IDs
"It's a very intimate experience, not only for the audience but also for us as performers," he explained. "Because the audience is closer, you have to pay close attention to every intricate detail – from your facial expressions to your body movements. They need to be more natural than those in larger productions, where we tend to exaggerate our expressions and movements to reach bigger audiences."
Rojas began acting in the sixth grade.
"At first, it was just for extra credit," he said. "Then I realized acting is something that I'm good at, that I enjoy, and that has a lot of opportunities."
He first aspired to become a theatre teacher but quickly realized that he enjoys the act of performing itself, rather than demonstrating it for others to learn.
"At Polk State, I have been able to hone my skills and I have been given so many opportunities to participate in a variety of diverse productions that have challenged me as an actor," he said. "I encourage aspiring actors to get involved, enroll in classes, and take advantage of scholarship opportunities."
He emphasized Polk State Theatre Director Mark Hartfield's attention to each student and his willingness to assist with obstacles that may prevent students from acting, to working with them outside of class and rehearsal, to connecting them to scholarship opportunities.
Rojas, who left a full-time job as a fire alarm inspector to focus on his acting and education, credits his Acting I, Stage Movement, and Stage Voice courses, as well as the opportunity to perform in six Polk State Theatre productions, for his growing skills and continued passion for theatre.
The program produces a slate of shows each season, including musicals, classic comedies, and Shakespearean dramas. Rojas has performed in Polk State Theatre's "The Dining Room," "Our Town," "12 Angry Jurors," "A Funny Thing Happened on The Way to The Forum," and "Five by Ten."
His upcoming performance in "Silent Sky" may be the most challenging yet, however. With a two-hour play and five-member cast, "there is no small character in the show," he explained.
But playing Shaw comes naturally to Rojas.
"He's similar to me – he is very awkward and can be scatterbrained at times," Rojas said. "I've picked up on his quirkiness and I want that to shine through as I think that's what makes him [so loveable]."
Leavitt's character struggles with balancing her love for Shaw and her work as a "woman computer" at the Harvard University Observatory, where she makes groundbreaking discoveries about the universe that she receives no recognition for as men claim the rights to her work.
Based on a true story, Polk State Theatre's production of "Silent Sky" explores social progress ahead of Women's History Month. Will equality – and love – prevail?
The public is invited to find out. Performances take place at the Polk State Winter Haven Fine Arts Theatre at 999 Ave. H N.E. with curtain times at 7:30 p.m. except Sunday's 2:30 p.m. matinee. Tickets are $7 opening night and $10 for all other performances, which are free for all students with a school ID as well as for Polk State employees with their College IDs.
The box office opens one hour before curtain time, but it is recommended that reservations be made in advance. Reservations can be made online at www.polk.edu/boxoffice or by calling 863.297.1050.