Meet the Polk State Theatre cast: Hannah Corlew brings astronomer Henrietta Leavitt to life in "Silent Sky"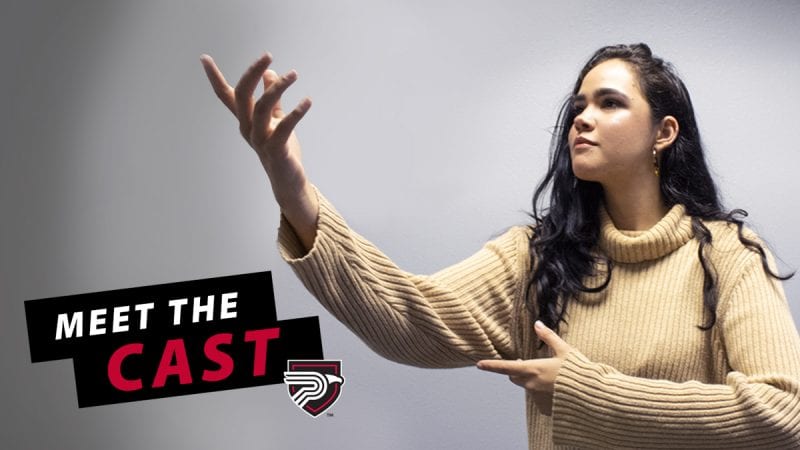 Hannah Corlew's inquisitiveness shines through as she talks about playing the lead role of astronomer Henrietta Leavitt in Polk State Theatre's upcoming production of "Silent Sky."
Like the character she portrays, Corlew takes a big-picture approach and discusses the overarching themes the play explores.
"The real point is seeing something bigger and knowing you're a small part of it if you're lucky," she recites as one of her favorite lines from the second act. "In the end, that is a life well-lived."
Leavitt is one of many "women computers" cataloging stars at the Harvard University Observatory when she makes groundbreaking discoveries that would lead to the mapping of the universe.
"A lot of people deal with insecurities and, with a discovery like Henrietta Leavitt's, people wonder why they are important when we are just a small part of a large universe," Corlew explained. "There is a recurring hymn in the play about giving praise to God for the earth and skies and discovering the glory of the universe that He created. I think people will really connect with it."
Corlew connects as a follower of Christ, although religion is not an explicit theme of the play.
Polk State Theatre's "Silent Sky"

WHEN: Feb. 13 – Feb. 16; 7:30 p.m. curtain time except for Sunday's 2:30 p.m. matinee

WHERE: Polk State Winter Haven Fine Arts Theatre, 999 Ave. H N.E.

TICKETS: $7 opening night, $10 all other performances, and free for all students with school IDs and Polk State employees with College IDs
Lauren Gunderson's "Silent Sky" explores life for women in early 20th-century society and strides toward social progress as well. Gunderson illustrates the ideals of men during this time period through the single male character in the play, Peter Shaw – Leavitt's love interest.
"When Henrietta gives up romance for her work, Peter becomes cold and questions what women are without husbands and families," Corlew explains. "But she finds fulfillment through her research and discoveries."
Although Leavitt did not receive true recognition for her findings in her lifetime as men took credit for her work, she is known today as the astronomer whose discoveries created the instrument used to measure the distance to faraway galaxies and led to the understanding that the universe is continuously expanding.
Similar to Leavitt's struggles, Corlew expressed "no pain, no gain," when it comes to following your dreams.
Corlew was a homeschooled dual-enrolled Polk State student when she joined the Theatre Program. In her senior year, she performed in her first Polk State Theatre production, "Little Women: The Musical."
"It was nerve-wracking at first because I was 17 and performing with college students, but Polk State Theatre is like a small family of close friends and (Polk State Theatre Director) Mark Hartfield is very supportive," she said.
She graduated in 2016 and went on to complete her bachelor's degree in Theatre at Florida State University. She aspires to achieve a master's degree and become a college professor or an administrator of a theatre group. In the meantime, she is doing what she loves most.
"Performing is the best part," Corlew said.
In addition to her involvement with Polk State Theatre, she balances three jobs as a performer at LEGOLAND Florida Resort, a substitute teacher, and a nanny.
"Theatre is a special path that you take for the love of the art, not for financial security," Corlew said. "But with programs like Polk State's, students are given the foundation to be successful. Whether it is the career path a student wants to take or something they just want to try, theatre rounds out a person and gives people an appreciation for the arts."
"Silent Sky" will open Feb. 13 as a one-weekend production with shows through Feb. 16. The Polk State Winter Haven Fine Arts Theatre is located at 999 Ave. H N.E. Curtain time is 7:30 p.m. except for Sunday's 2:30 p.m. matinee.
Tickets are $7 opening night and $10 for all other performances, which are free for all students with a school ID as well as for Polk State employees with their College IDs. The box office opens one hour before curtain time, but it is recommended that reservations be made in advance. Reservations can be made online at www.polk.edu/boxoffice or by calling 863.297.1050.