Meet the Global Faculty: Logan Randolph Uses Biological Issues Course to Help Students Realize Their Impact on the World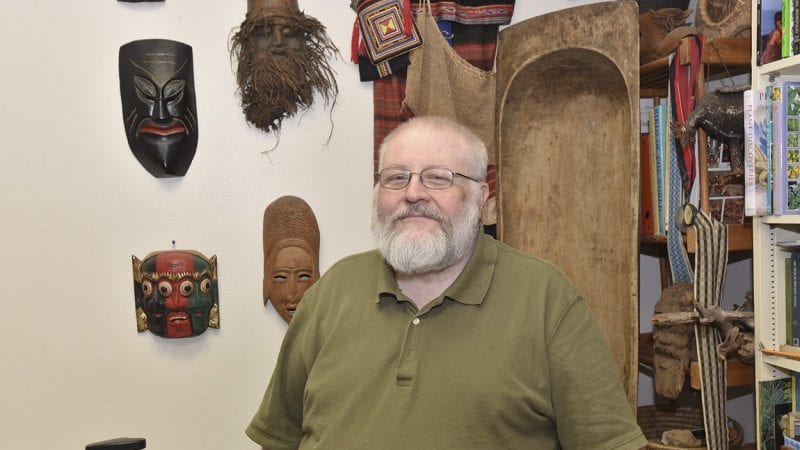 Polk State's Global Studies Program offers students the ability to explore subjects and issues on a global level — without ever having to leave campus. Here, we introduce Biology Professor Logan Randolph, who has taught in the program since its creation in 2014, and who has found that students who take his Global-designated Biological Issues course end the semester with a whole new understanding of the world — and themselves.
Ask Logan Randolph to name his most influential international experience, and he'll give you 12.
There are the many times he's snorkeled the world's third-largest barrier reef in the Bahamas. And the time he toured Anne Frank's home in Amsterdam. And the time he watched leatherback turtles lay eggs, and later, the eggs hatch, in Malaysia. And seeing some of the oldest portions of the Great Wall of China. And, of course, he can't leave out hiking in remote areas of southwest China, where children screamed and ran away from him because they'd never seen a Caucasian person.
Varied as these experiences have been, they've all, in their own ways, broadened Randolph's view of the world and deepened his understanding of his place in it. It's that kind of perspective he is now cultivating in Polk State students as a professor in its Global Studies Program — even if his students never set foot on foreign soil themselves.
"It's very easy for students to graduate without ever having realized the impact their actions have on the world. Everything we do, even little things, has an impact on the whole world, not just on ourselves," he said. "That's what the Global Studies Program is teaching students at Polk State."
The Global Studies Program is designed to help students develop their understanding of specific subject areas and issues on a global level. The program includes a collection of courses, each with at least 20 percent global content, as well as presentations and cultural events.
Students who earn 15 credits of Global Studies coursework, attend a designated number of events, and complete a synthesis project and resume or portfolio earn a Global Studies designation on their diploma. That designation not only represents a student's efforts to learn about the world beyond their own, but also signals to future employers that they've achieved a certain level of global competency; a recent Polk State survey of area employers showed that international experiences or study are highly valued among respondents.
Randolph, who has a doctorate in botany and anthropology, a master's degree in mycology and biology, and a bachelor's degree in botany, all from Miami University, began teaching at Polk State in 2008 and was one of the first professors to develop a Global Studies course. He's been teaching Global-designated sections of BSC 1033, Biological Issues, since 2014.
The course, according to the College's catalog, "provides students with an opportunity to investigate current biological issues." In Randolph's Global sections, students do that on a personal, local and global level, he explained.
"Take cancer for instance. In the Global sections, we talk about how that has impacted us on a personal level, impacted the U.S., and impacted the rest of the world. We develop a much larger picture of the issue," Randolph said. "By doing so, the students don't fall into the trap of 'how does this affect me, not the world.'"
Randolph's course is completely online, so students explore biological issues via research, discussions, and personal reflections. Another topic his students recently explored through these methods was food consumption.
"I have them look at where their fruits and vegetables come from. Sometimes, they're coming from thousands of miles away," Randolph said.
"We talk about how we fit into the global marketplace, as well as the waste that our global marketplace creates; for instance, the fuel that is used to bring us peaches in January, and the food that is destroyed while being transported halfway around the world. It's a lesson intended to encourage students to think about their impact on our world and our environment, even when it comes to something like what they eat.
"This is not a course that has a narrow focus and just emphasizes students learning facts. This is a course that takes a broad view of the world and asks students to reflect on their place in it."
Randolph acknowledges that many students may see "Global Studies" and immediately think "more work" — but they shouldn't.
"It's not extra work, it's different work," Randolph said. "The Global Studies courses are the most modernized courses we teach."
He added:
"Globalization and global expectations of students are a rapidly growing trend at colleges and universities across the United States — and Polk State is keeping up."
 
Polk State's Institute for Global Initiatives offers students study-abroad opportunities and courses designed to foster international awareness. For more information, and to view a list of Global Studies courses, visit polk.edu/institute-for-global-initiatives.