The Man Outside the Cath Lab: Six things You Didn't Know about Cardiovascular Program Director Kevin Ferrier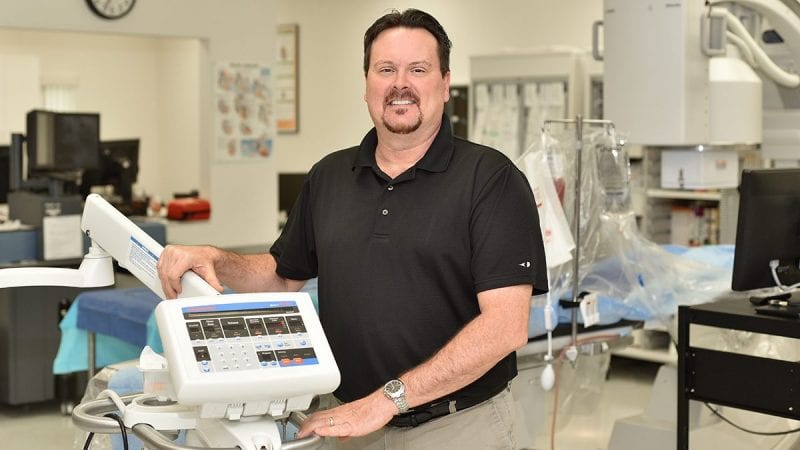 As director of Polk State's Cardiovascular Technology (CVT) program, which prepares students to assist physicians in such highly complicated procedures as catheterizations and stenting, Kevin Ferrier is used to sharing his academic and professional credentials.
And make no mistake, his are impressive.
He graduated from Polk State's Radiography Program in 1994, earned a specialty degree in Cardiovascular/Vascular Intervention from Forsyth Technical Community College in Winston-Salem, N.C., in 1997, and completed his Bachelor of Applied Science in Supervision and Management at Polk State in 2014. 
He's worked for Winter Haven Hospital, Johns Hopkins Hospital in Baltimore, Lakeland Regional Health, and Heart of Florida Regional Medical Center in Davenport. 
In 2007, Polk State hired him to build its CVT program. Three years later, the program achieved national accreditation.
These are the facts about himself, and the program he helped to create, that Ferrier is used to sharing with his colleagues and students. But, of course, we are all so much more than our resumes. To learn more about who he is outside the catheterization lab, News@Polk recently sat down with Ferrier at his office at Polk State Airside West.
Here's what we learned:
1.  He Used to Be a Weatherman
No, not like Steve Jerve on News Channel 8, but Ferrier does know a lot — A LOT — about clouds, barometric pressure and the like. After he graduated from high school, Ferrier briefly attended the University of Delaware, but soon joined the U.S. Navy. He served for six years, during which time his job was to observe the weather and collect information that was used in a wide range of decisions, from charting courses for ships to guiding aircraft. After he left the service, Ferrier lived in Massachusetts, but his interest and training in the weather soon led him to Orlando International Airport, where he worked for a contractor that supplied weather information to the airport. Even today, he still keeps a close eye on the skies. "I'm always saying things to my son like, 'Look at that cumulonimbus cloud,'" Ferrier said. "And when we get hurricanes, I'm following the track of the storm."
2.  He's Kind of Obsessed with Soccer
When he was in high school, Ferrier was offered a scholarship to play soccer at a small college in Ohio, but he turned it down to stay closer to home and his friends and family. Though his soccer-playing career was not to be, his love for the sport has endured. He's an Orlando City Soccer Club season ticket holder. He also follows German and English leagues, and has coached his son's team.
3.  He's an Eagle Scout (and He's Eaten His Fair Share of Grubs)
Ferrier was involved in the Boy Scouts from age 6 to 17, and achieved the organization's highest rank of Eagle Scout. To this day, he loves the outdoors. He and his wife and three sons enjoy camping — and we mean camping, not glamping. While other campers may use their cell phones to Google animal tracks and bird species, Ferrier can identify plenty of both without the aid of technology. He also lights his fires the old-fashioned way; no Aim 'n Flames for him, he stacks his twigs and logs just right and lights them using a magnesium fire starter (we didn't know what that was either — it's a piece of steel and a stick of magnesium that you rub together to make sparks). "My 14-year-old challenged me to build a fire — he was impressed," Ferrier said. During his many camping trips, Ferrier has on several occasions been dared to eat grubs. (We Googled grubs too, just to make sure. They're the larvae of beetles). Ferrier has accepted such dares several times, and reports that grubs "taste like dirt." On a more serious note, Ferrier credits the Boy Scouts, which taught him first aid and CPR, with fostering his interest in the medical field.
4.  He's Seen a Lot of Hearts — But Only Massaged One
Ferrier estimates he's been involved in more than 16,000 cardiac procedures, and during one of those, had the opportunity to perform cardiac massage, which, true to the name, is a procedure that involves compressing the heart with one's hands in an effort to resuscitate it. "It's not usually done. It's basically a last resort," Ferrier said. As for what it feels like to squeeze a human heart between his fingers: "It's like picking up a piece of fine crystal. You learn pretty quickly how much pressure to use."
5.  He Knows How to Rock
Ferrier, who admitted that back in high school, his hair extended past his shoulders, is no stranger to the concert scene. He loves classic rock and heavy metal, especially the Grateful Dead, Pink Floyd, the Rolling Stones and Metallica. He estimates he's seen the Grateful Dead live at least 100 times.
6.  He Worked with a Former Presidential Hopeful
Ferrier worked at Johns Hopkins, where Dr. Ben Carson, who sought the 2016 Republican presidential nomination, long served as director of pediatric neurosurgery. While Ferrier never performed any procedures alongside the famed surgeon, he did interact with him on several occasions. "I did some case reviews with him. He is one of the nicest people," Ferrier said. "He's one of those people who are very, 'what you see is what you get.'" Watching him run for president, he was the same person I'd watched working at Johns Hopkins."
Ferrier is always happy to talk to current and prospective students about the Cardiovascular Program — or the Grateful Dead. His office is located at Polk State Airside West in ASL-132. He can also be reached at kferrier@polk.edu.
In addition to Cardiovascular Technology, Polk State Health Sciences also includes programs in Diagnostic Medical Sonography, Emergency Medical Services, Nursing, Occupational Therapy Assistant, Physical Therapist Assistant, Radiography, and Respiratory Care. Polk State's Health Sciences students regularly outperform their peers in the state and nation on required licensing exams.