Lake Wales Students Visit Polk State's Early Childhood Education Program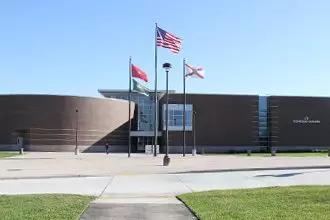 A group of Lake Wales High School students has a clearer understanding of early childhood education — and a firsthand look at college life — after visiting Polk State Lakeland on Thursday.
Forty-five students from the high school's Early Childhood and Teacher Education Academy spent the day learning about Polk State's Early Childhood Education and Management degree.
Their visit included a tour of the campus, an information session about the degree and the College's childcare certificate options, and some fun in the classroom, learning tips for teaching youngsters from Early Childhood Education Program Coordinator Anne Skellenger.
Skellenger walked the students through some simple activities and experiments — such as using vinegar and baking soda to create a gas to fill a balloon, polling class members on their favorite colors to initiate math lessons, and working as small groups to build critical-thinking and creativity.
All of which are examples of how preschool teachers can engage and excite their young students.
"Learning should be fun for the kids," she said.
The time spent on campus was well spent for Jessica Brasko, 17. Brasko has previously volunteered in daycare centers and works for LEGOLAND Florida, where she's around children all the time.
Though she wants to ultimately become a pediatrician, the visit to Polk State's Early Childhood Education and Management program got her thinking about ways to relate and communicate with kids.
"Being here has helped open my eyes to other possibilities for working with kids," she said.
The Lake Wales High School visit was one of several such visits that happen throughout the year at Polk State to help high-school students learn about their higher-education and career options.
The tours are organized through the College's Career Pathways program, a partnership between Polk State College and the Polk County School Board that allows students at career academies or career centers to receive free college credit for their coursework if they choose to attend Polk State College.