Kreative Pandemonium Performs for More Than 70 Children at Polk State JD Alexander Center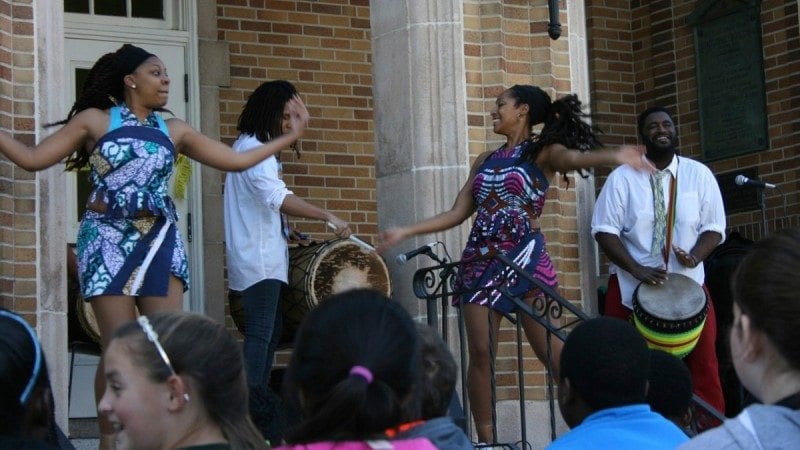 More than 70 schoolchildren traveled to the Polk State JD Alexander Center for Kreative Pandemonium's Wednesday performance — but calling it a field trip wouldn't do the experience justice.
"It gives me chills to think about my kids having this opportunity right here in Lake Wales, Fla.," said Candace Howard, mother of a third-, fifth- and seventh-grader.
"All my kids are interested in the drums, but to them, the 'drums' means playing in the garage. Today, they're being exposed to a different type of music, but also to people who play music professionally."
Kreative Pandemonium is a St. Louis-based rhythm, song and dance ensemble. Members of the 14-piece band play instruments that hail from West Africa, such as the djembe and congas, but also infuse sounds from genres like rock, funk, hip-hop and the blues.
During the outdoor performance Wednesday, Kreative Pandemonium entertained students from Hillcrest Elementary and Bok Academy.
The students, many of whom are studying the steel drums, clapped their hands and tapped their toes to the rhythms. They shrieked with delight during the dances. They raised their hands, excited to answer the band members' questions, like "What is culture?"
They also sat in rapt silence as Andrea Peeples, co-founder and choreographer of the group, told the tale of Sundiata, who was born without the use of his legs but with the support of his only friend, learns to walk and becomes king.
It was an entertaining afternoon, to be sure, but Weedie Braimah, co-founder and artistic director of Kreative Pandemonium, hopes it was much more, too.
"I started playing music when I was 2," he said. "I hope the kids take away excitement and a desire to do whatever is in their hearts, whether that's music or something else. I hope it makes them want to strive for greatness."
Christine Guzzetta, steel drum teacher at both Hillcrest and Bok, is certain that, yes, her students will remember Wednesday's trip for many years to come:
"They've seen what's possible in music, that you can do this professionally," she said.
Only a handful of the Kreative Pandemonium members performed Wednesday, but the full ensemble will perform Friday at 7:30 p.m. at the Polk State Lake Wales Arts Center, 1099 State Road 60 East. The performance is free and open to the public.