Kids Experience The Best Week Ever at Kids At College 2017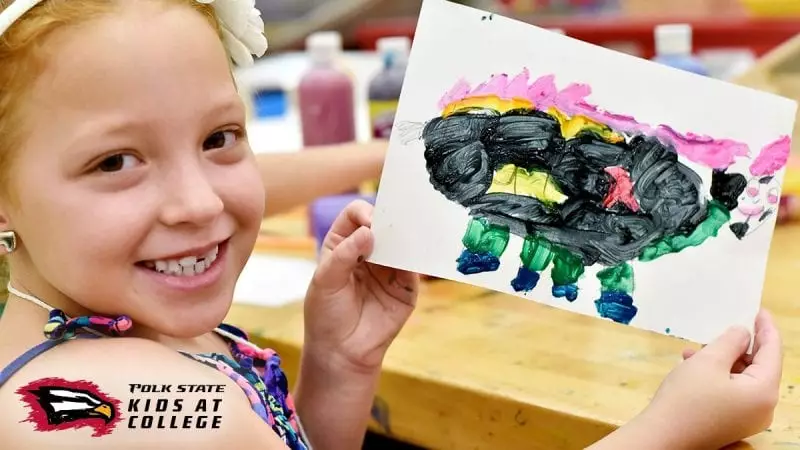 More than 400 students, 23 instructors and 50 adult and teen volunteers converged on the Polk State Winter Haven and Lakeland campuses for summer offerings from Kids at College Program, Session 1, which ran from June 19-29.
For more than 20 years, the Kids at College Program has been a favorite of children and parents alike. Serving kids ages 5 to 14, the program offers nearly 50 classes in everything from arts and magic, to rocketry and coding. Classes are specifically tailored to specific age groups, with activities designed to engage, educate, and delight participants.
The following is a just a sample of what the kids experienced in Session 1:
3D Modeling and Printing, taught by Mathematics Professor Robert Lamar, students learned how 3D models are made using computer design and then turned into physical objects using a 3D printer.
Around the World in Eight Days, led by tour guide Erin Higgins, students toured Asia, Africa, Australia, Antarctica, and the Americas, immersing participants in the study of far-off lands and people. "Travelers" tasted foods, celebrated holidays, and "visited the sights" during this destination-discovery.
CSI: Crime Scene Investigators, led by Kandyce Cruz, students were crime scene investigators learning how to dust for fingerprints and collect and preserve evidence. At the end of the class, students solved a mock crime scene.
Jedi Academy, taught by Richard Ganey, young Padawans developed Jedi skills— conditioning forms, unarmed defensive skills, and light saber usage.
Minecraft Through History, directed by Dennis Dill, students explored the history, culture, and architecture of Rome and other civilizations, while recreating the landscape of the period using Minecraft.
"Every year we are so excited to bring this program to the students of Polk County," said Kids at College Coordinator, Brenda Bracewell. "The students learn more than just their class topics. They meet new friends, experience college campus life, and explore new areas of interest."
And the best part of Kids at College is the reactions of the student participants!
"It's been the best week ever," said one six-year-old.
"I launched a rocket and built an Egyptian pyramid! I didn't realize I could learn so much!" said one ten-year-old, while another asked: "I can make my own YouTube video–how cool is that?"
"The best part of my week was Jedi Academy. I am ready and can feel the force!" said a nine-year-old.
"This was a really cool experience! I don't want it to end," explained a thirteen-year-old student.
Thankfully, though Session I of the program ended this week, the fun does not! Polk State will host Kids at College, Session 2 from July 10-20 (Monday-Thursday). Registration is still open for this fabulous learning opportunity.
Classes are available at both the Lakeland Campus (3425 Winter Lake Road) and the Winter Haven Campus (999 Ave. H, N.E.) Lakeland classes are held from 8:15 a.m. to 12:30 p.m.; Winter Haven classes are held from 1:15 to 5:30 p.m. The cost per class ranges from $50 to $85.
Registration is available at: polk.edu/kac.
For more information, parents can contact Polk State's Kids at College Program Coordinator Brenda Bracewell by phone at 863.298.6826, or via email at bbracewell@polk.edu.