Kids at College gives students entertaining educational experience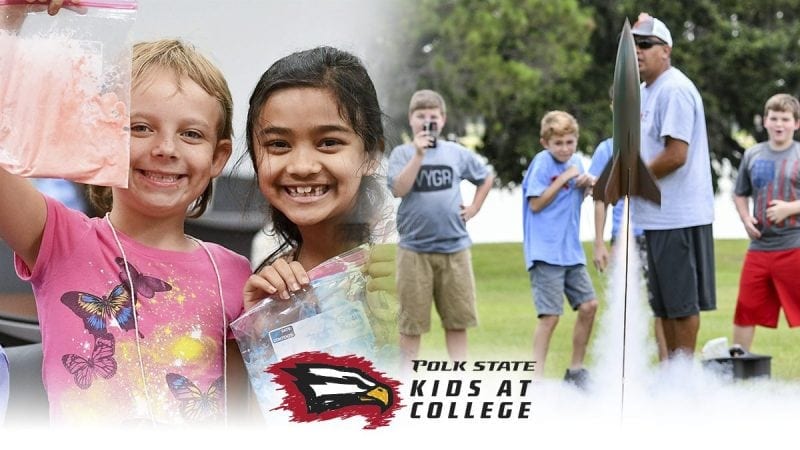 Rockets shot up to 900 feet into blue skies, pink and green slime oozed between tiny finger tips, and balloons twisted into recognizable shapes – a dog, a flower, a hat to wear.
These are only a few of many activities children ages 5 to 14 participated in this month at Polk State Kids at College.
More than 450 students participated in Session I from June 18 to 28 at the Lakeland and Winter Haven campuses, where 25 instructors and nearly 100 parent and teen volunteers ensured kids had fun, engaging educational experiences in more than 80 classes.
Registration is open online at polk.edu/kac through Tuesday, July 3, for Session II, which will take place Monday through Thursday from July 9 to July 19 at both campuses. Classes at the Lakeland Campus run from 8:15 a.m. to 12:30 p.m., and classes at the Winter Haven Campus take place from 1:15 p.m. to 5:30 p.m.
The following is just a sample of what kids will experience in Session II:
3D Modeling and Printingtaught by Warner University Mathematics Professor Robert Lamar, who introduces students to 3D virtual models and printing and explores ways to use professional 3D printing services to produce models from home.
Dino-mite Dinosaurs led by Brigham Academy's Carrie Spruell, who takes students back in time to the Triassic period to study different dinosaur species and paleontology.
Scrapbooking led by Inwood Elementary's Sara Wygant-McAuliffe, who covers the tools and techniques used to transform a simple photo into a memory page that can be framed, added to a book, or given as a gift to treasure.
Games Unplugged taught by Lake Region High's Chris Euverard, who shares the excitement of classic board games and how they can teach skills that are helpful in school and life.
Games Unplugged is one of 13-year-old Daniel Sharp's favorite Kids at College classes.
"It teaches teamwork and also how to be independent if you are playing a game on your own," said Daniel, who has attended Kids at College five years in a row. "I enjoy Kids at College because it's encouraging, entertaining, and educational in interesting ways."
And his experience at Kids at College has motivated him to attend Polk State one day. He aspires to study aviation or social technology.
"Polk State is the place I know most," he said. "I've become more confident over time here."
Kids at College Coordinator Brenda Bracewall said that's what the summer program is all about.
"The students learn more than their class topics," she explained. "They experience college and campus life, make new friends, and explore new areas of interest."
Teachers propose topics that interest them that they may not have the opportunity to teach in their classrooms during the school year.
"We want them to offer classes that they are passionate about because that makes for better teaching," Bracewall said.
The summer program also caters to what the students want. Popular courses such as Jedi Academy have expanded due to popular demand, with Jedi Academy: Dueling being offered this summer in addition to Jedi Academy: Beginner and Jedi Academy: Advanced.
Rocketry courses are also popular and allow students to explore basic techniques and rocket building in Rocketry 1: Beginner, or more advanced design in Rocketry 3: Advanced.
Joshua Wilkins' parents cheered him on as he launched the rocket he built in class. They have enrolled him in Kids at College each summer for the last six years.
"He gets to experience things he can't do anywhere else," said Josh Wilkins, Joshua's dad and a parent volunteer.
Joshua agreed as a member of Facilities retrieved his rocket from a tree.
"This is my third time taking rocketry, and I always have so much fun doing it," he exclaimed. "The best part is watching it take off after working so hard on it."