KCTIPS students receive Dustin Ramsey Memorial scholarships in memory of late recruit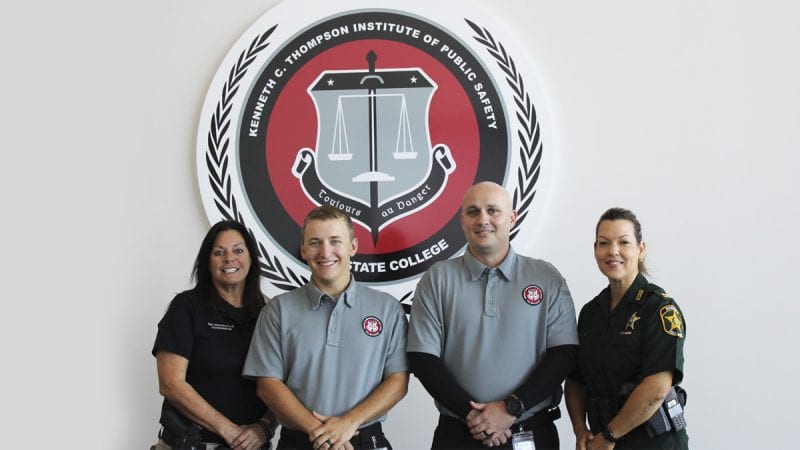 Polk State College Kenneth C. Thompson Institute of Public Safety (KCTIPS) recruits Clayton Cox and Brad Johnson were each awarded $1,000 from the Dustin Ramsey Memorial Scholarship Fund in memory of the late recruit remembered for his talented leadership and great resilience.
Despite cancer, Ramsey continued his training, passed his exams, and graduated with his class – all while undergoing radiation and chemotherapy. He lost his battle with melanoma in May 2012.
Inspired by Ramsey's example, his law enforcement academy coordinator at the time – Sgt. Angela Sockwell – and the class held a barbecue to raise money and to establish the Dustin Ramsey Memorial Scholarship Fund, which offers between $500 and $1,000 to recruits in the Law Enforcement Academy. Each year, the academy's recruits hold an event to raise money for the scholarship fund and to keep Ramsey's legacy alive.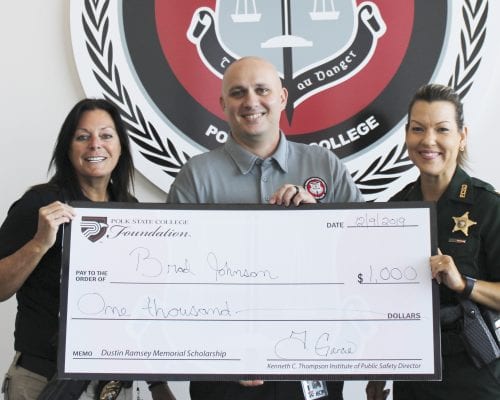 This year's recipients both reflected on the KCTIPS mission and their aspirations to become dedicated law enforcement officers.
"I have always wanted to help people and this scholarship will help me complete my training and go on to serve the community," said Johnson, who left a full-time job after 11 years to pursue his dream. With a family at home to support while he funds his education, Johnson expressed great gratitude for the scholarship.
Cox shared a similar sentiment. He, too, left a full-time job to join the Law Enforcement Academy, which is a full-time, six-month commitment. While some recruits are sponsored by law enforcement agencies to receive their training, both Johnson and Cox are self-sponsored and paying for training on their own.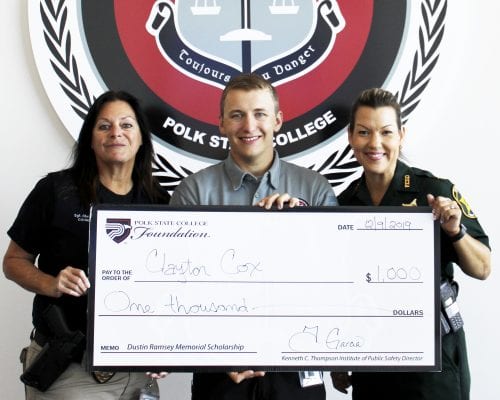 "This scholarship means a lot," expressed Cox, who is following in the footsteps of his grandfather, who served as a Polk County Sheriff's Office deputy, Winter Haven Police Department officer, and Florida Highway Patrol state trooper. "This will allow me to keep pushing toward my goal."
Since 2012, the Dustin Ramsey Memorial Scholarship Fund has awarded $14,500.
Donations can be made by contacting Sgt. Christine Ford, KCTIPS Coordinator, at 863.699.2909 or cford@polk.edu.