Jobs and internships are only a Handshake away at Polk State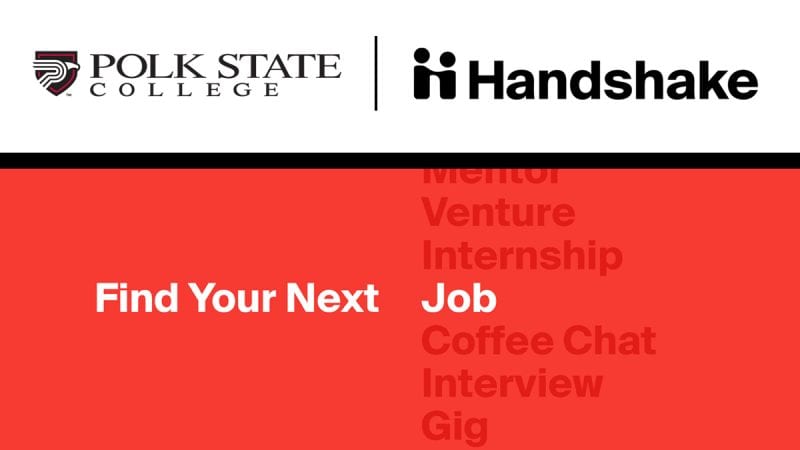 For Polk State students, jobs and internships are only a Handshake away with the College's new virtual career center.
Handshake allows students and alumni to connect with hundreds of employers – from local businesses to Fortune 500 companies – by simply creating a profile. After answering a handful of questions about education and career goals, users can personalize their profiles to include their pictures, resumes, cover letters, and more to attract employers.
"It's like Facebook and LinkedIn had a baby," said Winter Haven Campus Associate Vice President for Student Services Larry Pakowski. "It's simple to use and goes beyond traditional job listings by allowing employers to find you based on how your profile meets their criteria."
And Match.com is like a third cousin.
"Handshake allows you to identify job interests and matches you with openings that meet what you may be looking for," Pakowski added.
Signing up for Handshake is simple by visiting joinhandshake.com and entering a my.polk.edu email address. Handshake will send a confirmation link to the my.polk.edu email address to create a password.
Please note that alumni must also use their my.polk.edu addresses and should expect a delay of approximately 48 business hours to receive a confirmation email. Users may add a secondary email address to receive Handshake notifications after their accounts have been activated.
Students and alumni can then fill out their profiles and access tutorials on how to best utilize Handshake's different features for their specific goals.
Polk State's Career Services and Internship Program offices are also available to assist students in using Handshake, finding jobs, and landing internships.
Similar to the services provided by these offices, Handshake is a great tool for students looking for help with resume writing, interview skills, and networking with employers and peers.
The Handshake network is widely used by higher education institutions and employers across the country, including Stanford University, University of California –  Berkley, Carnegie Mellon University as well as many Polk County and Central Florida schools. This benefits students who may transfer but want to continue to utilize the services provided by Handshake.
For more information, students and alumni may contact Career Services at careerservices@polk.edu, or for the Internship Program email internships@polk.edu.